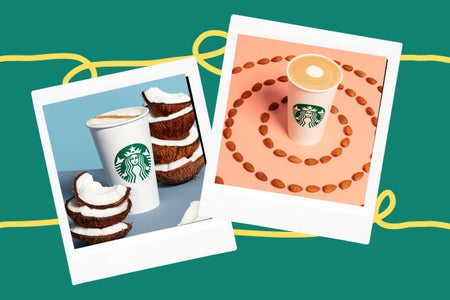 Holiday Treats and Coffee So Sweet
They're back ladies and gents! Starbucks has brought back its iconic holiday treats just in time for the new Fall breeze to cool us down. Say bye-bye to October and Halloween sweets. Welcome in the pre-Christmas sips that make the build-up to Christmas worth the wait. It's time to pull out the fuzzy socks and cozy blankets 'cus these Starbucks drinks are ready to warm your hands and brighten your day. 
Peppermint Mocha and Snowman Cookie
Take a fresh sip of some Peppermint Mocha to make the start of your day crisp and chocolatey. No matter how the weather is outside, this is the type of drink that can add a chocolatey smooth taste to your day with the crisp hit of mint. 
Paired with this, is the Snowman Cookie as per holiday tradition. Keep the jingle bells jingling with the Christmas cheer this pairing brings. Not only is this cutie a sweet treat to reward yourself with, but it's a great pick me up that is sure to put a smile on your face. 
Chestnut Praline Latte and Snowman Cake Pop
If you aren't one for sweetness, this one's for you. Chestnut Praline has a more muted sweetness that delights those who want that holiday sweetness without it being too overbearing. The chestnut nuttiness is backed by the soft velvety flavor of the praline crumbles.
A bite-sized treat like a Snowman Cake Pop pairs well with the smooth sweetness of the Chestnut Praline Latte. This little cutie may be too cute to eat but be assured it's just as sweet as the smile it gives you in return. Don't be afraid to take a nibble or close your eyes and eat it whole, your little friend will love you either way.
Toasted White Chocolate Mocha and Cranberry Bliss Bar
Consider the Toasted White Chocolate Mocha the total opposite of the Peppermint Mocha but still just as holiday vibing as it's minty holiday counterpart. This delightful drink is a lot like the Smores Frap that is offered on the summer menu. The warm toasted flavors of the white chocolate and fresh whipped cream bring the vibes for the season straight to your hands.
If you have a craving for some cranberry sauce but aren't in the mood for breaking out the Thanksgiving turkey, don't worry Starbucks got your back. Ready for your morning berry crave, The Cranberry Bliss Bar has the perfect amount of cranberry to curve the crave. This bar of sweet berry bliss will be all you need to hold you over till turkey time in both November and December.  
Eggnog Latte and Sugar Plum Danish Pastry
Ah, Eggnog, a cult classic. A staple drink of the Christmas season and a personal favorite of mine. While some may like some warm apple cider others enjoy the particular taste of Eggnog. The uniqueness of Eggnog is flavorful and spiced to delight. The creamy texture and nog-stache it brings is sure to kick off the fun for the day.
Christmas, oh Christmas, what say you Mr. Claus? What shall I feast upon along with my Eggnog? The sugar plum fairy brought me a gift. A Sugar Plum Danish Pastry to pair with my Eggnog Latte. These two may not be everyone's first choice but if you're one to try new things or want to spice up your mornings with something new, give this pairing a try. 
Caramel Brulee Latte and Cranberry Orange Scone 
Up your caramel game from your year-round Caramel Frappe to some nice, sweet Caramel Brulee Latte to kick off the midday slump. Take a sip on a cool day or warm your hands with some caramel decadence. This sweet caramel goodness may seem like a simple drink but not everyone is up for all the bells and whistles. We simple people stick to our roots and relish in the warmth. 
Craving more than just cranberry? Jump from the Bliss Bar to a Cranberry Orange Scone. The bittersweet cranberry is balanced by the sweet citrus flavor of orange in this beautifully sophisticated pastry. Bring out your inner child and be fancy. Stick out your pinky and take a bite of some uniquely made treats.