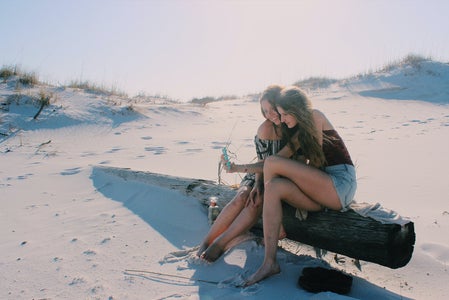 Anna Schultz / Her Campus
Perks of Your College Roommate as Your Sister
The struggle of sifting through the hundreds of college girls trying to find a roommate who matches your likes and lifestyle is a pain. I have not been through this grapple as I have had the same roommate all my life: my sister! Attending the same university as my sister kept me from experiencing the same struggles my sister went through in her first year of college. Here are some perks of having your sister as your college roommate:
     1. Already Knowing Her Likes and Lifestyle 
Having your older sister as your college roommate may not be ideal for some freshmen girls, but I love it! Being roommates with my sister is ideal as I already know her likes and lifestyle, how she destresses, and how she acts when she's under a lot of pressure. Living with someone whom you know nothing about and wondering whether or not you will get along with her is a scary thought.Your sister being your roommate keeps you from living with someone who you don't know the first thing about.
     2. Finding the Nooks of the Town
Each city has its own special nooks and surprises which are gems to worn out students. My sister had already found some special nooks in the city during her first year of college, and I got to experience these with her when I started attending Texas A&M University.
     3. Campus Life and Traditions!
If you're and Aggie, you know Texas A&M University has so many fun traditions. I got a first look into many of these traditions as I had a seasoned guide of the campus.I would not have known half the traditions at A&M if my sister hadn't shown me, and several of them are really fun! Coming from a small town, College Station and A&M seemed quite large. Getting lost on the way to class was a conscious fear I kept throughout the summer before my first semester. Thankfully, getting around campus during the first couple weeks of classes was a breeze as my sister already knew and taught me all the routes between buildings.
As a junior in college, my sister has a lot of first-hand experience and knowledge on the hardships and struggles of being a college student. I am so grateful to have such a wonderful sister as my college roommate! Sisters are the best friends in the world, so if you have a chance to room with your sister during college, take it! It may be the best choice you make during your college years.