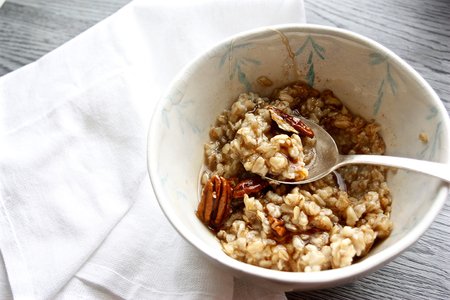 Oatmeal 10 Ways For Dorm Life
These fantastic variations of a breakfast classic are partly courtesy of my wonderful roommate and oatmeal expert, Erica. For all the oatmeal connoisseurs out there and the college freshmen looking to spice up their dorm-room breakfasts, we have created a list of ten delicious ways to make oatmeal. I've left most of the measurements up to you, with a few exceptions. Remember, cooking is about finding what works best for you, so have fun and feel free to experiment!
First: Make Your Base!
To start, add water to Quaker quick oats. Each brand of oats is different, so you'll have to refer to the box for the oat-to-water proportion and microwave time. This is the base for most of our other oatmeal variations and is a great choice for the minimalist breakfaster. If you choose to eat oatmeal plain, I recommend adding brown sugar or a bit of cinnamon to spice it up. Otherwise, these oats are the perfect start. With the base made, we're now ready to get into the recipes you will come to love!  *Any recipes that don't start with a water base are marked by an asterisk.
Second: Choose a Recipe!
The Reese's
Ingredients
a spoonful of peanut butter

chocolate chips
Trying to turn a healthy breakfast into candy? The Reese's recipe is here to satisfy all your chocolate and peanut butter cravings! To start, stir a spoonful of peanut butter into your base. Mix thoroughly, and then fold in the chocolate chips. As the chocolate melts into ooey-gooey deliciousness, you'll wonder how you ever lived without this sweet and satisfying breakfast! 
The Chunky Monkey
Ingredients
a spoonful of peanut butter (or other nut butter)

1 tsp brown sugar

½ banana

chocolate chips

handful crushed walnuts

1 tsp cinnamon
Are you looking at that pint of Ben and Jerry's in your freezer? Is it not noon yet? Instead of reaching for the ice cream, try the Chunky Monkey oatmeal recipe! Start by mixing the peanut butter and sugar into your base. Next, fold in the chocolate chips. The key to the perfect Chunky Monkey oatmeal is the banana. Cut half a banana lengthwise into fourths, and slice it the way you usually do. The smaller pieces are slightly less aesthetic but make for a perfect texture. Leave the cinnamon and walnuts for last, sprinkling them lightly over the top of your fabulous creation.
The Health Nut*
Ingredients
Julie's Real nut butter

chia seeds

banana, sliced

blueberries

oat milk

optional: 2-3 dates (to sweeten)
Do you start your mornings with yoga? And eat multivitamins as if they were tic tacs? Well, get ready to step up your health game even more with this fun and tasty breakfast! Perfect for the health-conscious, the Health Nut recipe includes antioxidant-rich blueberries, superfood chia seeds, non-dairy milk, and a healthy sugar alternative. Start by making your oatmeal using oat milk instead of water. Note that you may have to add a little more liquid than usual to achieve the desired consistency. Oat milk is not only a low-calorie dairy alternative, but it is eco-friendly and delicious. Next, mix in dates to sweeten your creation without all the processed sugar. Finally, top with bananas, blueberries, and chia seeds.
The key ingredient, however, is Julie's Real nut butter! Add a spoonful on top for a little protein and a lot of deliciousness. Choose from almond and cashew butter, all coming in flavors ranging from cacao espresso to cinnamon vanilla bean. Julie's Real is a paleo granola and nut butter company, and they are my personal favorite go-to snack and oatmeal mix-in!
Pumpkin Spice
Ingredients 
pumpkin spice

cinnamon

pumpkin seeds

1 tbsp maple syrup (or 2 tsp brown sugar)
Watch out y'all! Here come the fall vibes! Are you trying to curb your Starbucks habit? We all know those pumpkin spice frappuccinos, lattes, and baked treats are irresistible come October. Rather than blowing your budget on a drink, incorporate some pumpkin spice into your day with this oatmeal recipe! Simply mix maple syrup into instant oatmeal, and top it with pumpkin spice, cinnamon, and pumpkin seeds! If you don't have maple syrup, you can substitute it with brown sugar.
The Apple Pie
Ingredients
apples 

cinnamon

brown sugar  
Is pumpkin spice not satisfying your autumnal cravings? The Apple Pie oatmeal might not be county-fair worthy, but it sure is an improvement to your average dorm breakfast. Stir brown sugar into your base, and top it with apples and cinnamon. If you have a sweet tooth like me, you can sprinkle brown sugar on top as well!
The Banana Bread*
Ingredients
½ mashed banana

¼ cup instant oats

1 cup water or milk

2 tsp brown sugar
Is dorm life stifling your inner Mary Berry? Turn oatmeal into a delectable fall treat with this microwaveable banana bread. Okay, I'll be honest. It doesn't actually taste like banana bread. It's more of an oatmeal cake, but still! Mix your ingredients thoroughly and microwave as usual. The best part of the oatmeal banana bread is its consistency. Dorm oatmeal isn't as good as the homemade, steel-cut, made-by-french-elves stuff. However, this faux banana bread comes pretty close.
Pro Tip: Oat milk goes well with the flavor profile and is environmentally conscious!
S'mores
Ingredients
marshmallows

chocolate chips

graham crackers, crushed
Miss sitting around a campfire with your friends? Although the Texas heat persists, lazy summer evenings have faded into fall. Bring back a little bit of those lazy, hazy, crazy days with s'mores-themed oatmeal. Simply mix chocolate chips into your base and top it with marshmallows and crushed graham crackers. 
The Post-Workout*
Ingredients
2 tbsp Julie's Real almond butter 

½ scoop protein powder

milk

blueberries
Is your alarm set for five a.m sharp? Is a three-mile run your warm-up? Is your middle name "leg day"? If you answered yes to any of these questions, this recipe is for you. Packed with protein, the Post-Workout is the perfect breakfast to rebuild and recover after a hard morning workout. Use milk instead of water to make your instant oatmeal, and mix in protein powder of your favorite flavor. Add a spoonful of Julie's Real almond butter, and top it with blueberries! I can't imagine what a five am run is like, but I'm sure anyone in the Corp can tell you that protein equals recovery!
The Strawberries and Cream*
Ingredients
milk (cow or non-dairy)

dried or fresh strawberries

optional: vanilla extract
Make your quick oats in the microwave, using milk instead of water. Once cooked, top with an additional splash of milk and sprinkle with dried or fresh strawberries. If you're living in a dorm, keeping dried fruit around is great to snack on or use as a topping. If you want a sweeter flavor, mix in a teaspoon of vanilla extract immediately after taking your oats out of the microwave. 
Everything But the Kitchen Sink
Ingredients
mix in:

peanut butter

chocolate chips

top with:

banana, blueberries, and strawberries (cut into 4ths)

pecans

Julie's Real granola

honey

cinnamon

chia seeds

and more!
Do you have five almost-empty bags of granola, dried fruit, or trail mix? Six?! The Everything But the Kitchen Sink is the perfect recipe to clear out some space in your cramped pantry and experiment a little. The ingredients above are just suggestions; this oatmeal variation is all about getting creative! Try something new (or weird), and see how it turns out. Use up some of your old snacks and have fun. And always remember: when in doubt, go for the chocolate.
Bonus: (Oats)³*
Ingredients
instant oats

oat milk

granola
This recipe is courtesy of my roommate and her oat addiction. It is delicious and super simple. Once you have made your instant oatmeal with oat milk, all you need to do is top it with granola. Oats, oats, and more oats! You can even sprinkle instant oats on top for a little extra craziness. 
Note: I recommended Julie's Real nut butter for a few of the above recipes. Julie's Real is actually owned by my aunt, Julie Fox. But you can be sure that I would not recommend her products if they weren't the absolute best! Justin's who? I keep a to-go packet of her cacao espresso almond butter in my backpack at all times. If you're going to add nut butter to your morning oatmeal, Julie's Real is the way to go!