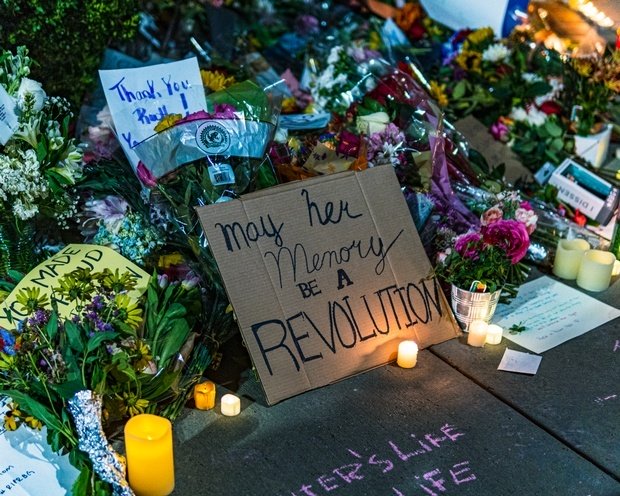 Photo by Ted Eytan distributed under a CC BY-SA 2.0 license
I was walking down the street with my friend after running to the pharmacy down the road. My phone began to go off with notifications and text messages, but ignored them and continued with my conversation. I knew that if I looked at my phone, there would be some sort of news that would glare up at me, and my day had been so good that I didn't want to ruin it just yet. Almost immediately as my phone started to go off, my mum called me. I picked up, "Hey mum, what's going-." She cut me off by taking a shaky breath and saying, "Did you see? She's gone. She's actually gone." On September 18th, 2020, Ruth Bader Ginsberg passed away due to complications from pancreas cancer. When I went on social media, I saw generations of women mourning the loss of an icon and a hero. I saw dozens of videos of women my mother's age talking about how Ruth inspired them to raise their daughters to be fierce and independent. I saw women my age talking about the inspiration they drew from Ruth to be assertive and follow their dreams. I saw young girls lamenting over the loss of their hero. It was comforting to know that I was not alone in my grief.
I can't remember the exact moment that Ruth Bader Ginsberg cemented herself in my heart as one of my heroes. I do, however, remember the events that lead up to it. In elementary school, my friends talked about being doctors, pop stars, professional athletes, and writers. I told everyone that I was going to be the first female president. Now, this was often met with "Girls can't be the president; that's a boys job." I was so determined to prove them wrong. In response to my growing political ambitions, my mum bought me the book "Madam President: The Extraordinary, True (and Evolving) Story of Women in Politics" by Catherine Thimmesh. This book was my most prized possession at the time, and I read the stories of incredible women in politics all the time. These women were, to me, what superheroes are to most children. I don't remember if RGB was one of these incredible women, but I remember reading about Justice Sandra Day O'Connor. I was incredibly in awe of this woman. Her story encouraged me to continue to research and study powerful women in court. I was lucky enough to have my mother in my corner, supporting me and encouraging me to read and learn more about the women who have paved the way for me. Along the way, I stumbled upon Ruth. I wrote a paper for my eighth-grade writing class on feminism, focusing on the Ledbetter v. Goodyear case, in which RGB wrote a famously fiery dissent. I was intrigued by this powerhouse justice, who was a champion of the women's movement. In 2015, authors Shana Knizhnik and Irin Carmon published the book "The Notorious RGB," The next thing I knew, her face was everywhere. She became a symbol of empowerment for so many women, including myself.
By the time 2016 rolled around, I had lost all of my presidential ambitions. I was instead focused on pursuing a legal career, partially due to my respect and admiration for Justice Ginsberg. I also understood how she had her fair share of controversy. As much as I idolized her and adored her, I knew that she had also made some controversial decisions that many, including myself, did not agree with. Part of growing up is accepting that even our heroes have faults. I still have the utmost respect and admiration for Ruth Bader Ginsberg. She paved the way for so many women in today's world, and I am forever grateful for Justice Ginsberg's contribution. Her death is in a time of undeniable political unrest. Many women are lamenting the loss of a hero and the loss of a sense of security. Some are even speculating this begins a new fight for women's reproductive rights in the United States, now that Ruth's seat on the highest Judicial institution is being fought over by political parties. While she may be no longer with us physically, Ruth will forever live in the minds and hearts of strong women who will undoubtedly come after her and build on her incredible legacy.