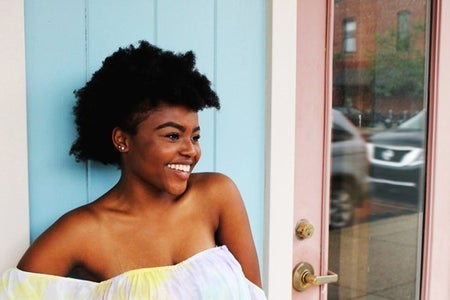 Amelia Kramer / Her Campus
My Favorite Products for Transitioning Hair
Not only was this year one of the most challenging and exciting for me because of a compromised first year of college, it was also very eventful in terms of my hair. Since November of 2019, I have been transitioning my hair to its natural state. For those who may not be familiar with the term "transitioning hair", basically it means growing your natural hair out from getting a relaxer (which chemically straightens curly hair) or a texturizer (which softens the texture of curly hair). This whole experience has been new to me, and while I have had some help along the way, I have definitely had to feel it out for myself and try new products that I have never used before in order to conserve my hair while helping it grow rapidly. I will be big chopping (cutting off all damaged hair) very soon, so my journey of transitioning is coming to a close but here are some of my favorite products I have discovered and used along the way (I have a  3C/4A curl type for reference):
1. Jamaican Black Castor Oil Mango and Lime - $7.99
Castor oil is extremely beneficial for all hair types when used correctly. I put it in my roots and edges about 15-20 minutes before washing my hair in order to promote growth of my natural hair.
2. Lottabody Love Me 5-in-1 Leave-In Treatment - $3.99
I love to use this product after washing my hair in the shower, in order to detangle and to  reduce frizz. It's important to keep your hair moisturized throughout the whole process and this leave in spray makes it super easy.
3. melanin haircare Twist-Elongating Style Cream - $16.99
This brand is possibly one of my favorite brands of hair care of all time. Their products contain natural ingredients and smell amazing. Whenever I did bantu knots or twist outs in my hair, this cream worked wonders and even worked well with my multiple textures. 
4. Via Natural Ultra Care Hair Scalp Body Tea Tree Oil - $1.45
I have been using this product since long before I decided to go natural and it still is one of my go to's. It helps tremendously with dry hair and scalp and I use it on both my ends and scalp no matter what stage my hair is at. Plus, you can use it as a moisturizer for your body too.
5. melanin haircare Multi-Use Pure Oil Blend - $17.99
Another melanin haircare product, this oil smells amazing and softens my hair really well. Since being quarantined, I've been doing wash and blow outs and I apply this to my hair when it's dry and on an everyday basis. It is in no way heavy and leaves hair looking shiny while helping hair to retain moisture and natural oils.
6. Nature's blessings Hair Pomade - $4.95
This pomade is actually a blessing from nature. It is made from natural ingredients and I use it to calm frizz and smooth my hair. Rather than going for greases and gels that may contain harmful chemicals, I prefer to use this instead to give my natural hair what it needs to continue growing.