Love in the Time of Coronavirus - Part One
We're hearing those prophets of doom everywhere now, aren't we? Divorce rates are soaring in the pandemic. Stewarts, an eminent British firm, reported a 112% increase in divorce enquiries between July and October 2020, compared with the same period in the previous year. 
Almost weekly now I find myself telling another mate 'well, it's unusual circumstances, isn't it? Usually you'd be out at work, down the bowling alley, you know… normal things.' 
Left, right and centre, we hear it. Love is dead.
And it's starting to get to me!
My Mum interrupts my quality hour of FM4102 to announce: 'your auntie's having another baby!'
'Have you ever heard that often couples on the rocks will introduce a child to strengthen their relationship?'
My mother is not impressed, and neither am I. Since when did I become so… cynical?!
Deep down though, under that tough frigidaire exterior, I know that my gooey caramel centre is still bubbling away. As someone who will always stick on a Richard Curtis movie anytime I see that one is on the gogglebox, I cling to the notion that love, actually, is everywhere.
So to all those dreary harbingers of love-is-lost, here's what I have to say: "unprecedented times" call for some unprecedented love stories!
With my newfound joie de vivre, I took to Facebook, armed with my notepad, a pen, and my journalistic impulse to know all the goss.  
You all got back to me, and so here it goes: some heart-warming tales of love rearing its wonderfully stubborn head against the odds, coupled with some sage advice from the pros at how to make it work while the whole world's going to the dogs.
***
'Usually I live in St Andrews, he's in London … we went to school together and sort of reconnected in January 2020.'
Tia's exciting new romance quickly took an unexpected turn, however, with the arrival of a certain plucky little pathogen.
'Trains were cancelled, planes were cancelled.' What was anticipated to be a three-week stopover in London soon turned out to be seven months.
I politely ask if she felt the relationship had been suddenly rushed?
'I think it's make or break.' 
She tells me how their abnormal living situation in lockdown intensified everything. 'Every month was like a year!'
However, Tia tells me that despite all that, this time actually strengthened their relationship. 
It was time to take the next step…
'We bought a husky!'
I share my theory about concerned couples introducing a child. Tia laughs. 
'It actually was like having a baby! One of us did day shifts, one of us did night shifts… we saw a lot less of each other… perhaps that helped!'
These days, Tia and her boyfriend are doing long distance once more. However, she recommends a nifty device called a Lovebox to all those couples trawling through an LDR. (Lift your mind from the gutter!!!)
From what I gather, it's like one of those mystery boxes in Super Mario, except instead of there being a mushroom inside that prompts a hideous allergic reaction, you lift up the lid every time it starts whirring with a notification to discover a cute message or doodle from your significant other.
'It's just a fun bit of technology… It's really nice to suddenly get a notification throughout the day. It feels special.' 
For our curious readers at home: of course we've included a photo of Atlas the Husky!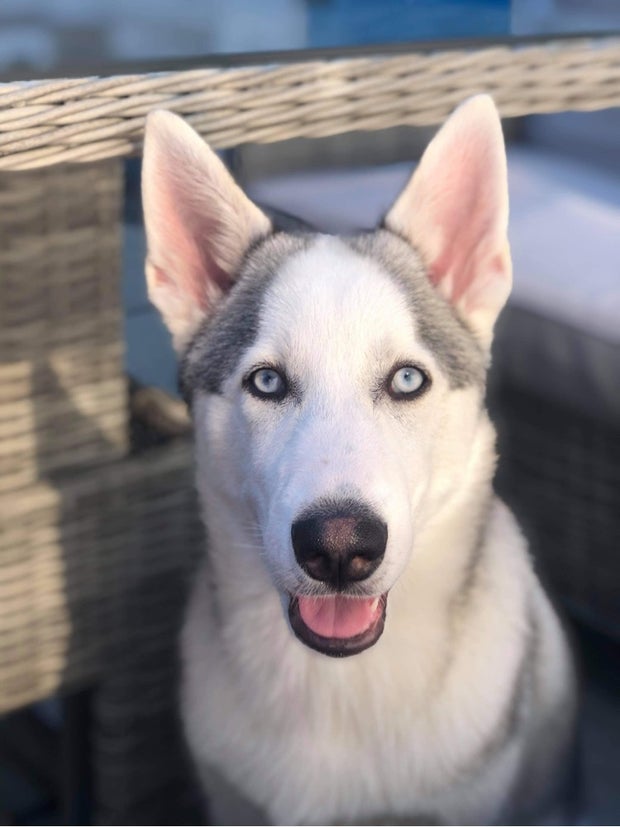 Photo by Tia Kinuthia
[Atlas who supported the world on his shoulders?... my theory only grows more credible.]
***
With many businesses shutting up shop overnight, Stacey Galloway suddenly found her options limited as she searched for work to keep her funds healthy as she keeps up her degree. Finally, she struck gold, scoring a highly coveted job at a nearby Tesco Express. Little did she know that she wasn't only going to land a new job.
'Now he's my boyfriend,' she beams.
Yes, Stacey Galloway found love at the supermarket.
'He was actually the one tasked with showing me the ropes!'
Stacey and her new man got on right away, she tells me. 'There was a wee while we were wondering "are we just good pals?"'  
Soon they realised it was more than your regular co-worker relationship. 
'So when the second lockdown came, he suggested that we bubble together.'
That was a smooth move, I smile wryly. 
'Aye! I called home, telling my Mum he was just being dead nice. She was like, "he's a clever boy."'
I'm curious to find out if they have any in-jokes from work. 
'Yeah! We chat a lot about work, the regulars… the Tesco patter! … Work isn't always the most romantic, though.' 
There's more though! It turns out their relationship is somewhat taboo within the inner workings of Tesco diplomacy. 
'He's actually the shift manager, so he's got to be careful at work not to show favouritism.'
Quelle scandale!
Reflecting on her experience, Stacey's message to our readers would be to just go for it!
'Now more than ever, you don't need to rely on Tinder. If there's someone you know, who you're in contact with or seeing at work who you've been having feelings about, you should let them know. You never know when things might suddenly get more difficult, when you might not get the chance.'
I ask Stacey if there's anything else she'd like to share with our readers.
'We had our first wee smooch in a Tesco bakery freezer!' Suddenly, she stops laughing. 'Actually, maybe you should make that anonymous in case my manager finds this.'
'Your name is now Stacey Galloway,' I tell her.
***
Chris had been using Tinder for two years. Rosie had barely been registered for two months.
After messaging for a week, they decide to decant the conversation over to WhatsApp. After a month of exchanging messages there, they were ready to take the plunge and organise a video call.
It was three months before the couple would finally meet in person.
'The situation was tricky but good,' Rosie informs me. 'We got all the awkwardness out of the way so that the "first date" was actually really easy.'
With restrictions eased, they decided to take advantage and form a social bubble together.
That first meeting took some unexpected turns, however.
'I needed the bathroom early on!' Rosie blushes. Their romantic rendezvous mutated into the hunt for an open public toilet.
They had thought the worst was behind them, when the elements decided to shake things up even further.
'It started torrentially raining.' Social distancing had to be disregarded as the pair were forced together under the only umbrella between them. As the weather escalated into a near-monsoon, the two finally resolved to shelter in a car to ride out the storm.
'Overall, we spent seven hours outside.'
Layering and a reliable waterproof are an absolute must for lockdown dating, it would seem.
Now, Chris and Rosie are living together.
Chris chimes in off-screen: 'The lack of murders is a relief. Glad you haven't killed me yet.'
I tell him I've noted that for the article.
Their relationship might have not been shaped in the ideal way: not being able to meet as soon as they would have liked; hours wandering around the same neighbourhoods the backdrop to many of those formative conversations; still having never done those typical couple dates like going to the cinema etc. However, Rosie is very positive about the effect that the pandemic had in those early stages.
'If I had to give any advice, I'd say that maybe more couples meeting online should consider video calls before the first date, even in normal circumstances. There's no pressure for how long you want to stay on for, and you get to know each other quite well.'
[Speaking with another contributor, the ability to control the pace of conversation without feeling the usual pressures to meet up seems to have been a hidden blessing of the pandemic for those more introverted daters. This anonymous interviewee told me that they had been sending messages for over a year, without meeting up. 'I'd say my feelings have definitely still flourished', they tell me, but at a pace that has negated any anxieties and allowed for a relaxed and comfortable dynamic.]
I thank and leave a loved-up Chris and Rosie to the remainder of their Sunday afternoon. It looks like murder remains off the cards… for now.
To be continued.
***
A big thank you to all of our wonderful contributors! If you have any of your own stories to share about your pandemic relationships, be sure to reach out at [email protected] for the chance to be featured!