Sodas, rebels, freezes, coffee, and nitro cold brews: the successful beverage chain along the West Coast has anything a person could ever desire. Besides aesthetic stickers given out on the first of every month, Dutch Bros is a drive through coffee shop that delivers a friendly, youthful atmosphere along with delicious drinks, classical and seasonal.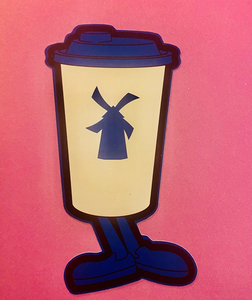 So let's start with the classics!
1. Golden Eagle Breve. As a caramel and vanilla lover, this is my go-to. It's super sweet, very caffeinated, and contains a lot of caramel drizzle on the side, a win-win. The Golden Eagle can come in hot, iced, or blended, but I personally find that the iced version tastes the best. 
2. Dutch Cocoa. Any fan of hot chocolate will be a fan of this. Coming in multiple flavors (highly recommend the cookie flavor), the Dutch Cocoa is a great alternative for anyone who doesn't vibe with espresso but still wants a hot drink to warm their hands.
3. 9-1-1.  It's called 9-1-1 for a reason. So here's a word of advice: do not drink this when you are stressed with finals. Trust me, not fun, at all. For 45 minutes you feel like you can rule the world, but then you crash. Full of Irish cream syrup, half and half, and 6 shots of espresso, this sweet beverage packs a punch. It's really good, so I still recommend trying it.Just make sure you're not stressed when you do, it will only make you feel worse. 
4. Electric Berry Dutch Soda. This is one of my absolute favorite drinks! Fizzy, sweet, and blue, not only does it taste like raspberries, it is also so pretty to look at! I like it iced rather than blended, with some soft top (whipped topping that won't sink into the rest of the drink) added. Mixed with the soda it makes a wonderful light blue color. 
By the way, soft top is the perfect addition to any of the drinks at Dutch Bros.
5. Surprise Me Rebel. This adds a little bit of mystery to the drive-thru experience. When the barista asks for your order, simply say "A Surprise Me Rebel". With that, the barista will typically make their favorite rebel for you to try. Normally they will ask if there are any flavors you definitely do not want and once you tell them that, any other flavor is fair game. Besides it being another opportunity to branch out on drink preferences, it's just fun to do!
Now, onto some of the holiday specials.
1.  Peppermint Bliss Freeze. Blended and sprinkled with bits of candy canes. During the Christmas season, if you want tons of sugar, this freeze will definitely give you a powerful sugar rush with the combination of peppermint and white chocolate. Oh, and naturally the soft top is an added bonus. 
2. Glacier Peak Rebel. Blue raspberry, vanilla, soft top, and raw sugar. This rebel has a kick! Once you mix the soft top in, the drink will turn light green. It's not exactly sweet, it actually has a bit of a tang, but after a long day it definitely hits the spot. This rebel is seasonal, so I recommend getting it while you can.
3. Peppermint Bliss Cold Brew. White chocolate, peppermint, soft top, and candy cane sprinkles. This drink is a little similar to the Peppermint Freeze, but this one actually has coffee in it. It's vanilla, peppermint, and caffeine, all rolled into one!
It's unfortunate for people who don't live on the West Coast, but lucky for us locals. Dutch Bros has a fun vibe. Going on a Dutch run with your group of friends before or after school, getting a sticker on the first of every month, it's more than a drink, it's an experience.