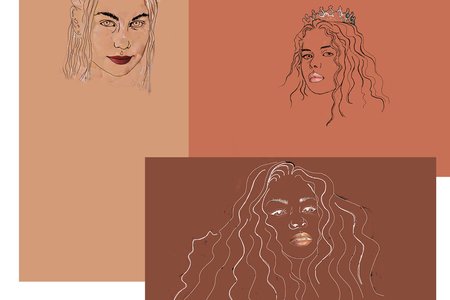 Original illustration by Taylor Schmidt
3 Female Musicians to Keep Your Eye On
Phoebe Bridgers
The timeless, melancholic sound of her 2016 debut album, Stranger in the Alps, is still on repeat for me after four years. However, Phoebe has so much more to give us, and she's doing just that. After proving her talent as a collaborator on projects like boygenius in 2018 and Better Oblivion Community Center in 2019, Phoebe released her sophomore solo album, Punisher, in June of this year. The dark and moody vibe of this album totally encompasses what it's like to be living in America in 2020—the last track literally addresses this feeling and hits the nail right on the head.
As if the new album wasn't enough, Phoebe partnered with her current label, Dead Oceans, to start her own record label, Saddest Factory, early this month. She has also taken part in a virtual event to honor RBG and demand justice on October 12th. Phoebe Bridgers is an ambitious musician, businesswoman, and activist, and I have a feeling she's still just getting started. 
Find out more about Saddest Factory and Phoebe's 2020 endeavors
Check out the tribute to RBG and take part in demanding justice in our courts
Fav songs by Phoebe:
"I Know The End"—Punisher (2020)

"Dylan Thomas"—Better Oblivion Community Center (2019)

"Motion Sickness"—Stranger in the Alps (2018
Ravyn Lenae
Ravyn Lenae kicked off her solo career with her Moon Shoes EP in 2016. Her bubbly R&B sound is universally perfect, matching every vibe from cozy cloudy days to warm summertime nights. The Chicago singer/songwriter has been supplying these gentle tunes through a series of solo EPs over the past four years as well as through Chicago musical collective and record label Zero Fatigue, whose projects can be found on YouTube and SoundCloud. 
It's been a few years since Ravyn has released solo work, and I can't be the only one who misses her. However, she was featured on a track from the fourth season of HBO's Insecure. I'll be keeping my fingers crossed for a new album as I "Rewind" this groovy 2020 single all day long.
Read more about Ravyn's track on Insecure
Get the scoop on Zero Fatigue and Ravyn's musical start
Fav songs by Ravyn:
"Rewind"—Rewind (from Insecure: Music From The HBO Original Series, Season 4) (2020)

"Moon Shoes"—Moon Shoes EP (2016)

"4 Leaf Clover (feat. Steve Lacy)"—Crush EP (2018)
Nilüfer Yanya
Individuality is one of the most important and exciting things about being human, and for this reason, I look up to Nilüfer Yanya a ton. Her smooth and captivating sound is the perfect pairing to her independent musical style—I can honestly say that I have never listened to an artist like Nilüfer before. The English musician kicked off her career by declining an offer to be a member of a girl group produced by Louis Tomlinson and has since been supplying us with a plethora of funky yet beautiful songs. 
Nilüfer's latest appearances in the music scene have been as a judge for Vans Musicians Wanted as well as the release of her 2019 album, Miss Universe. In a recent at-home concert for NPR's Tiny Desk series, Nilüfer revisits this album while expressing her desire for racism to be tackled not only in America, but in the UK as well. Nilüfer Yanya is unmatched in her unique sound as well as her strong will to be true to herself.
Listen to Nilüfer's Tiny Desk concert and get insight on Miss Universe
Read this interview with Nilüfer to learn about her inspirations and passions
Fav songs by Nilüfer:
"Paralysed"—Miss Universe (2019)

"The Florist"—Plant Feed (2017)
"Keep On Calling"—Small Crimes EP (2016)