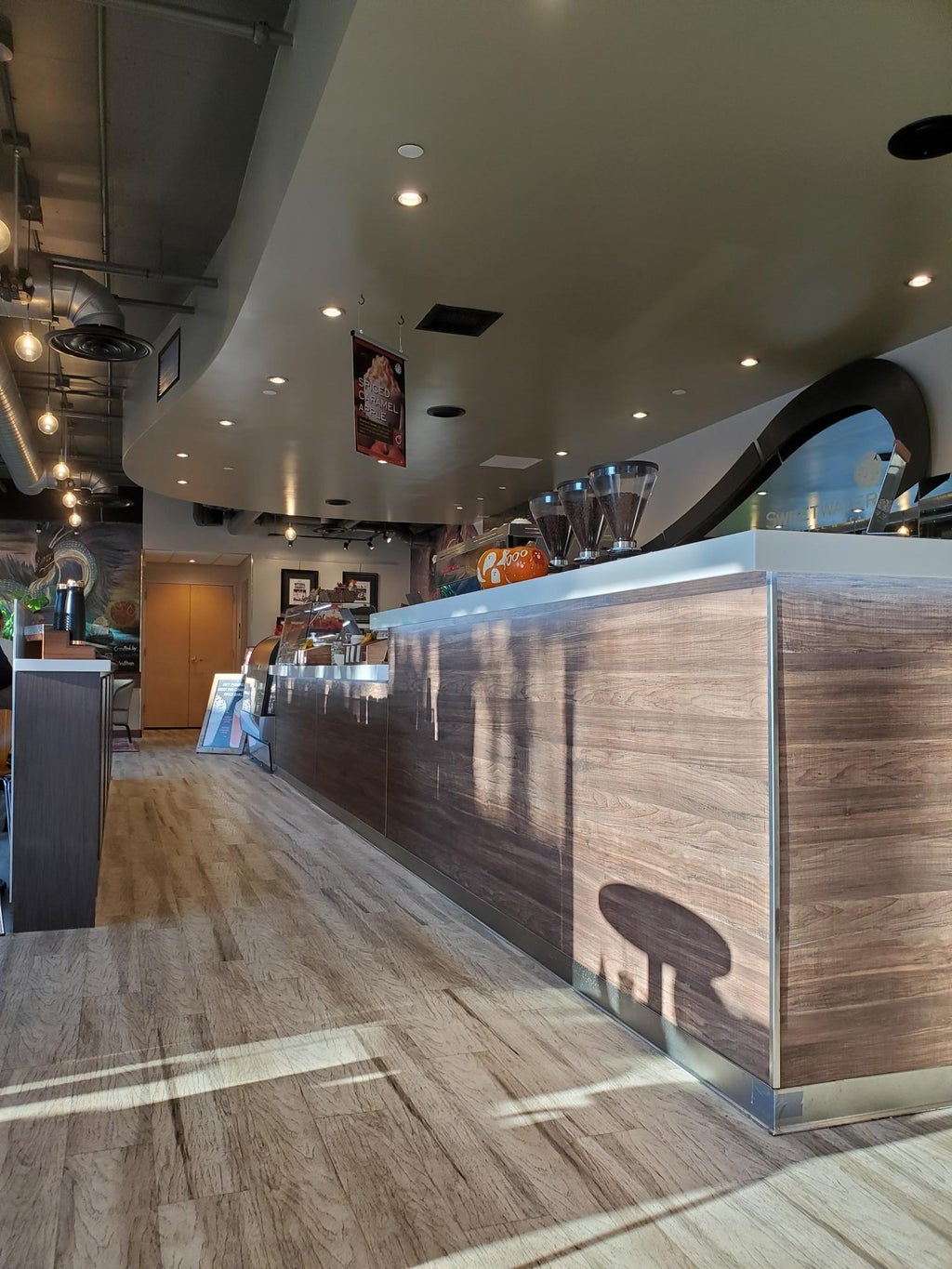 Sounds of chattering customers and drinks blending meet you as you open the door. The smell of roasted coffee fills the air and notes of something sweet waft over to you. Sounds familiar, right? But this isn't just any Starbucks.
Located on the edge of campus, Sweetwaters Coffee & Tea offers delicious smells and even better treats. If you're looking to change up your coffee routine or try something new, look no further than this spot.
This single floor, modern café is a refreshing change of scenery for downtown Columbia. Don't get me wrong, I love a good rickety floor and worn seat as much as the next person; but I just also really dig the spacious, contemporary aesthetic of Sweetwaters.
Picture the stretch of floor to ceiling windows, the immaculate lighting, and the exposed concrete. The owner wanted his shop to have more of an industrial, post-modern tone and he succeeded.
Sweetwaters Coffee & Tea has been open for three years now. The coronavirus outbreak did have a strain on their business, but they luckily never had to shut down. They've built a strong customer base here in Columbia, since they're nestled in a prime location and have a really nice staff.
Greg Dodd, store owner and general manager of the café, is a kind and purposeful guy. I sat in the store for several hours and watched as he strived to make a connection with every guest who came in. Many who came in greeted him with familiarity and happiness, which tells me that the connections being built here are genuine.
He also barely stops moving, which is the telltale sign of a business owner who takes pride in his work.
I was lucky enough to pick his brain a bit while he prepped behind the counter. One thing that stood out was his story about a student who came to Greg's café nearly every day during their junior and senior year. After graduation, the student stopped in for what became a tearful goodbye since they were moving back to their hometown. Greg says he's blessed with many such interactions that attest to the fact that he's doing more than just selling coffee.
"People open coffee shops either because they are passionate about coffee or passionate about people. I probably lean towards the latter of the two," Greg told me.
This is what sets Sweetwaters apart from other coffee shops I've spent time at.
Just the other day, one of Greg's frequent guests proposed to his girlfriend outside of Sweetwaters, which is where they had originally met! There's a lot of warmth being exchanged at this coffee shop, which you can see here on Greg's Instagram.
It's also a fun spot in general! I've seen people study, meet up with friends, and play checkers or chess (both of which are set out for people to use.) I will say, because this place can be so poppin', it may not always be the best spot for studying. The chatter is pretty constant and bounces off the walls, which isn't ideal if you need to focus. It is a great place to meet new people, though.
I highly appreciate the disability friendly space, too. There's an accessible ramp on the side of the building and lots of spacing between all the tables. I know this is a coffee shop I can take all of my family and friends to. I will note that I am not a professional, nor am I checking this shop for ADA standards. I am just stating my personal opinion.
Some other great things for you to know:
There's a gorgeous mural on one of the walls. I won't tell you what it is so it can be a surprise. It was created by Joel Nathan (you can find his work on Instagram here). I've decided I will choose a seat facing it every time I come here.
The spiced caramel apple drink is the bomb-dot-com. I asked Gregg's opinion on if I should get it hot or cold and he recommended it hot, since the flavor comes out best that way. He was not wrong about it tasting like apple pie, so I've decided to trust whatever he recommends.
They have a really pretty food case. I've decided to slowly try all the food in it.
There's a reason Sweetwaters Coffee & Tea is usually packed and teeming with customers, even at odd times – it's neat. Don't worry though, you won't wait long for your treat!
If you want to pull up, swing by 1002 Park Street in Columbia. It's right across from the AD12 lot and on the same stretch as Empire. They have pretty good hours too, so Sweetwaters may just become your new favorite spot.
Say hi to Greg for me!