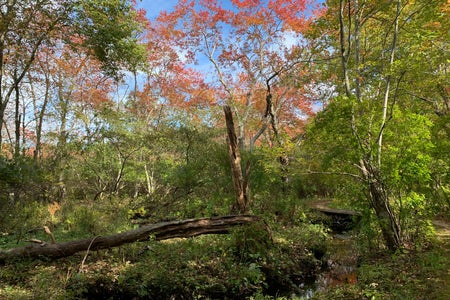 Hidden Gems: SC State Parks
Adventure awaits those who seek it. What better way to start an adventure than with local state parks?  Since 2019, I have been on countless adventures throughout the state park system in South Carolina, and I have made an endless amount of friends and memories. From snails crossing my hiking trail to turtles floating about in the lake, the state parks are like hidden gems amongst our sandy and rocky terrains. In honor of these adventures, here are the top memories and parks that I have been too within the past year:
1.

Sesquicentennial State Park:

Located in Richland, South Carolina, this park is near campus and is full of hidden beauties. It has camping areas that range from tent spots to cabins. This park has a lot of opportunities. It is right off Sesquicentennial Pond where you can rent paddle boats or bring your canoes to explore the pond. The trails are perfect to connect with nature. My personal favorite is the Loop Road Trail which is 3.5 miles long so that by the end you feel accomplished and it's a nice time away from the park itself and the city. 

 If you love mountain views then this park is a sight to see. Located in Wedgefield county, it is about an hour away from campus. The car ride is so worth it. In Poinsett, you're able to go to a look-out shelter where it's possible to see the overhead of a few mountains on a clear day.

This park is one of my favorites. On my adventures around countless state parks, I have found this one to be the most refreshing and explorative park. This park is where the legend Francis Marion is buried and you can visit his tomb that is only a few miles just outside of the park itself. Located in Santee county you can explore over ten miles of trails (there are separate ones, you don't have to walk all ten miles) and you can experience sleeping over the water in one of the ten available rondette cabins that have been built directly over it.
These parks are the small pieces for South Carolinians to experience in our beautiful state. And if you're ever out and about in the park system, try to find me and my family hosting Parks On The Air, a HAM radio program to connect state parks around the country and even the world. To find out more about the amazing park system in South Carolina visit here to explore park options that everyone can explore. Remember it's good to grab a book and your hammock and spend time with nature now and again.