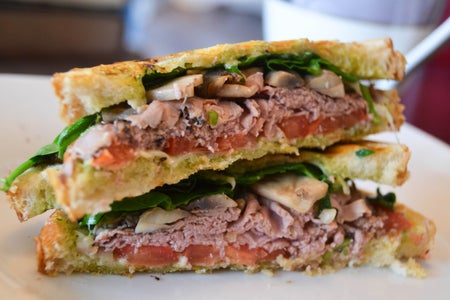 Have You Tried Swanson's Deli?
If you are a lover of all things Indah Coffee and Stoner's Pizza Joint, then you have most likely seen Swanson's Deli while walking through the Arcade Mall building.
Swanson's Deli is not just your typical deli like Firehouse and Subway (which do not always offer a great customer service experience). Stephen Swanson, owner of Swanson's Deli, is one of the nicest people I have ever met. When I say "one of," I mean he is the nicest person I have ever met. 
Let's get to the good stuff, am I right? The menu! Swanson's has quite a few menu options but my personal favorites are the Chicken Salad Club and the Bob Special (more so the Bob Special). The Bob Special is a better version of the famous Grouchos' STP Dipper.
There is never a time that I have been in the Arcade Mall that I have not seen Swanson's employees busy helping to get the delicious food out. Everyone that is hired there has the utmost respect for every customer, and it really shows.
While it might be hard to push yourself into trying a new place and take a step away from typical franchises and branded restaurants, just know you will not regret this. If it persuades you more, lawyers and doctors on their lunch breaks stop by to enjoy the deli's offerings.
If you are ever in the area and just happen to be around Main St. during lunch hours on a weekday, pay them a visit because it will not be a mistake. You will be greeted with a warm smile and be waved goodbye with your mouth watering sandwich or salad. 
Be sure to check out their menu!