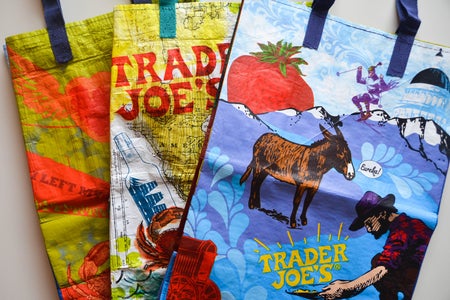 My All-Time Favorite Trader Joe's Items
Ever since I moved to Dallas from my small hometown in Southeast Texas, I've become a huge Trader Joe's fan. They're ideal for dorm life or when you just want to keep it simple, with a wide range of reasonably priced, ready-made meals that you just need to heat up. They also have some of my all-time favorites for snacks, drinks, quick dinners, and breakfast foods. Whether you need help prepping a full meal in a short amount of time or just need to stock up on some dorm-friendly foods, Trader Joe's is great! Here are just a few of my current must-haves. 
1.

Rolled Corn Tortilla Chips, Chili & Lime Flavored

This one had to be first – I'm genuinely obsessed with these. I'll eat almost a whole bag just in one study session! They're great if you like Takis but want a little bit less heat. 

My sister recommended this one, and I was pleasantly surprised. They're so easy to make – all you have to do is boil them in some water. The great thing is that you can add whatever you want and make it your own – I keep it simple and eat them with some veggies. 

This one's great for when you need that perfect movie night snack! Me and my friends easily demolish a whole bag in one night. 

4.

Ready to Drink Cold Brew Coffee

Their cold brew is one of my go-to items! It's so yummy, and this one isn't concentrate, so it's ready to drink. All I do is pour some out and add a little almond milk! It's something really useful to have in your mini fridge for those mornings when you don't have the energy to go grab a coffee before your 8 am.

5.

Thai Lime and Chili Almonds

Another great snack! What I love about these lime and chili almonds is that the flavor is subtle, and not super spicy. This is something I love to snack on while doing work or just watching Netflix when I just want something light. 

I'd definitely recommend these if you're looking for a new dessert or snack! I've heard this is a childhood favorite for many people, but I've only recently discovered it. You can't go wrong with chocolate and banana, though. 

7.

Thai Yellow Curry Sauce 

Curry Sauce is great for cooking practically anything you want. You can throw it in with some chicken or make a chickpea and vegetable curry. This is a good and easy way to change up your go-to meal with just one ingredient! 

Me and my friends love going on picnics or making cheese boards, and Trader Joe's is great for that. If you love a good sharp cheese, I'd definitely recommend this one! You can cook with it, put it in a salad, or just eat it with crackers. 
My list could go on and on – these are just a few of me and my friends' go-to Trader Joe's items. If you're looking for really well-priced snacks or meals that are easy to put together, look no further. I always find myself buying way more than I should there, but it's totally worth it!