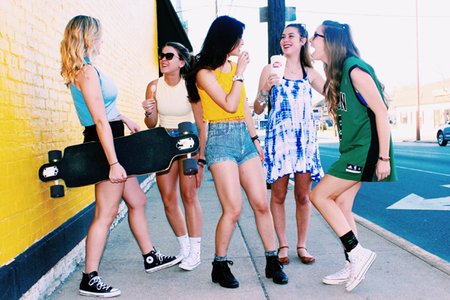 Amelia Kramer / Her Campus
Here's What to Wear for Mardi Gras and Mardi Gras Weekend
Mardi Gras can be a weird event to dress for. Here are a few ideas on what to wear to the next Fat Tuesday party.
This is an esy way to make your outfit pop. You can go on amazon, party city or Target to find a tutu. Make sure you pick a funky color to wear!

There are alot of different colors, designs, and glitter bows at any store that you could pick from!

This is super convienent if you are going out to party. This will keep all of your personal items close, plus you can find some really cute ones that would make your outfit pop.

A feathered boa or feathers in general will bring the New Orleans feel to any party.

Molly Longest / Her Campus

Add glitter face paint, glitter body paint, or glitter in your hair. Glitter will make you shine like the queen you are plus will be perfectly festive. 
Mardi Gras may have a color theme, but that doesn't mean you should limit yourself to what you see in the stores. Go crazy and have fun!