My Top 5 Romantic Comedies on Netflix Right Now
I'll be honest with you: a lot of my favorite movies and tv shows have mysteriously vanished from Netflix over the past few months. Who kidnapped them? How much of a ransom do I have to pay to see That 70's Show, Parks and Recreation, or at least a decent Hugh Grant movie back on the OG streaming service? For those of us who are brand loyalists -- or at least those of us who are too broke to pay for four different services every month just to get a decent selection of movies and television to choose from -- I've picked out a few of my favorite gems that are available to stream right now. 
1.

When We First Met (2018)

This Netflix original is a romantic comedy with an emphasis on the comedy! Even if you think you're over Groundhog Day-esque movies, you need to give this one a chance if not for any other reason than to see a fantastic performance by Adam DeVine. The Pitch Perfect alumnus stars as Noah, a man who discovers he can go back in time via an old photobooth to the night he met the love of his life -- who, by the way, is about to get married to somebody else. With a short run time of 1 hour, 37 minutes, and some fun twists that set it apart from similarly-styled movies, it's definitely worth a watch!

2.

Valentine's Day (2010)

There's no doubt that any fan of the genre has seen Valentine's Day a little over a hundred times -- with it being centered around the most romantic holiday and having the Love Actually-style format, it's a classic that's always comforting to go back to. If you're looking for something familiar while the stress of finals week and the pandemic are getting to you, I can't think of a better remedy than watching Ashton Kutcher pollute a river with a bunch of roses. 

The year 2010 gave us more classics than we ever appreciated at the time: my previous pick, Kesha's greatest album (Cannibal), the Silly Bandz movement, and, of course, Easy A. Another seminal classic for not only rom-coms but the teen movie genre, Emma Stone is the intelligent and imperfect, Olive, who takes her English class reading of The Scarlet Letter a little too seriously. I mean, who among us hasn't projected too much onto a fictional character and subsequently caused school-wide chaos including a ruined marriage? This movie is hilarious with the warm and-fuzzy ending we all know and love. 

What a strange, wild ride Mr. Right is. It's one of those rare movies where they don't even try to justify how wild the plot is -- instead, they just seem to say, "Our main characters are insane! Deal with it!" Anna Kendrick stars as a recent dumpee who falls in love with a professional hitman, played by Sam Rockwell. This movie is action-packed and definitely a great choice for those whose sense of humor is a little more off-beat. 

5.

Happy Anniversary (2018)

Closing out my top five is one of the most criminally underrated/underwatched movies I've ever seen. You might recognize Ben Schwartz as the over-the-top Jean Ralphio from Parks and Recreation, but the jokes in this movie are sprinkled into a much more grounded premise. Happy Anniversary follows the story of a couple who, on their three-year anniversary, have to stop and evaluate if they're really in love and have a future together, or if it's time to go their separate ways. If you're looking for a rom-com that feels a little more "real" than, say, a Sandy-and-Danny-driving-into-the-sunset moment, I would highly recommend giving this one a chance.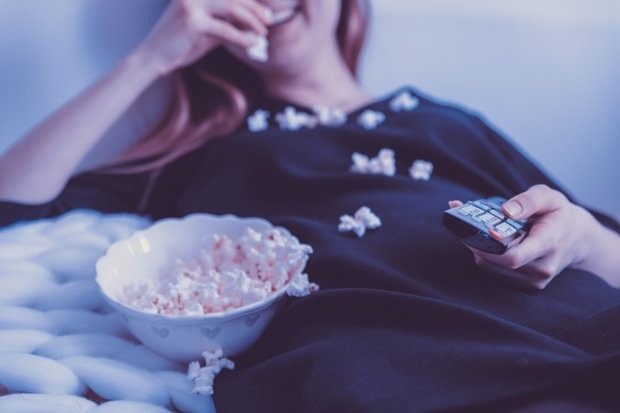 Photo by JESHOOTS.com from Pexels
This time of year is stressful for anyone. With finals, Thanksgiving, the Winter holidays, and the global pandemic spiking once again, sometimes we all need to unplug and just watch people be in love. If you don't want to waste time scrolling through a million different streaming services, treat yourself by checking out these gems on Netflix tonight!