During the spring and summer months I typically dress up more for dinners and days out; however, I do not like the feeling of caking on powder and so many products on my face. So, the past few years I have found some products that I now swear by and are great for summer. 
Personally, I prefer cream products as opposed to powders because it just gives more of a glowy and radiant affect on your skin. Cream products also do not dry out your skin at all, but rather have the opposite effect. Another reason I prefer cream products for the warmer months is because if you swim with or just enjoy to put a little bit of product on before going to the beach or pool,  it tends to stay on better and does not come off. 
In the summer I usually keep my makeup routine to a minimum because I just like to go for a more natural look. My routine usually consists of a little concealer under my eyes, some cream bronzer, blush and highlighter. I also use a clear brow gel that doubles as a top coat to make any mascara waterproof. Occasionally I will put on some liquid eyeshadow and maybe a lip color. 
By far the best concealer I have tried is the Maybelline Fit Me Concealer.  It is a dupe for the Nars Radiant Creamy Concealer. I like the consistency of both of them because they are both medium coverage and are much lighter on your skin than other concealers I have tried. They add the little bit of brightness I am looking for and I have also found that they stay on pretty well if you swim with it. I also really like them because they never crease under your eye and it just makes you look more awake and bright.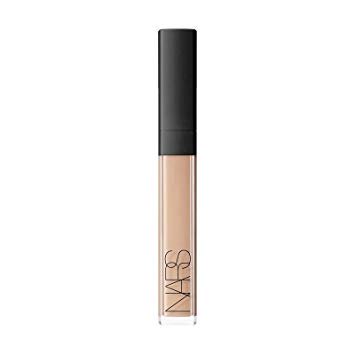 Cream bronzer has slowly become an obsession of mine. I love bronzer as it is, but finding some good cream options has been life changing for my makeup routine. My all time favorite and go-to is Match Stix Contour Skinstick by Fenty Beauty. I personally like how blendable this one is—even though I am no makeup artist, it looks so natural but still defines the parts you want. I also have tried the Fenty Beauty Cheeks Out Freestyle Bronzer. Instead of the product being in stick form the product is in a pan and it's easy to apply with your fingers or a dense brush. I also really like this option, but find that using the stick application is easier for me. 
Blush has become such a popular trend in the past year or so and I am so glad. I have only tried one cream blush so far, however I am a big fan and will probably stick with this one for a little while. It is the Elf Cosmetics Putty Blush. I am a fan of Elf in general so I knew I would most likely enjoy this product as well. Even though the colors are a little brighter than I usually go, they are so easy to blend that it ends up looking more natural, which I prefer. It is also so easy to apply with either your fingers or a brush and is an affordable option. 
Highlighter is something that I always put on no matter how little makeup I apply for a day. I just enjoy how it allows focus to be put on the highest parts of your face and it makes you glow. For the past few years I have been using the same liquid highlighter and have since recommended it to every single friend. I am obsessed with how amazing it looks. It is the L'Oreal True Match Liquid Glow Illuminator. It is very blendable and gives you a subtle yet beautiful glow. 
Ever since I began getting my eyebrows waxed the women doing my eyebrows told me that using eyebrow gel can enhance your look by significant amounts, and I firmly believe that to be true. I have been using the same once since freshman year of high school and am never going to switch because it is so affordable and does exactly what I want it to do. It is also multipurpose and you can use it as a base layer or top layer for your mascara depending on what you want it to do. If you use it as a base it allows your mascara to apply with less clumps and spreads out your lashes more or if you use it after it makes your mascara waterproof and that is especially helpful during the summer months. The product I use is the Essence Lash and Gel Mascara and it is only $2.99!!!
I have always been someone to invest in nice products if they work well, but mascara is something that I like to buy from the drugstore because considering it expires every 3-5 months or so. I personally am a fan of any Covergirl or L'Oreal. However my personal favorite is Covergirl Lashblast Volume Mascara. It makes your lashes look so long and separated, which I love. 
Liquid eyeshadow is so nice because it is so easy and with one color you can elevate your entire look. My personal favorite is one by Stila. It is called Shimmer & Glow Liquid Eye Shadow. It is so easy to apply and lasts all day long.
I have never been someone to go for bright lipstick, but I have been able to find some liquid lipsticks that I love wearing and are also are great for summer because they are very long lasting. I recently found and have been enjoying one by Morphe and from the Madison Beer collection. It's called the Madison Beer Lip Gloss. The natural look makes your makeup look so effortless and beautiful. 
I love playing with more colorful products in the summer but I also make sure that the products I am using are going to be long lasting. Keeping a simple makeup routine has let me still be able to wear my favorite products during the warmer months and also feel my best no matter if I'm going out to dinner or going to the beach.