Megan O'Neill '21, A Very Busy Saint!
Megan O'Neill is a junior at Siena, majoring in Mathematics with a minor in Educational Studies and a minor in Franciscan Service and Advocacy. Megan is a great example of a well-rounded Siena Saint. She serves as a tour guide and an orientation leader, as well as being very involved with the Franciscan Center and Chapel here on campus. Her Campus Siena met with her to discuss how she manages to stay so active within the community, and what it has taught her.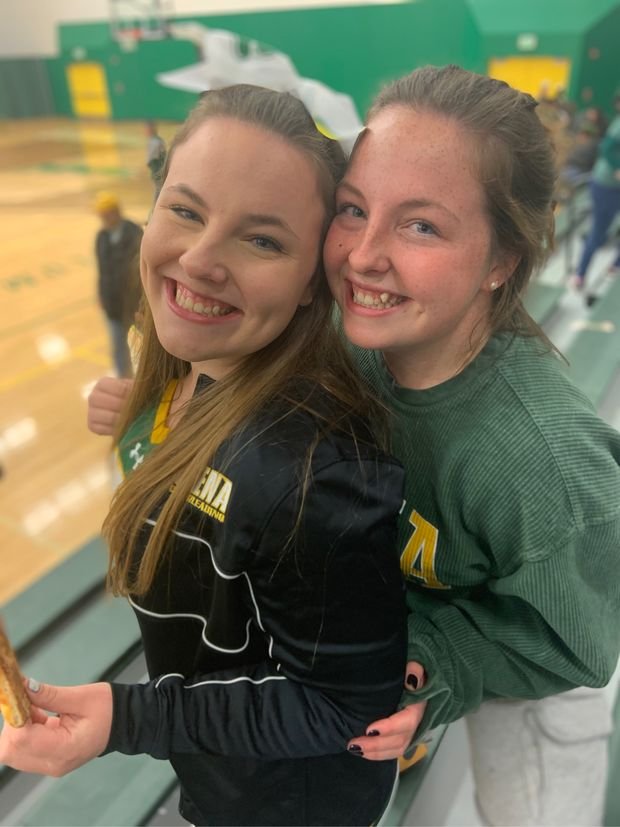 Above is Megan (left) with her sister, Erin (right)
Her Campus Siena: Could you tell us what you participate in here at Siena?
Megan O'Neill: On campus I'm a tour guide and a SAINT Orientation Leader. I also work as a participant and a trip leader for the Franciscan Center of Service and Advocacy as well as closely with the Chaplains Office through Psalm 150, Liturgical ministry and as one of the Co-chairs for Spiritual Planning on the Siena Campus Ministry Board. I think that's it!
HCS: Could you talk about your experience as an orientation leader and tour guide in regard to what it has taught you about the school and the Siena community?
MO: I think one of my favorite pastimes is talking about how much I love Siena College and showing it off to as many people as I can. That being said, both of these positions give me a great opportunity to do so. As an ambassador and tour guide, I continuously get to see the look prospective students get as they see our campus for the first time. Working open houses is always exciting because we get to see how excited everyone is to show off our school and our community. The energy is always awesome and it's just a really fun thing to be a part of. Being a SAINT is also such a unique experience. The team of SAINTs becomes a tight-knit family in a matter of two weeks that we spent together, all with the common goal of welcoming the incoming freshmen. Similar to admissions events, the energy is unlike any other and I think that's something really special that our community has. I firmly believe that Siena attracts the best people and this is continuously proven to me at any event or day to day life on this campus.
HCS: Of the activities and service you have experienced, what is your favorite and why?
MO: This is a really hard question as each experience has brought me new lessons and people in my life. One of my favorite service experiences from Siena would have to be the FCSA Siena Stands With Service and Immersion Trip to Nicaragua over winter break my freshman year. Trips like the one I was lucky enough to go on open our eyes to a world outside of our own countries, the struggles they face, their culture, and the people. Embracing our school's Franciscan values is really important to me, and trips like these made me a stronger advocate for the "outsider". The overwhelming amount of knowledge, love, and lessons I have received from this trip alone are immense. Some of the people I met on this trip have also been my biggest mentors and greatest friends, and I owe that to the experiences we shared in Nicaragua. I strongly encourage anyone and everyone to look into these trips at the Franciscan Center or any other form of service that they offer!
HCS: Being so involved, have you ever felt as though you have too much on your plate? What did you do about it?
MO: Speaking for myself and many other involved people, I much prefer to be busy and involved than on the sidelines. That being said, however, it can definitely feel overwhelming sometimes. For me, I find it important to take advantage of the resources around me to stay organized such as Google Calendar or the different offices and staff members we have here at Siena! Aside from staying organized, I also think prioritizing is very important - what comes first? This allows me to really focus on certain activities or events, and know when to step back and let others take over in other cases. Being so busy has taught me that it's okay to be on the sidelines sometimes. There are so many awesome people on this campus that specialize in certain things, so it's great to be able to really experience different events in a way I can't always do if I am running or leading them. It's also important to take the time to step back and focus on myself, which can be hard sometimes, but it's key when my plate is really full. All in all, I really do love being so involved on campus… a full plate is a full heart!
HCS: What skills or traits do you learn from your activities that you believe will help you beyond Siena College?
MO: I think as a whole Siena sets you up to succeed academically, socially and professionally. Siena isn't so much of learning in the classroom, but out of it as well, through the many opportunities Siena offers to get us out there. The Franciscan value of being a compassionate leader is one I think I have embraced since coming to Siena. I think I have always had a strong sense of empathy for those around me. Serving with others is something I hold dear to my heart. Leading people to happiness is something I have always loved and being a student at Siena College has given me endless opportunities allowing me to lead with my head and my heart, whether it be as a CA, a SAINT, a member of a club or even just as a friend, which is why I am so blessed to receive more than an education here. I have been able to work alongside so many other leaders that all lead in different ways, opening my eyes to the many leadership styles there are and how we can carry them out. Siena truly embodies our saying of receiving an education for a lifetime, because what we learn goes beyond the classroom and remains with us as we leave our campus.  
HCS: How can students contribute on campus, even if they don't have the time for, or can't commit to, clubs?
MO: Even if there is not enough time for someone to commit fully to clubs, going to the tons of events on campus allows you to participate in the clubs' activities and support them. By doing this, you can see what they are doing on campus, involve yourself with them, still make new friends in the process and just simply get going around campus.
HCS: Do you have any tips for those who may have the time, but are too shy to sign up for and attend new activities?
MO: I think it's really important to step out of your comfort zone. Taking that leap, which doesn't have to be done alone, allows for you to meet your people on campus and find what you're passionate about! It definitely can be intimidating being in a new environment but I am so thankful for the times I have stepped out of my comfort zone because it's helped me find such great people and organizations on campus.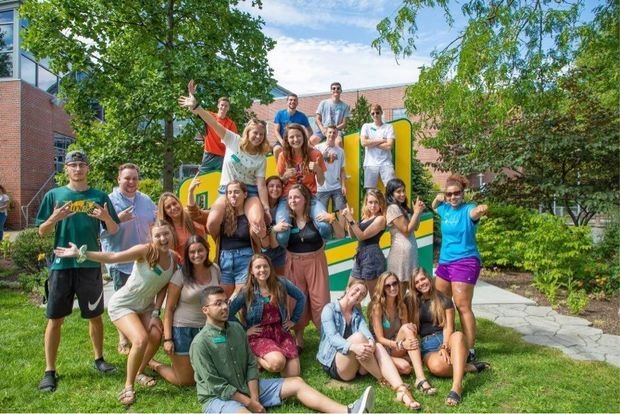 Above is Megan, in the middle, demonstrating her Siena pride with her fellow SAINTs during orientation
Through various activities and a clear love for Siena College, Megan O'Neill demonstrates what it truly means to be an active Saint. She is dedicated to this school, through not only her classes, but other activities as well. Anybody who wishes to get involved on campus, whether you have time to fully invest yourself in clubs or not, can do so. If you're interested in becoming more involved, take Megan's advice, and just go for it! Who knows, you may meet some new friends while picking up helpful life skills on the way.