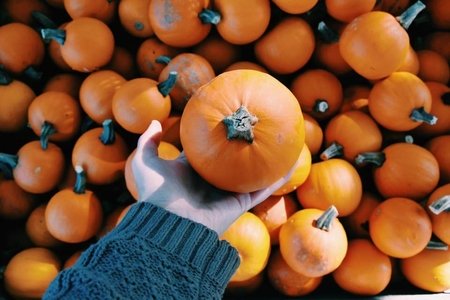 Anna Thetard / Her Campus
Decorating for Halloween can be a lot of fun and there are many types of decorations to choose from! Since there are lots of decorations to choose from, first decide which theme or asthetic you want to go for. You can pair different colors together to create a warm homey feeling, or a dark and ominous Halloween feeling. To make a warm look, choose colors that are orange, yellow and white. On the other hand, use purple, grey and black with some orange and red accents to make a scarier look. Here are some ideas for both types!
Starting off with warmer feeling Halloween decor, candy corn accents are sure to do the trick! Besides leaving a bowl of candy corn out, you could also DIY paint some wine bottles to look like the candy and add bows for a finishing touch.

Keeping with the orange, white and yellow theme, add some white pumpkins to decorate your dorm or house. The small pumpkins last for a very long time without getting mushy like the carving pumpkins, so you can get them way before Halloween and keep them into Thanksgiving if you want! Adding fall leaves also brightens up the the white pumpkins to make the white pop.

Add some spooky skulls to create a darker Halloween look! You can decorate with skulls inside or outside and can also use some black spiders, bats and cobwebs to complete it.

4.

Tombstones and Graveyards

Using tombstones can make your decorating even more spooky! If you want to really scare trick-or-treaters this year, turn your front yard into a graveyard scene. 

Changing your outdoor lights to a purple or orange can add to the overall spooky effect. Putting up string lights that are those colors can make your house look even more ready for Halloween.
October 31 is coming up fast, so you better start decorating if you haven't already! For more Halloween decorating ideas, Pinterest and Instagram are always a go to. Happy Halloween!