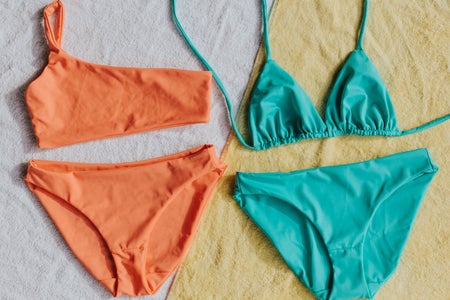 Best Swimsuit Brands for Bigger Chested Girls
Being a girl who has a bigger chest, trying to shop for bathing suits that fit and are flattering can be a struggle. I have tried so many different brands at different price points and have had some major fails, but I have also found many brands that fit and are adjustable. Bathing suit shopping can be very difficult for some people because it can get very frustrating very quick, however here are some brands that I have found to fit well and be adjustable so that they can fit on many different body types. 
Aerie was always a brand I loved not only for their amazing quality products but also because they are such a body positivity and exclusive brand, which for me is something I personally like to invest in brands that I know have a good mission. Aerie is good for bigger chested girls because they have bathing suits that line up with bra sizes as well as just bigger and more coverage tops in general that are very adjustable so that they can fit correctly. They are about in the middle price range but always have amazing sales.

Target is a store that I have always loved and their bathing suits are no exception. They too have some suits that you can buy to your corresponding bra size or just buy normal sizing, but they go up to D/DD sizing. They are pretty affordable and definitely more trendy depending on the styles of the summer. 

Joyln is a brand that was created by a surfer and a swimmer, and being a swimmer my entire life I became familiar with them due to my teammates. They are more of an athletic look and are very supportive as well as adjustable. Each top has a tie in the back so that you can tie it as tight or loose as you need. They go up to size 2X in most tops so they can fit up to a D/DD. 

Midori is a mostly online swimsuit brand. The reason I love this brand so much is because they're swimsuits are incredibly soft and are amazing quality. They are a little more on the expensive side, but I would say the suits are definitely worth the higher price point. Most of their tops have adjustable straps in the back to make them as tight or loose as you need. They also have good coverage in the front. 

Lastly, my favorite brand for swimsuits is L'Space. It is definitely the most expensive option, however the styles, quality, and colors cannot be beat. They have very classic styles that I believe will never go out of style and are amazing quality. They also go up to sizes D/DD which is nice and most of their tops can be adjusted to fit a person better if needed. 
All of these brands make swimsuits that have a wide range of sizing and are very adjustable to be able to fit any body type. Hopefully this will make shopping for swimsuits a bit easier when considering what brands might be a good place to start.