The Candidates You Never Knew Existed
With Joe Biden officially out of the presidential race, it's time to learn a little more about who will be facing Hillary Clinton and Bernie Sanders in next year's Democratic Primary (because let's be real, you had never heard of these guys before last week's debate).
1. Martin O'Malley
Age: 52
Credentials: Former Mayor of Baltimore and 61st Governor of Maryland
Platform: O'Malley is considered the second most liberal candidate in the race (following Bernie, of course) and has a strongly liberal stance on the issues. During the debate, O'Malley mainly focused on gun control/violence and mass incarceration and the actions he has taken in Maryland to combat gun violence. Later in the debate, he stressed the need for environmental reform.
Memorable Moment(s): O'Malley received some flack post-debate for confusing Russian President Vladimir Putin with Syrian President Bashar al-Asaad in a discussion of Putin's recent advances into Syria. Otherwise, O'Malley delivered a strong, albeit occasionally somewhat disingenuous, performance.
Does he have a chance?: Although O'Malley has a small following and has proved himself to be a capable and articulate candidate, his performance at the debate did nothing to shoot him above Democratic front-runners Clinton and Sanders. He is a strong democrat who political analysts are claiming could be competitive candidate in the future.
2. Lincoln Chafee
Age: 62
Credentials: Former Senator of Rhode Island and 74th Governor of Rhode Island
Platform: As Chafee has changed from a Republican senator to an Independent governor and now to a Democratic presidential nominee, many people are still wondering about his stance on certain issues. Regardless, Chafee spent much of his debate time criticizing Secretary Clinton's involvement in the Iraq War and has spent much campaign time promoting his goals of peace. He is also largely focusing on privacy rights and immigration reform throughout his campaign.
Memorable Moment(s): Chafee has received considerable criticism for his attempted defense of his 1999 vote on the Glass-Steagall bill, which made banks bigger. When approached about the subject, Chafee claimed he did not read the bill well, as he had just taken office after his father's death. This somewhat pitiful excuse has not been received well by the Democratic Party and is seen as a large blunder on Chafee's part.
Does he have a chance?: In the words of Secretary Clinton: No.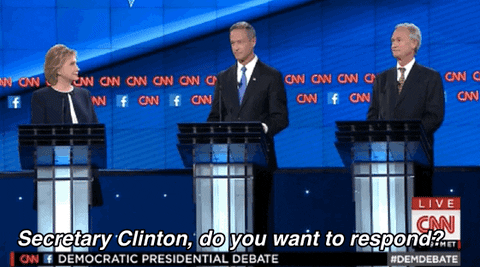 Oh, and remember this guy?
Jim Webb, former Senator of Virginia, dropped out of the race earlier this week following an unimpressive performance at the debate. Much of Webb's time was spent talking about how little time he was being given, and attempting to refute many of his past actions that do not set well with many Democrats, such as his previous statements on affirmative action and gun control.
Here's a compilation of all the times Webb got mad at the debate:
Webb ended his campaign on Tuesday, claiming his views were no longer compatible with the Democratic Party. He is considering an Independent bid, but for now we will just have to wait and see.
In the end, though, these two cuties are the only ones you really need to know about.