2019 Grammys Recap: All the Tea on the Fashion, Performances, and Winners
The Grammys has always been my favorite award show due to my love for music. Although most of my favorite artists aren't nominated and the ceremony has been less than great the past couple of years, I still give the show a chance.
The Grammys is supposed to be the biggest and liveliest night of the year in music. While there were some nice moments from the ceremony, the award show as a whole wasn't lively at all. It was kind of a dud.
The award show kicked off with Camila Cabello having a very colorful performance of her chart-topping single "Havana" from her debut album Camila. Although the song is catchy and very annoying at the same time, it was a great way to open the show. It helped that Ricky Martin, J Balvin, and even Young Thug performed with Camila. They added the extra spice that was needed to set the tone for the evening.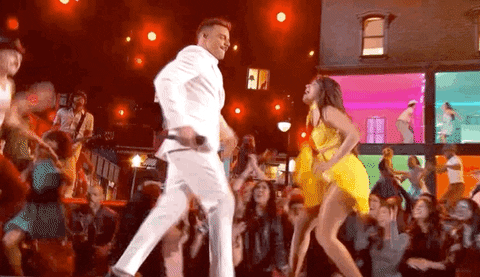 Image Credit: Trending Gif
Directly after Camila Cabello's performance, Alicia Keys made her entrance and welcomed the crowd. While she gave positive vibes and great energy throughout the night, she's just not good at hosting. It's understandable why the Recording Academy asked Alicia Keys to be the voice of the night. Who else would be better to host the night for music than someone who has won 15 Grammys? Even with her musical credentials, Alicia Keys was better off performing or presenting awards, which she did. The Grammys better have given her two checks for that.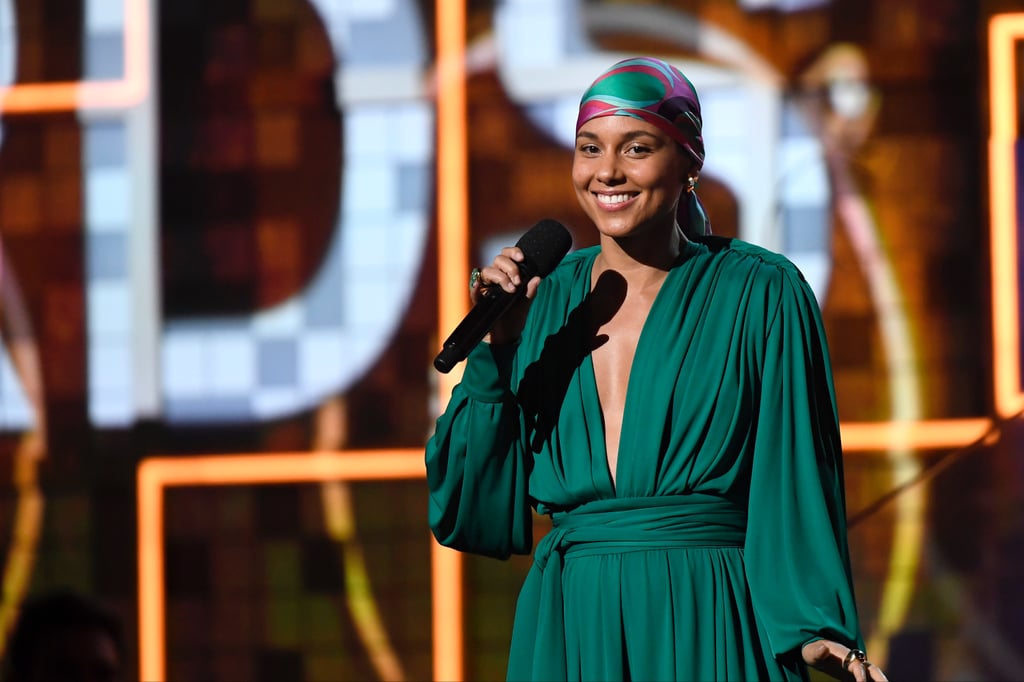 Image Credit: POPSUGAR
In an unexpected twist, Alicia Keys brought out Lady Gaga, J. Lo, Jada Pinkett-Smith, and our forever First Lady the Michelle Obama out on stage to discuss the power of music. "Tonight we celebrate the greatness in each other through music," Alicia Keys said.
Image Credit: Yahoo Finance
Mrs. Michelle Obama isn't even in the music industry yet she commanded the room and was given the upmost respect. As soon as she spoke, the entire room cheered and went silent. People were crying and blowing kisses to her. Her presence proves how much of an impact she had and continues to have on Americans. She is epitome of Black Girl Magic, Black Excellence, and the definition of class and timeless beauty. This is why she resonates with everyone. If you aren't here for Michelle LaVaughn Robinson Obama, you're indefinitely cancelled.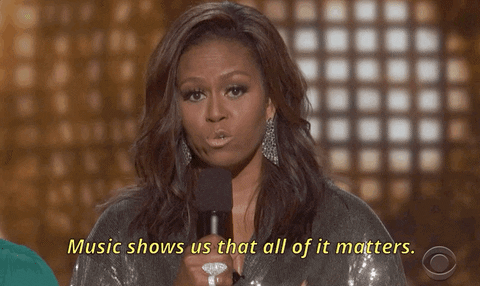 Image Credit: Daily News
The Awards
Lady Gaga took home the first award of the night for Best Pop/Duo Performance for her song "Shallow" from A Star is Born. This is the second award she's won for the song, having received a Golden Globe for Best Original Song. Her winning another accolade for the song is indication that she's probably going to win the Oscar for Best Original Song as well.
Surprisingly, "This is America" won for Song of the Year. Because of how popular "Boo'd Up" by Ella Mai and "God's Plan" by Drake was in 2018, many thought one of the songs would've taken the award. Nonetheless, it's great that the powerful messages shown in "This Is America," especially in the video, were able to resonate through the "pop" songs.  
Drake won the award for Best Rap Song for his hit single "God's Plan." During his acceptance speech he was very candid about the Grammys being a tangible award—that artists shouldn't focus so much on receiving one. Instead, focus on the people who make them love what they do, which are the fans. "You don't need this right here, I promise you that," Drake said while holding his Grammy. "You already won." Drake was definitely speaking on the truth.
Image Credit: Billboard
H.E.R. won Best R&B album. What's amazing about this win is that her album wasn't even an album, it was an EP. H.E.R. is the face of true R&B now. She truly deserves her Grammy.
Cardi B won Best Rap Album. Say what you want about Cardi B but she deserved that Grammy. Invasion of Privacy is one of the best debut albums by a female rapper in a very long time. The album has bops from start to finish. Cardi B earned that win!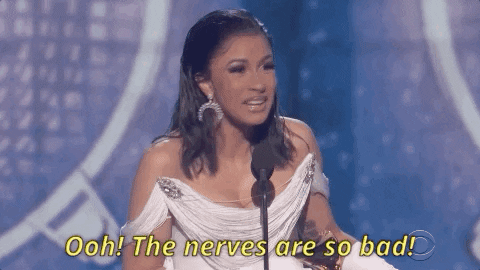 Image Credit: Giphy
Kacey Musgraves somehow won Album of the Year over Cardi B, Post Malone, the Black Panther Soundtrack, and H.E.R. This is a pattern that the Grammys have every single year. The Recording Academy continues to give Album of the Year to artists who aren't of color. Not to say that Kacey Musgraves didn't deserve her award but her record sales, stream numbers, and reviews don't match everyone else who was nominated in the category—not even Brandi Carlile. At this point, it's becoming tiring that the Recording Academy do this year-after-year. Give Album of the Year to a person of color already.
Performances
Janelle Monáe performed her hit song "Make Me Feel" with a small interlude of her single "Django Jane". As always, she gave Prince vibes as she played her guitar, danced around, and sung. The stage, her outfit, and her dancers made the performance memorable and one of the best of the night.  
Image Credit: Rolling Stone
Dolly Parton had a long overdue tribute which she participated in with Katy Perry, Kacey Musgraves, Miley Cyrus, Maren Morris, and Little Big Town. The highlight of the melody of songs was Miley Cyrus singing "Jolene" with Dolly. Miley's vocals on the hit song are perfect. She could've sang the whole tribute by herself.
H.E.R.'s performance was also one of the best of the night. She always sounds amazing live time after time. She can honestly do no wrong. The choir singing along with her playing the electric guitar was the icing on the cake of an already great performance.
Image Credit: Trending Gif
Diana Ross, who has surprisingly never won a Grammy, had her own special moment during the night where she sang her songs "The Best Years of My Life" followed by "Reach Out and Touch (Somebody's Hand)". Her performance and own personal celebration for her upcoming birthday in March was one of the most inspirational and uplifting performances of the night. She urged the audience to hold their arms up in the air to give a different energy in the room. Much like our forever First Lady Michelle Obama, Diana Ross is definition of timeless beauty. She turns 75 next month and doesn't look a day over 50. That melanin is something serious.
Image Credit: Rolling Stone
Cardi B came out and slayed her performance. Her outfit, her piano rendition of her song "Money," the visuals were everything. Whoever is on her style team knows what they're doing. The performance and her set design showed exactly why she now has her own Las Vegas residency. Cardi B isn't letting up any time soon. She's here to stay.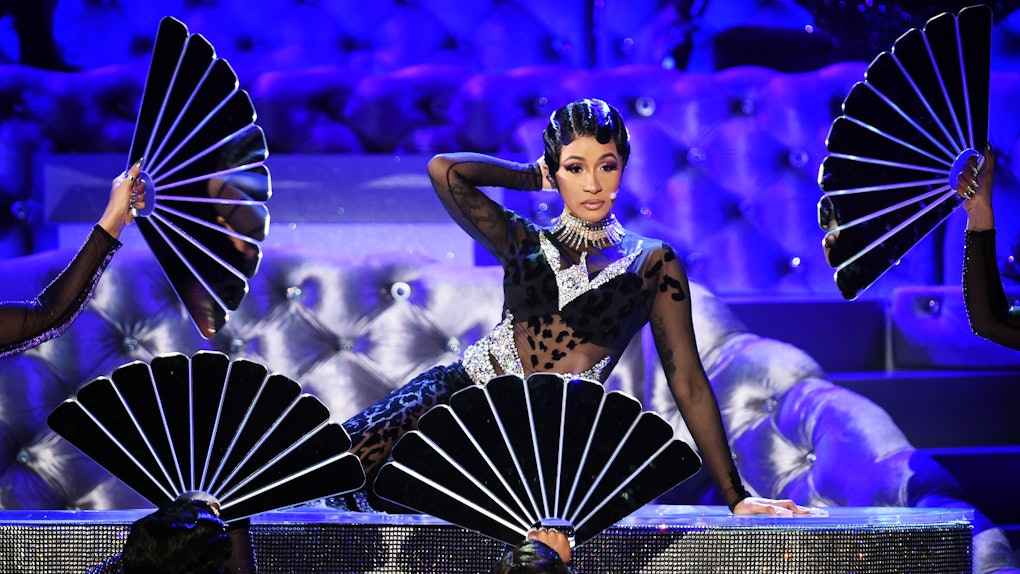 Image Credit: Elite Daily
While Jennifer Lopez did a decent job at the Motown tribute, no one was here for her being asked to participate in it. It's no shade or anything but J. Lo doesn't have the musical background to have even been asked. The Recording Academy couldn't ask other Black artists of the R&B/Soul genre to perform? Was Mary J. Blige, Brandy, Kelly Price, Ciara, and Jazmine Sullivan all busy or something? Having J. Lo be to sole performer of the "tribute" was a slap in the face to the Black delegation. Do better, Recording Academy.
Some other amazing performances of the night included Brandi Carlile and Chloe and Halle. All the ladies were sanging. And of course, Andra Day, Fantasia, and Yolanda did a wonderful job on their tribute that wasn't really a tribute to Aretha Franklin. Truthfully, they could've lent their vocals for the Motown tribute but whatever.
The problem with the performances at the Grammys aren't the song selections that each artists chooses to perform, it's the order in which the show runs. The producers don't know how to make the evening run smoothly and have it full of energy from start to finish. Now that the CEO and President of the Recording Academy, Neil Portnow, will step down in July, hopefully the ceremony will change and be an evening more people want to watch.
Fashion
Black Women took the cake this year and gave us looks. From Toni Braxton to Fantasia, Black women came to slay not to play. It is Black History Month. It's only right that Black women show up and show out.
Image Credit: Vanity Fair, Entertainment Online, US Weekly
The Grammys still, unfortunately, needs a facelift. It's not exciting as it used to be. A lot of the lack of enthusiasm is due to the stupid decisions the producers make when it comes to performances (Still not here for Jennifer Lopez doing the Motown tribute). The evening is supposed to be about celebrating music, which means that multiple artists from all genres should be represented.
It's time for the Recording Academy to consider revamping the entire ceremony. With Neil Portnow leaving in July, everyone—especially music lovers—are expecting a different take on the night. They have a year to get it together or continue to lose viewers.