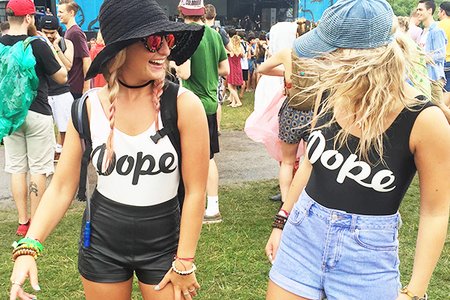 Lexi Tokarski / Her Campus
Summer Music Fests in a Nutshell
It's never too early to start thinking about planning out your summer, especially if you are wanting to fill your sunny, hot days with live music! In the past few years, I have gained a huge appreciation for seeking out live music and feel that it is the BEST way to spend my money. The memories made and the feelings I get are unlike any other.
The challenge I made for myself was to find a variety of music fest genres that span every weekend of the summer. I tried to make sure that no matter what your schedule looks like, or what kind of music you are interested in listening to, that there would be something for everyone in here! They also span many locations, but I did choose to showcase a lot of what the Quad Cities has to offer because we do have A LOT going on here this summer. With each festival, you will find the website of the event, the Facebook event so you can "interest" it, the location, when it will be taking place and the cost of tickets and any other potential fees. 
Dive on in and lineup your summer music entertainment!
May:
Hangout Music Fest - "A Music Vacation"
Music & the beach - it doesn't really get much better than that!
When: May 16th - 19th
Where: Gulf Shores, AL
Cost: $299
Summer Camp Music Festival
This is the biggest event in the Midwest during memorial day weekend and you don't want to miss out! They bring in tons of bands and a huge crowd!
When: May 24th - 26th
Where: Chillicothe, IL - Three Sisters Park
Cost: $229.50
June:
Bowen Music Fest - "Waco's Favorite Weekend"
Make the trip down south and you can get your Chip and Jo tourist fix in while you're here. I'm super pumped my sister found out about this one because now it gives me a good reason to come down and visit her in the summer!
When: June 2nd, 2019
Where: Waco, TX
Cost: $25 in advance, $30 at the gate
Chicago Blue Festival
No better way to appreciate the roots of music than with this amazing, blues-filled weekend for an affordable price to all - free!
When: June 7th - 9th
Where: Chicago, IL - Millenium Park
Cost: FREE!!
Spring Awakening
This is the first of many EDM music fests you can look into for your summer!
When: June 7th - 9th
Where: Hoffman Estates, IL - Poplar Creek
Cost: around $275 (GA & parking for the weekend), going for one day would be about $120 (GA & parking for the day)
Bonnaroo - "Radiate Positivity"
Here at The Farm you will find a little bit of everything. I have been to this one and it was hands down one of the best experiences of my life. For this festival you will car camp on site and it just makes for a really cool experience. I went with my dad and we had a blast, but lots of people go with groups of friends and even older couples go out of tradition because they still love immersing themselves in the music. There is also amazing food (especially the mini donuts) on site and, if you're lucky enough, you might hear your favorite band soundchecking when you wake up in the morning (aka Red Hot Chili Peppers).
When: June 13th - 16th
Where: Manchester, TN
Cost: $340 ticket & $60 car camping pass
Firefly Music Festival
I saw Panic! on this lineup and immediately felt like the trip to Delaware might be worth it, we'll see (maybe another year)!
When: June 21st - 23rd
Where: Dover, Delaware
Cost: $309 (GA weekend) or $109 (GA one-day)
Disrupt - Rockstar Energy Festival
This is a traveling tour so you have lots of options to catch the action!
Fun fact: My hometown rockstar Sage Weeber from Moline, IL will be playing drums for Andy Black. How cool is that!
When: June 21st - July 28th
Where: Locations all across the US so check out the tour dates on the website!
Cost: Looks like anywhere from $20 to $200 based on seats
Summerfest - "The World's Largest Music Festival"
I've been wanting to make the trip to this for a couple years because they just have everything here and it's pretty affordable! I have a friend that will probably bookmark this one because she has been trying to see Billie Eilish for a while now.
When: June 26th - 30th & July 2nd - 7th
Where: Milwaukie, WI
Cost: $23 one-day pass, $57 3-day pass or $120 11-day pass
June 26th - Thomas Rhett w/ Dustin Lynch
June 27th - The Outlaw Music Festival
June 28th - Jason Aldean w/ Kane Brown & Carly Pearce
June 29th - Bon Iver w/ Lord Huron & Julien Baker
June 30th - Zac Brown band w/ Drake White
July 2nd - Lionel Richie w/ Michael McDonald
July 3rd - Jennifer Lopez
July 4th - TBA
July 5th - The Killers w/ Death Cab for a Cutie
July 6th - Billie Eilish
July 7th - Lil Wayne, Snoop Dogg & Schoolboy Q
Rock the District
If you're from the Quad City Area, you know when this fest is in town becasue the district is rockin' and everyone is getting their fix from Huckleberry's Pizza!
When: End of June
Where: Rock Island, IL - downtown
Cost: $35
Electric Forest
I have heard such good things about this festival - you are really in for a treat if you can get tickets! This festival also seems like the type where you need to do some research before you go that way you are prepared for everything that goes along with it since you do camp on site. There are lots of FAQs that you can check out to get it all sorted out before you go!
When: June 27th - 30th
Where: Rothbury, MI
Cost: Looks like they sell their tickets fast but you can buy resale tickets through this link
You can also check places like Vivid Seats for tickets. I believe there is also a camping fee that may or may not come with your GA, but hence the reasearch. Honestly, find someone that has gon bfore or see if someone did a YouTube blog about it and that could help you out a lot.
Des Moines Arts Festival - "Impacting Lives Through the Arts"
My band director invited me to this last year and I was unable to make it - but I know how great of an opportunity this one is to appreciate all forms of art. My favorite part about this one is that you can see jazz bands play as well. I am definitely hoping to make it there this summer and this is another fest that definitely fits in the college budget!
When: June 28th - 29th
Where: Des Moines, IA - downtown Western Gateway Park
Cost: FREE!!
Vans Warped Tour - "Presented by Journeys" - 25th Anniversary
This is a traveling tour to a few venues across the US & the lineup also changes as you go! Moline's Sage Weeber will also be performing with Andy Black in this one, as well!
When: June 8th, June 29th - 30th & July 20th - 21st
Where: Cleveland, OH, Atlantic City, NJ & Mountain View, CA
Cost: about $150 (some venues are already sold out so you could put this one on your bucket list for next summer as well)
July:
Mississippi Valley Blues Fest
Come on back home to the QC over the summer with some pals to relax in LeClair Park and appreciate the sweet sound of the blues. A couple acts I have seen before are the Avey/Grouws Band and Hal Reed, but I know Samantha Fish is amazing as well. You won't be disappointed with anything because they bring in some of the best for this!
When: July 5th - 6th
Where: Davenport, IA - LeClaire Park
Cost: At the gate - $20 Friday, $30 Saturday, $45 2-day pass
Dawn and On Music Fest
You could have a weekend full of fun between the Blues Fest AND this one since they are right across the river from one another! Added bonus: The fun doesn't have to stop at the park - There is a late night after party at RIBCO with more live music, including The Tripp Brothers who are insanely cool, following the event and starting at 12:30!
When: July 6th
Where: Rock Island, IL - Schwiebert Park
Cost: $10
Camp Euphoria
If you're looking for an intimate festival experience, this is the place for you! When I went, my friend and I were only feet from the musicians on stage - you will never forget the memories you make here!
When: July 18th - 20th
Where: Lone Tree, IA - in the middle of some corn fields (just keep driving until you find it)
Cost: $90 - $130 depending on your preference plus parking $10
Country Thunder
For all my country fans out there, this is the one for you!
When: July 18th - 21st
Where: Twin Lakes, WI
Cost: $160 (4-day GA) or $75 (1-day GA) plus $70 parking (all weekend) or $15 (1-day) and general camping is around $150 but you can also select other locations. Even though there are a lot of fees, the total ends up being a reasonable price.
Pitchfork
This fest is dedicated to new and emerging artists. I know it's fun to go see your favorite band or whoever is most popular at a given time, but there is something about up-and-coming groups that is way cool. You never know what to expect and sometimes you leave places like these liking some of the underdogs better than the headliners!
When: July 19th - 21st
Where: Chicago, IL - Union Park
Cost: $175 (3-day GA) or $75 (one-day GA)
Streetfest - "Food, Music, Shopping, Fun"
Over the summer, the Quad Cities is known for hosting the annual Bix festival. This includes the legendary Bix race followed by music, food and more!
When: July 26th - 27th
Where: Davenport, IA - downtown
Cost: FREE!!
August:
Bix Beiderbecke Jazz Festival
This festival captures the essence of the classic jazz standards and the importance of keeping this music preserved, especially in memory of Bix Beiderbecke. I was a memeber of the Youth Memorial Jazz Band for 5 years and developed an incredible appretiation for this music while being a part of that group and seeing some stellar performances at the different venues.
When: August 1st - 3rd
Where: Davenport, IA - Rhythm City Casino & LeClaire Park
Cost: ranges from $30 - $130 depending on how many days you attend, but all performances at the park are FREE!
MVF (Mississippi Valley Fair)
Get all your college friends back in the QC Area for a week of fun!
When: July 30th - August 4th
Where: Davenport, IA - Fairgrounds
Cost: $75 Fun Card good all week!
Grandstand Entertainment:
Tuesday - Dan & Shay
Wednesday - Brooks & Dunn
Thursday - Jake Owen
Friday - Tesla
Saturday - Nickelback
Sunday - Brad Paisley
Lollapalooza
Time for a girls trip in the Windy City!
When: August 1st - 4th
Where: Chicago, IL - Grant Park
Cost: $340 all week or $130 one day of your choice
Newbo Evolve - "Music, Art and Inspiration"
Keep an eye out for this one because it was in its trial run last year, but they featured Maroon 5 and Kelly Clarkson so it did not disappoint!
When: Beginning of August
Where: Cedar Rapids, IA - NewBo City Market
Cost: TBA Tip: Listen for ticket giveaways on the radio because my friend and I actually both won tickets from B-100 last summer.
Outside Lands Music Fest
I just love San Francisco so this fest is on my bucket list, but might have to stay there for a while!
When: August 9th - 11th
Where: San Francisco, CA - Golden Gate Park
Cost: $385
Codfish Hollow Festival
This event has not been officially announced yet. If it is, great, if not, check out this venue for lots of events throughout the summer. It's a great location for a fun weekend of music and camping - what could be better!
Facebook event: Link for last year here
When: TBA (usually mid-August)
Where: Maquoketa, IA
Cost: $20 per day (2-day fest) - FREE parking & camping!
Sweatstock - Woodstock Tribute
Check out some of the QC's finest musicans in this tribute summer fest. We have All Sweat Productions to thank for bringing community musicans together to make great perforances!
When: August 16th - 17th
Where: East Moline, IL - The Bend's Murphy Park
Cost: TBA
Alternating Currents - "Music, Film, Comedy, Art"
Dozens of venues host a variety of all forms of entertainment you don't want to miss just down the hill from campus!
When: August 22nd - 25th
Where: Davenport, IA - downtown
Cost: FREE!! (except for some ticketed venues)
Peoria Blues & Heritage Music Festival
One last opportunity to get your blues fix in this summer!
When: August 30th - 31st
Where: Peoria, IL
Cost: $40 ($50 at the gate) one-day pass or $65 ($75 at the gate) 2-day pass
Now that you have all these options, it's time to pick one (or more) and start preparing!
Alex's Advice:
As you search through these, more options may pop up... Click on them! My list may seem like a lot, but there are most definitely more musical experiences to seek out and enjoy, they just have to be found!
Don't only go to festivals with bands you know, check out those underdogs - you might be happily suprised!
At bigger festivals, like Bonnaroo and Lolla, plan out what bands you are going to see at what times in advance so you have a game plan
OR you can just wing it and see where your day takes you!
BUT a lot of festivals have interactive lineups so you can check out the bands in advance and see what you for sure want to see
If you're camping, prepare for cold weather because some places get really cold at night (aka Manchester)
If you aren't camping, make sure you book your Air BnB or hotel reservation in advance because festival weekends fill up quickly (especially Chicago)
If you're camping you'll have two options: shower on site or... DRY SHAMPOO (what a life-saver)
Wear comfortable walking shoes! I know it's important to make the outfit look cute, but you are on your feet all day, the last thing you want is to have to sit down becasue your feet are sore (Birks and Chacos are perfect)
Get a fanny pack! You can keep all the essentials right there with you 24/7
SUNSCREEN SUNSCREEN SUNSCREEN! You are outside all day. I love getting tan just as much as anyone, but you do not want to get burnt becasue that will ruin your weekend. Wear it, love it, you'll still get tan :)
WATER, H2O, AGUA! Sooooo important. I know some of you may drink other beverages while attending these events, but no matter who you are or what you're having, you have to drink water because that hot sun is going to dehydrate you before you know it. Lots of fest have water bottle filling stations to help you out!
Plan out those cute outfits in advance and don't forget the glitter accents!
LAWN CHAIRS or other seating options like the blow up/air filled chair things, maybe even just a blanket. If you aren't planning on standing the whole time, you'll want somewhere to crash for a bit because seating will be limited depending on the fest you go to. Or if you're camping you'll want them for your campsite.
If the venue allows, a cooler might be nice! Most places don't allow drinks (or food) because they want you to buy them there.
Bring MONEY for merch and food! There are going to be some cool souvenirs, t-shirts and lots of good food!
Other essentials include: sunglasses, hair ties, snacks (unless food isn't allowed), bug spray, portable chargers, deodorant, small bag, and A POSITIVE ATTITUDE :) especially if you are with a group of friends, you really want to keep that energy up and have a great time!
Just keep thinking about summer and finals will be over before we know it! Go after those musical experiences and live for LIVE!
All pics provided by myself or through the website or facebook link with the event.