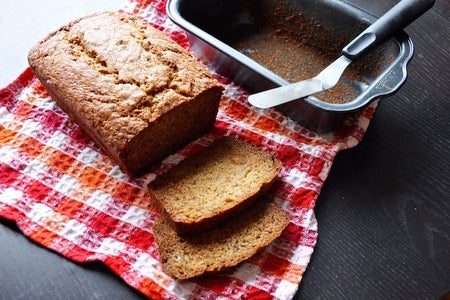 Fall Inspired Breakfast Treats That Are Actually HEALTHY
Fall is here.. Aka the season of apple cider donuts and pumpkin flavored Dunkin coffees. As much as I want to eat these things everyday, the nutrition lover in me knew I wanted to find healthy and easy recipes to enjoy guilt-free, all season long. Here are my three favorite pumpkin spice inspired breakfast recipes that just put me in a good mood when I start my morning. 
As if eating pumpkin treats every morning weren't enough, each of these recipes in gluten free, vegan, and refined sugar free!
1. Pumpkin Pie Overnight Oats
This recipe is perfect for lazy mornings when you want to take your Zoom class from your bed. No need to make breakfast the next morning when you have your overnight oats already ready!
The Ingredients: 
¼ cup Pumpkin puree
1 tbsp Pure Maple Syrup 
½ cup Steel cut oats
½ cup Plain yogurt (use almond yogurt to make it dairy free!)
½ tsp Pumpkin pie spice
Optional: Pecans
Simply mix all ingredients together, pour into a mason jar, and let sit overnight.
2. No-Bake Pumpkin Chocolate Chip Breakfast Bars
These fall granola bars are addicting and even better; they are without any added corn syrups or sugars like typical store-bought bars.
The Ingredients: 
⅓ cup Pumpkin puree
¼ cup Any nut butter 
2 cups Gluten Free rolled oats
3 tbsp Pure maple syrup 
¼ cup Vegan dark chocolate chips
1 tsp Pumpkin pie spice
½ tsp Pure vanilla extract 
Add all the ingredients to a mixing bowl, smooth onto a parchment-lined pan, and then let sit for 30 minutes. 
3. Maple-Pumpkin Spice Muffins 
Pro tip: This one may be the best of them all. These muffins will make your house (or dorm) smell amazing, and waking up to one of these muffins for breakfast makes me so excited for fall festivities!
The Ingredients:
1 cup Pumpkin puree
¼ cup Pure maple syrup
⅓ cup Melted coconut oil
¼ cup Plant-based milk
1 flax egg (1 tbsp ground flax mixed with 3 tbsp water)
1 tsp vanilla
2 cups Gluten free flour 
1 tsp baking soda
1 ½ tsp pumpkin pie spice 
Optional: Vegan dark chocolate chips, nuts, raisins
Preheat your oven to 350 degrees, line a muffin pan with paper liners, then set aside. Mix together all of the wet ingredients in a bowl, then add all of the dry ingredients once the wet ingredients are fully whisked together. Combine the dry ingredients thoroughly, then fold in chocolate chips and nuts if desired. Scoop batter into muffin pans and bake for 18-25 minutes. 
Hopefully these recipes make you as eager for October as they do for me, and get you excited for apple picking, pumpkin carving, and cozy halloween movie nights.