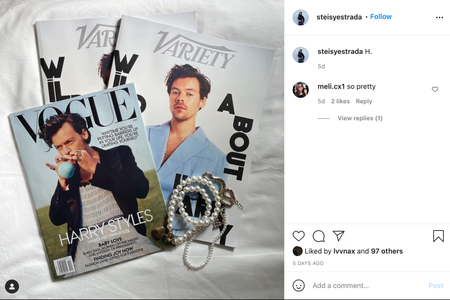 Harry Styles: A Celebration Of Success
Almost a decade ago, Harry Styles was known for his curly hair, dashing smile and talented voice. He just turned 27 years old on February 1 and is beaming like the sun.
As one of five members in the teenage heartthrob group One Direction, Harry Styles took the spotlight more than a few times. When the group went their separate ways with solo careers in 2015, Styles started off his new journey strong. 
He embarked on a journey that brought him through various types of art. He has been very successful thus far in his career with 60 nominations and 25 wins. Some of which are fashion awards, music awards and film awards. 
In April 2017, he dropped his first solo single and it was the number one song on the charts for quite some time. Shortly after, he released his debut album Harry Styles and to no surprise, it was a success so he went on his first solo world tour in September.
Styles added more dates in the following year and was sold-out. He had Kacey Musgraves, Warpaint and Leon Bridges for opening acts in his 89 shows.
In the summer prior, he appeared in the Christopher Nolan movie based on World War II, Dunkirk. Harry received praise from critics across the world only fuelling him to get more involved. 
In the same year, he attended the Teen Choice Awards as a solo artist for the first time. Styles had eight different nominations. He later went on to win a People's Choice Award for Style Star.
Harry Styles proved himself to be a philanthropist. He performed at CBS Radio's We Can Survive concert for breast cancer awareness at the Hollywood Bowl. He also started merchandise with the phrase "Treat People With Kindness" to advocate for LGBTQ+ rights. 
As a result of his "Treat People With Kindness" campaign and other work, he won the Gay Times' Honour for LGBTQ Advocate.
In total, he has raised over $1.2 million during his solo world tour which was named on sexual harassment prevention charity Time's Up's 2018 donor list. 
One of Harry's internet-breaking moments was when he interviewed Timothee Chalamet. They talked about man-crushes on director Christopher Nolan and Styles' secret messages he sends to friends in his acting roles. Needless to say, it's worth the watch.
In the fashion world, he has become a model for Gucci, appearing in three of their campaigns so far. In 2019, he dressed in a blue velvet suit from the Gucci fall 2019 collection for the Met Gala, where he also happened to be co-chair.
Did I mention that he was on the cover of the September 2019 issue of Rolling Stone? The shirtless cover hides a story of a young English boy becoming a rock star.
An uncommon fact about Styles is that he was an executive producer on Happy Together, a CBS sitcom that was loosely based on his life. Unfortunately, it was cancelled May 2019 after one season.
On Dec. 13, 2019, Harry Styles dropped his second album, Fine Line. This album rocked the charts. 
With six singles, this album debuted at number one on the Billboard 200, making it his second consecutive number-one album in the US. It's been certified double platinum in the US for sales and over two-million album units sold in the country.
This album received so many nominations and has one for this year! It won the American Music Award for Favourite Pop/Rock Album in 2020, Album of the Year at the Brit Awards in 2020 and Best Pop Vocal Album at the 2021 Grammy Awards. 
In December 2020, he was featured in Vogue. Of course, styled in some Gucci attire, he showed off his fashion sense and relaxed nature. Not to mention, he's being featured in Vogue!
Hopefully, he has some more fashion statements and wins for us, but he has proven himself to be an incredibly successful, kind and giving person. And the beginning of the Vogue piece says "Playtime With Harry Styles" so you can't say no to him.