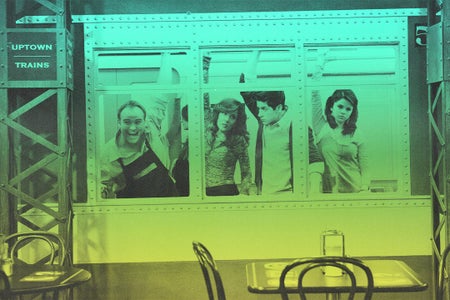 Photo by Disney / Design by Nick Collini
Fictional TV Show Hangout Spots We Would Totally Study At If They Existed
Every TV show has that one daily hangout spot that we all wish actually existed. Whether it's heading to JJ's Diner to order a mountain of waffles and food that could probably kill you, or gathering at Monk's Café to hatch schemes and solve some of the world's most ambiguous problems; every hangout spot from our favourite shows make our local Denny's and Balzac's seem so boring. Being a student, I've realized that most of these fictional spots have the best work environment, and I don't know about you, but there are only so many times that I can go into a Starbucks to get work done. Here are 11 fictional TV show hangout spots we would totally study at if they existed.  
1.

Digital Bean - Lizzie McGuire

Lizzie's first job as a busboy was at Digital Bean, and although it was taxing having to wait on Kate Sanders, it was the place to be in the early 2000s. The Digital Bean served mainly kids from Hillridge Junior High, and even though Lizzie quit her job during her first week, she couldn't resist hanging out there to grab drinks with Gordo and Miranda. The Digital Bean would be the coolest and most nostalgic place to study with its funky music, colourful tables and couches, chalkboard wall, and built-in computers.

2.

Waverly Substation - Wizards of Waverly Place

You would totally catch me studying at Waverly Substation. The Russo family restaurant is big and spacious and is the perfect study spot if you are the type of person who likes background noise. The subway station setup will make anyone feel like they are studying amid the city's rush and is ideal for students who enjoy going to school downtown. The restaurant is situated near many shops (hello, study breaks), and serves great sandwiches, sodas, and occasionally pasta. With the whole Russo gang managing the place, you are bound to get great service.

3.

Luke's Diner - Gilmore Girls

For anyone who relies on coffee while studying, you already know Luke's diner is the place to be (Rory and Lorelai have proven that there is nothing Luke's coffee can't fix). The diner is surrounded by numerous large windows which guarantee a lot of natural light, and Luke's strict "no cell phones" policy will ensure that procrastination is kept to a minimum. Even though the diner can get crowded at times, you will always be surrounded by familiar faces since it's the one place locals gather to eat. Although the service really depends on Luke's mood (on really bad days it's downright dangerous to be there), you can always count on him to make your favourite comfort food. These include burgers and fries, french toast, and my personal favourite, pumpkin pancakes with homemade cinnamon butter. 

4.

Monk's Café - Seinfeld

Monk's Café is a second home for Jerry, Elaine, George and Kramer as they often gather there for coffee, breakfast, lunch and dinner. The cafe seats many and consists of a variety of booths, tables and counters. It's pretty much your typical cafe and social haven. It's just cool to study where the iconic foursome talked about nothing and everything all at the same time. Yea, that's pretty much it. 

5.

Central Perk - Friends

I can't think of a more cozy study atmosphere than Central Perk, especially if you're working in a group. The velvet upholstery and carpets on the floor make you feel like you are studying in the comfort of your own living room. If you are lucky enough, you might even be able to secure the big orange sofa and surrounded seating every time you go into Central Perk. I hear their menu is pretty cheap as well. You can get a muffin and espresso for $4.50, a double latte for $2.75, a coffee and scone for $4.25, and herbal tea for $1.25. 

6.

Café Tropical - Schitt's Creek 

School can oftentimes be stressful and if you're ever in need of a rant, you can always count on Twyla to lend you a sympathetic ear. Café Tropical is the best place to study if you are looking for an escape or a change of environment. The tropical-painted scenery on the walls and the word "Hawaiian" slapped next to most dishes, will automatically make you feel like you are on a 'study staycation.' Café Tropical will satisfy all of your cravings since it caters to any food you can think of, and if you are a vegetarian, meat can be removed from most dishes. 

7.

JJ's Diner - Parks and Recreation 

If you enjoy studying in the morning, you will be delighted to know that JJ's Diner serves the best and most hardcore breakfast you can possibly think of. If you have a sweet tooth, you can order the famous stacked waffles with whipped cream that Leslie Knope made us fall in love with, and if you are into savoury, you can treat yourself (with caution) to 'The Four Horse-Meals of the Egg-Pork-alypse.' Condemned by the American Heart Association, the meal includes twelve scrambled eggs, bacon, sausage, ham, hash browns, chicken-fried steak, and a giant tower of buttermilk pancakes.

8.

Groovy Smoothie - iCarly 

The Groovy Smoothie is the ultimate teen hangout spot and the vibes are off the charts. If you are someone who dislikes coffee and lattes, this is the go-to juice bar to order some of the best and unique fruity beverages. I would never get bored studying at the Groovy Smoothie with its bright neon interior and T-Bo's ability to serve anything on a stick, specifically tacos, pickles, bagels, donuts, and chicken pot pies. 

9.

Bob's Burgers - Bob's Burgers

If you are in need of a quiet place to concentrate, you can always count on Bob's Burgers to be empty. Although the menu is reflective of the restaurant's simple nature, you can be sure to order some of the most delicious burgers without any cheap shortcuts in quality. If you're into surprises, you would appreciate Bob's new burger of the day (and each of their quirky names) written on the chalkboard every morning.

10.

The Hub - That 70s Show 

If you really crave that 1950s diner vibe (and anything that's fried), The Hub from That 70s Show is the perfect place to study. If you are someone who needs constant motivation to be productive, you can count on the entertainment from the jukebox, the Pinball machine and the Space Invaders arcade game for the most stellar study breaks. Just be sure to order something to avoid the diner's strict, "buy something or get out!" policy. Luckily, The Hub has killer french fries that would totally double as the perfect study snack. 

11.

Smash Club - Full House 

I must admit, this one is not your typical study spot and it may seem like a bit of a stretch. But let me tell you, if the Smash Club actually existed, I would make every excuse to study there. The loud interior is so funky and you even have the luxury of listening to live music (like Jesse and The Rippers), occasionally pulling out your moves, and sipping cappuccino, Shasta Cola or any other non-alcoholic beverages...as a study break obviously.