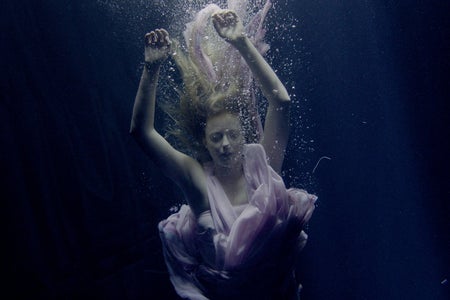 Exploring Consent Dynamics In Body & Bones
When Newfoundland author Melanie Oates began writing a script for her film Body & Bones, she had no idea consent would serve as a major theme. 
However, Oates said her vision for the film changed as the #MeToo movement evolved. "It wasn't a conscious choice to explore the dynamics of consent, initially. It sort of became apparent to me that it was a subject of the film as I was writing," she said in an interview via email.
Oates had written a few drafts of Body & Bones when #MeToo became popular in the news and social media, giving her a new perspective into the protagonist's experiences.
The film was released in Canada as well as the United States on Oct. 16, according to a press release. Filmed in St. John's, N.L.,  and Witless Bay, N.L., this "coming of age journey" portrays teenage Tess Small (Kelly Van der Burg) as she struggles to cope with her mother's death.
Trapped in a small town with the guidance of her mother's boyfriend, Tess finds support in her older lover Danny Sharpe (Joel Thomas Hynes). 
After her mother's death, Tess's life is extremely dull. She lacks the energy she needs to get by and perform daily tasks with enthusiasm. 
Tess attempts to replace this "gaping hole left by the loss of her mom" with Danny's presence—"a hole he is incapable of filling," according to Oates. Although Danny can't act as a motherly figure, he "becomes like a life raft" for Tess, making her days more vibrant. 
Tess's vulnerability is partly the result of grief, youth and her long distance from home. But above all, Oates said Tess "made Danny the centre of her world . . . When we make the entire meaning of our lives about somebody else, that's a dangerous place to be. We have no control or agency," Oates said. "It's sort of sickening."
Danny consoles Tess with his songs throughout the film, according to the press release. His music brings excitement into her life. But Tess's newfound spark with Danny rapidly shifts into something obsessive and uncontrollable. The songs in the film are from Hynes's solo album.
'A complicated, slippery thing'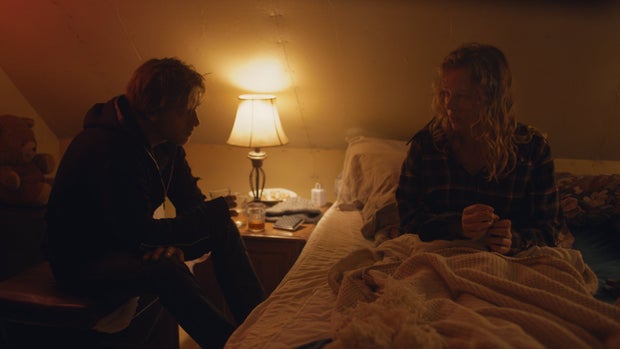 Game Theory Films
Danny Sharpe (Joel Thomas Hynes) and Tess Small (Kelly Van der Burg) sit together while making eye contact in the film (Photo by Game Theory Films).
Inspired by her own experiences with young love, Oates said she hopes those with "similar experiences" regard "their own relationships through a different, more sympathetic perspective."  
More than anything else, she added she wants to help viewers "see their own history with a bit more clarity and tenderness."
Oates admitted she doesn't know if she would have effectively conveyed the power of consent dynamics in Body & Bones before #MeToo. She said it's an important theme to consider when observing Tess's relationships.
"Consent is such a complicated, slippery thing. In the case of Tess and Danny, there are many shades of grey," according to Oates. 
However, she won't reveal whether Tess is in a position to give informed consent after her mother's death. She said she hopes people think about this while watching the film.
"I love films that explore the nuances of relationships in a vulnerable, honest way and I hope that's how people experience this film," Oates added.
Body & Bones premiered to the world at the 2019 FIN Atlantic International Film Festival, where Hynes was awarded for his outstanding performance.
Since then, the film screened at various festivals across Canada and the U.S., according to the press release. These events include Cinéfest Sudbury International Film Festival (2020), Victoria Film Festival (2020), St. John's International Women's Film Festival (2019), Whistler Film Festival (2019) and the Phoenix Film Festival (2019).
Body & Bones is now available on demand for Canadian audiences.