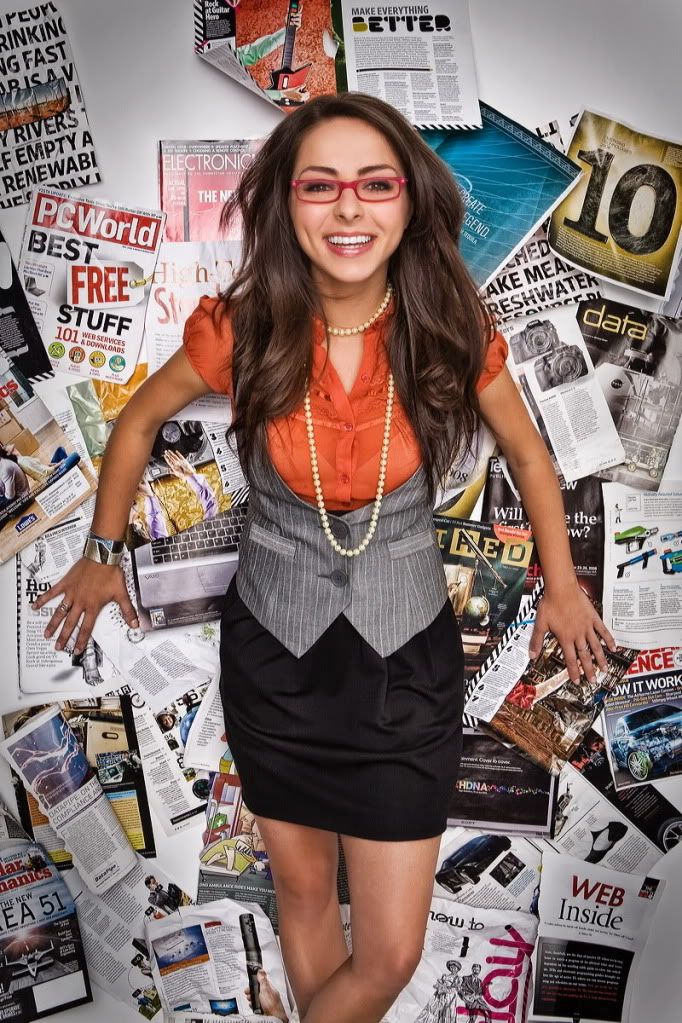 Easily recognizable as a "Campus Celebrity," Katie Linendoll, RIT alumni, has made appearances on ESPN to CBS and CNN to being an Emmy-nominated host on A&E's We Mean Business show. Undoubtable, Linendoll is a distinguished RIT alumni. In 2011, she actually was awarded by RIT for her accomplishments after graduation from the school.
Quirky and sweet, she has become a known name throughout the gadget and technology world. Still very much accessible and personable, she answered questions about RIT when she was here and tips to succeeding while here for us!
What was your favorite class/professor?
Prof Neumann. Very cool.  His classes were very interesting and interactive.
 
What was your favorite food place on campus? 
That's a tough one.  I guess I'd have to go with the Ritz-- but I really enjoyed meals at Gracies freshman year. I think I ate 20 of those Mickey Mouse ice cream bars and dino nuggets in one sitting!
 
Least favorite part about RIT? 
 I know this is going to sound way nerdy but- Java.  Any and all Java classes were my enemy.
 
What dorm did you live in?
 Kate Gleason. 
 
Piece of advice about how to survive RIT? 
I think its important to find a good social fit… albeit a club or activity… it makes a huge difference.  Also, its hard to realize it at the time, but the 'boutiqueness' of RIT is a huge advantage.  I wouldn't have had the success I did if I was at a large school—it would have been too easy to get lost in the shuffle and become just another number. I also took advantage of everything I could – niche design classes, access to programs in the labs, RIT SportsZone, etc.  My advice is to gain as much experience and knowledge before you leave RIT and have to get a job and enter the 'real world'. 
 
Advice to girls about how to survive RIT? 
Absolutely take advantage of the male/female ratio at RIT! You're in a niche field that you should be proud of and ha, lets be honest - it's attention overload! 
 
What has been your favorite experience in your career so far? (i.e.Meeting your favorite celebrity, getting published in a certain magazine, etc.) 
Wow, a few things!  Sharing the stage with Lady Gaga  in Vegas for the Consumer Electronic Show last January was really cool.   (I was working with Polaroid and she is the Creative Director).  Also, the years I spent at ESPN.  I met some notable athletes and toured with SportsCenter to cities and wild events all over the U.S. that I never would have imagined, like…. Heber Springs Arkansas for Cardboard Boat Races and Machias, Maine for a Blueberry Pie Eating Contest.   I still also get a thrill being on-air at CNN and talking about what I love  —tech!
 
Craziest thing you've had to do in your career so far? 
I worked for HSN (Home Shopping Network) for two years selling electronics and gadgets.  I never saw myself doing that in a million years but it really helped me gain live TV experience.  It also helped me master this new skill of being able to talk for as long as possibleon anything.  (Great for awkward dates, haha!)
 
What has been your "key to success"?
Overachieving.  I seize every opportunity.  When one of my employers needs something, it's not only turned in early, it is above and beyond what they were looking for. Set that precedent.
 
If you could pick any job in the entire world, what would it be? 
Hosting and producing my own show…some day!!
 
Any advice for how to accomplish your goals? 
Realize that you will get turned down a lot.  There will be perfect jobs/co-ops that you somehow don't get.  It will only make sense as to why you didn't get them months, even years, down the road.  Don't get discouraged. 
Also, capitalize on your ideas.  Now more than ever, the entrepreneurial world has made it so possible to create and execute a vision. (examples: TaskRabbit, AirBnB, Facebook)  If you have a good idea… run with it!