Ms. Tylzia lives her life by the words, "No worries for the rest of your days" and finds genuine rewards in helping someone besides herself. As an avid member of Circle K International, she's sure to have helped many, but today we wanted her help in another way: we wanted to find out what success means to her, find out about her life as a singer, and her most rewarding moment here at Rider so far—all, plus more, as sources of inspiration to you.
 
The role of the Rider University Chapter of Circle K International. What does it mean to you?
My inspiration to become the President for the Rider University Chapter of Circle K International was realizing that I could help change a person's life. Circle K International is all about enabling college students to realize their impact in society and on humanity. Throughout the years of being a member and leader of this organization, I have felt so empowered knowing that I am a part of something that is adamant about helping and changing our world. Circle K has three tenets: Service, Fellowship, and Leadership and I have definitely realized that I can be a leader and there are people out there who want to help change the world. If I were not involved in Circle K, I would not have met some of the amazing people that I have encountered.
 
What is the most rewarding part of being involved on campus? 
The most rewarding part of being involved on campus is knowing that I am helping someone besides myself. When I perform community service with my peers, I feel like I am a part of something greater and my peers feel like my family. I decided to become involved on campus when I was a junior. I had received an award from The New Jersey District Board of Circle K International for being an Outstanding Club Committee Chairperson. After I received that award, I decided to run for the President position for the Rider University Chapter of Circle K International. I am motivated by the members of my club and family. They keep me together and let me know that I can do anything I set my mind to.
 
And what about the most rewarding moment for you at Rider?
The most rewarding moment for me at Westminster was when I successfully performed my entire senior recital (a degree requirement) without a mistake. Besides auditioning for about three minutes, I have never performed by myself for an hour and that was a huge accomplishment for me. My family, friends (from near and far), and almost the entire Westminster community attended, and most of them had never heard me sing. It felt wonderful to know that I had the support of everyone and to know that they all believed in me. Their support and effort helped me realize that this has not been an easy road and it may get harder, but I can and will achieve anything I pour my heart and soul into.
 
How long have you been singing?
I have been singing since I can remember being able to talk. My mother put me in the children's choir at church and we would sing sometimes. When I was in elementary school, one of my biggest influences for music was my music teacher, Ms. Jackson. She saw my potential and even pulled strings to get me an audition after the deadline for Arts High School. In addition to singing, I love caring for cats and dogs. I have watched and trained my friends pets for free. I know that animals have souls and feelings and I treat them as a part of the family. I especially love dogs. Every time I'm greeted by one it's always like Christmas and their excitement is genuine.
 
What are the different types of genres that you sing in?
I love to sing classical, pop, R&B, country, alternative, rock, I can go on forever! Since I've attended Westminster, I have been fortunate enough to sing in various places like the Kimmel Center, Carnegie Hall, and Lincoln center. I have performed with soloists Eric Owens, Dawn Upshaw, Michelle DeYoung, Thomas Hampson, and Westminster's own Ms. Sally Wolf, composer/ conductor John Adams, conductors Alan Gilbert and Daniel Harding, and orchestras like the NY Philharmonic, the Philadelphia Orchestra, and the Dresden Staatskapelle. I have enjoyed performing with all of these wonderful musicians and one of the choirs that I was in was featured on a track for an album on iTunes.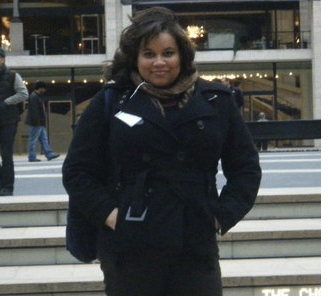 You see yourself singing in a chorus like the Metropolitan Opera Chorus and touring the world. How long has this been your goal? 
I have been singing in choirs since I was a freshman in high school. I attended Arts High School in Newark, NJ and that was the place where I was exposed to music and a whole world outside of "the hood". I had no idea that I would be singing on the stages of Carnegie Hall, Lincoln Center, and the Kimmel Center. When I was accepted into Westminster Choir College, I knew that singing in choirs was something that I wanted to do as a career. I feel like music has the power to heal and empower people. Without music, the world would be a horrible, boring place. Every time a musician performs, they give a part of themselves to the audience and become vulnerable. This is important to me because I want to be a part of bringing joy and uplifting people's spirits by touring and singing in a choir. Music is all that I know. It's a part of me and embedded into my life. It's the most natural thing for me, almost like breathing. There really is nothing else that I would rather be doing than performing. I came into college with music as my one and only plan. Most people have a back up plan, but I view my career choice as the only way of living for me. If I want it, I will succeed at it.
 
What is you favorite song to belt out at the bar/in the car/for karaoke?
It's funny you should ask that! My friends and I love karaoke. We used to go every week to Houlihans restaurant and belt "And I Am Telling You" from Dreamgirls! That was the song that won us a picture on the karaoke website two summers ago. I also love to sing Usher's entire Confessions album in the car. That album has accompanied me on so many road trips and it will never get old!
 
You want to retire in Australia. Why Australia?
I think Australia is so beautiful. I have only seen pictures and I feel like it is a wonderful place to live. I love the accents that the natives have and I also love the fact that they have the Sydney Opera House, one of the best opera houses in the world.
 
What does success mean to you? 
To me, success means that a person has done everything in their power to achieve whatever goal/s they have set for themselves. When a person rules out the notion of failing, and will not take no for an answer, that's success. I will know that I have success when I achieve all of my goals and find my happy ever after in life. When I can look back on my life and see how many people I have helped and how I have used all of the talents that God has given me, I will know that I have reached success.
 
What's your motto or the advice you live by?
Hakuna Matata. (No worries for the rest of your days) I really live by it. Whenever I find myself stressed out or worrying about something, I sit myself down and I sing Hakuna Matata. I remind myself that everything will work itself out in time if I apply myself. I also live by the saying, "Shoot for the moon. If you miss, you'll still be amongst the stars." I have lived my life knowing that if I give my best, I cannot fail.