I tried it. Am I cool yet? Lolavie Edition.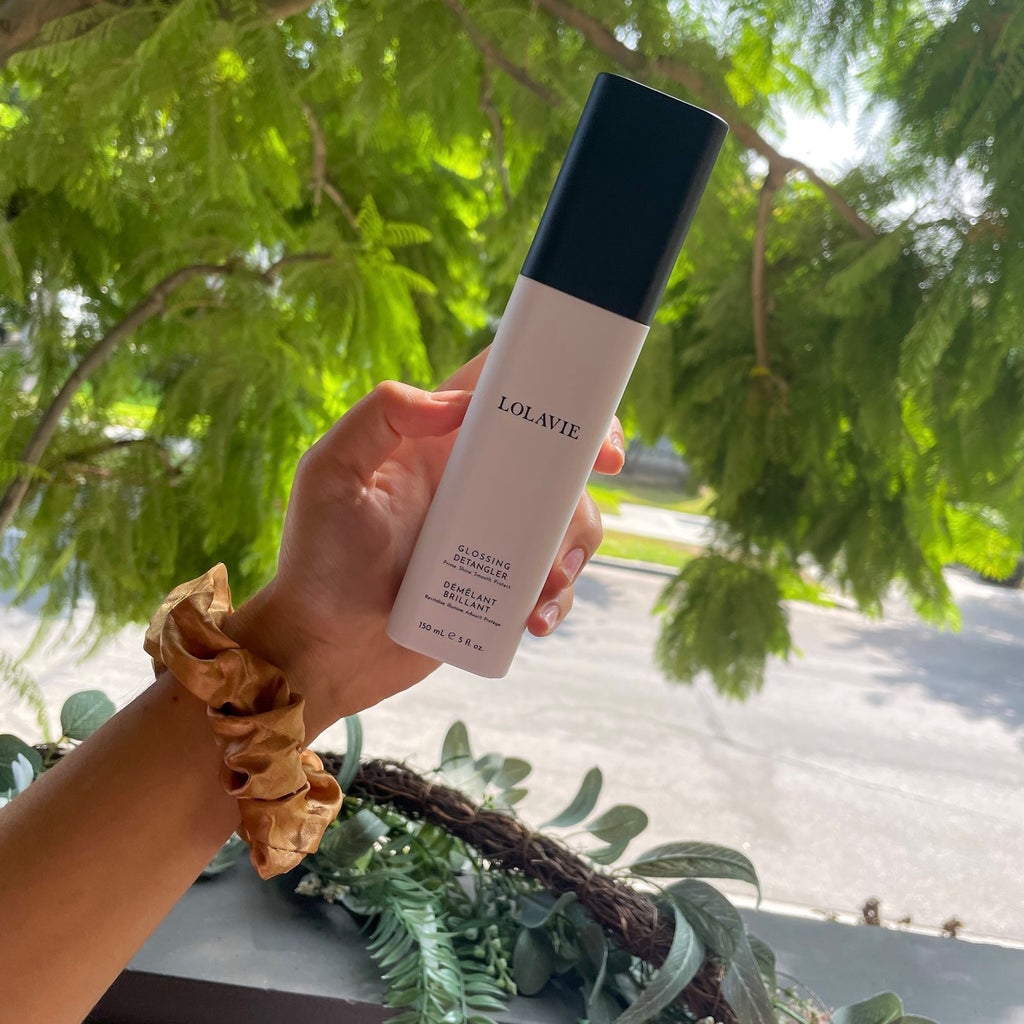 Let's be real, Jennifer Aniston is goals. One thing that separates Jen (look at me, calling her Jen like she's my bestie) from the rest? Her perfectly imperfect beach waves that are practically a celebrity in their own right. Jen effortlessly achieves the "woke up like this" illustrious Cali-girl locks that I've been trying to achieve since high school crimping days.
So, when I heard that Jen was launching a new plant-based and cruelty-free haircare line, I obviously had to try it out. The brand, LolaVie, offers just one product currently, the Glossing Detangler. This detangler is designed to help you achieve that effortless, yet cool, Jen-approved look. (Oh, and turns out her "real" friends actually call her "Lola," which is what sparked her idea for the brand name). I'm already a religious user of Living Proof dry shampoo, Jen's first foray into the haircare space in 2016. So, let's just say, my expectations are up there.
Even before Jen had prospects of venturing into the hair industry—before becoming a beauty icon and bestie to every human in America—Jen was unintentionally setting hair trends on TV. Whether you're a "Friends" fan or not, you can't deny the classic hair trend that is "The Rachel." I mean, come on, having a self-titled haircut kind of says it all, right? Jen has been a lifelong beauty trendsetter, so it's only natural that her new brand represents "a complete lifestyle approach" of doing things, namely your beauty routine, your own way. It's part of her roots!
Oh, and speaking of good roots, did you know that Jen's Dad graduated from Penn State? A little bit of PSU history for you. All the more reason I felt obliged to support Jen's new brand.
I opened my gateway into all that is cool and trendy and ordered the $25 detangler. Yes, $25 a pop for a product that is slightly unnecessary (depending on who you ask) is a lot for the budget of a college student. However, it's actually a multi-benefit product. According to Jen, this is the "Swiss Army knife" of haircare. In addition to soothing tangles, it also acts as a heat protectant and helped to smooth out my frizz right away.
I, like Jen (or Lola if you will), have done some serious damage to my hair from over-washing and heating. It requires a form of tamer or shine serum anytime I apply more heat. So, the reparative ingredients of this detangler are a big plus.
The product also smells amazing and created a smooth shine without weighing down my mane. My hair is extremely thick and heavy, so I can definitely vouch for the lightweight detangling properties. The outcome was a bouncy, healthy feel. With a little help from my flat-iron (ugh, I know) I achieved some great effortless beach waves.
Now that I've tried this detangler, I can undoubtedly say that it made me feel cool and I would buy it again. A truly "do it all" product that makes my life easier is something I'm always here for.
My recommendation for improvement? Travel sizes. That's what makes a college student (and our budgets) happiest!