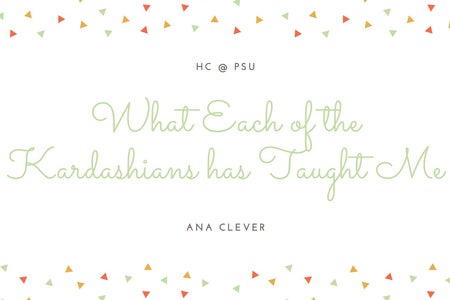 What Each of the Kardashians Has Taught Me
Let's be honest —the Kardashian family is very controversial. 
While some people are obsessed with them, others believe they represent everything wrong with America. Opinions aside, they are obviously doing something right. With 17 years in the reality TV world, this family still entertains us with their lives, drama, and style, and each of the family members has taught me a valuable lesson in life.
1.

Kim Kardashian: See the positive in negative situations.

Kim started with a leaked sex tape and ended up creating an empire. Nowadays, she is known for her accomplishments, not for her invaded privacy. She managed to turn the situation around and make a fortune of it.

2.

Khloe Kardashian: Don't take life too seriously

Khloe always has a laugh despite what is happening. Her positive attitude makes her a role model. Even when people constantly teased her about her weight, she made jokes about it, inspiring many women to accept their bodies instead of feeling insecure.

3.

Kourtney Kardashian: Stand up for what you believe in

Often fighting with her siblings, Kourtney is a very strong-minded woman. She always fights for her opinions and never accepts something she thinks is wrong.

4.

Kendall Jenner: Prove the skeptics wrong

When Kendall started her modeling career, many said that she was talentless and was only making it because of her family. However, she proved them wrong while continuously showcasing her talent. She did hundreds of campaigns and found her place in the modeling world.

5.

Kylie Jenner: You can make it and make it big

Who hasn't heard of Kylie Cosmetics? Kylie has conquered the beauty world with the launch of some of the best products in the industry. She has made her name in one of the most competitive industries, proving that you can pursue your passions. Of course her connections have helped her, but she would not be a billionaire if she wasn't talented and persevering.

6.

Kris Jenner: Age is just a number

After having six children and ten grandchildren, Kris still has a blast. She is constantly traveling and partying as if she is still in her 20s. Her motivation to attend so many events is truly inspiring, and she is the best representation of how you can enjoy every single year in life.