Before coming to Penn State, all I ever heard was, "you have to go to a football game." I figured at some point I would buy a ticket and attend a game, but it wasn't something that I cared too much about. I know nothing about football other than the fact that my home team is the Patriots and Tom Brady is the best (even though he's on a different team now).
When I got the email that student football tickets would be for sale, I totally disregarded it. I didn't care. Soon after that, another email was sent that regular tickets would go on sale starting in August. Again, I didn't really think about it until my mom suggested that I purchase at least one ticket to a game for my dad. I had just figured that I would try my junior or senior year to go to a game, but decided that maybe she was right and that I should at least consider them. I looked at the list of games and decided to get tickets for the Indiana game. Mind you, I know nothing about football, so I simply chose this game based on cost and the fact that I liked the other team's name more than any of the others.
Before I left, I printed out the picture on Ticketmaster that showed we were going to the game and made a little basket to give to my dad, in an attempt to look a little fancy. He was excited and I was, too. I didn't really know what to expect, but I was happy to know my dad would be visiting during the semester. It gets a bit hard, not seeing familiar faces of family.
The week of the game, I saw an email that explained the Illinois game was the "Stripe-Out" game of the season. I didn't even know that was a thing, but it honestly built up my excitement for the game. I immediately I looked up what color we were supposed to wear and I won't lie that my face dropped when I saw white. I KNOW, I KNOW I should have been grateful that we were in a section that was white just like the student section, but I just kept thinking "what if I spill something?" I had planned on wearing a blue sweatshirt before I knew about this. I told myself it would be okay because my dad was coming down with a few more of my sweatshirts from home and one of them was white. Okay, fine, it was grey, but really it was just off-white. Close enough, right?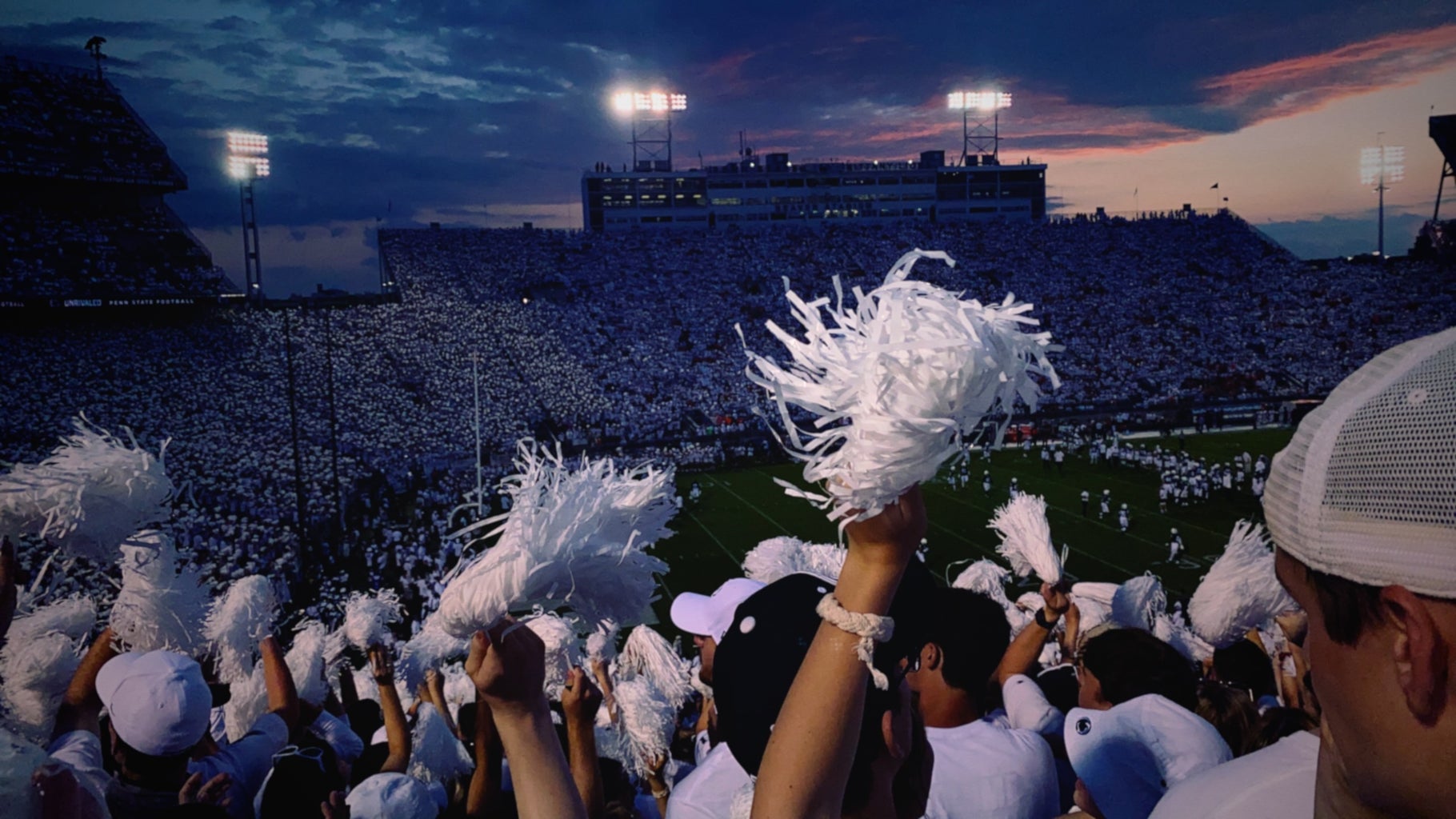 Finally, the game approached on October 2nd and I was excited and nervous all at the same time. I had no idea what to expect and I was slightly worried the game wouldn't live up to the hype of the Penn State football experience. However, now I can confidently say that was not the case at all. Rather than just a football game, it seemed to be similar to a performance. The music seemed to be getting louder and louder to hype up the fans. The marching band going onto the field, as well as cheerleaders, dancers, and of course, the football players. There was a beautiful sunset that shined in the sky that added to the ambiance of fall football. The energy and tension in the stadium before the players run onto the field is unexplainable.
The environment is crazy and although I can be pretty quiet and stiff, I did enjoy watching and living the chaos. Fireworks, endless cheering and chanting, the marching band and a victory all contributed to the experience.
Although I might not have originally cared, I'm glad I was able to experience a game this year and hopefully I'll be able to attend more in the future. Maybe next time I'll upgrade to the student section.