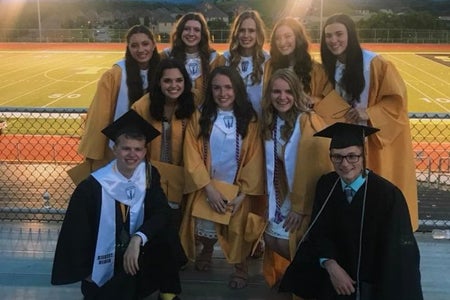 A Letter to Incoming Freshman
As my high school best friends and I walked across our football field for the last time, taking our diplomas to officially symbolize "adulthood," we were all nothing short of optimistic. Everyone was going to a college they were happy with, and we were all pursuing majors we were passionate about. First semester of freshman year would be perfect, right?
When my mom first left me on August 17, 2018 alone in my dorm room at Penn State, I felt the exact opposite of how I was "supposed" to feel. I started crying. I just wanted my mom take me back to my suburban Pittsburgh town where everything was familiar. 
I spent all of high school knowing I wanted to leave my hometown. I felt like a character in a movie who always says that they're destined for more and they need more out of their town. But, there I was: 18 years old, finally left my hometown, and all I wanted was to go back.
My first semester of friendship year was completely less than ideal. I was doing everything people tell you you're supposed to do to be successful. I joined a decent amount of organizations and clubs that I was interested in, and I was succeeding. But, I was lonely a lot, even though I was surrounded by over 40,000 other kids my age. I just wasn't completely happy, and wanted to leave. 
At Thanksgiving, I reunited with my high school best friends. Much to my surprise, everyone was feeling rather similar to how I was. I had an image of everyone "thriving" on social media, but for some reason we were all keeping our struggles hidden from each other, and we could all relate to not completely loving college. 
I was pretty positive I was going to transfer after my first semester. I felt a pit in my stomach as I set up a Common Application account and began my second college search. 
But, I returned to Penn State for the spring semester. I don't really know exactly what happened, but I slowly started to feel better. I was in more of a routine, and I felt like I had a place on campus. 
Now I've completed three semesters, and I couldn't imagine myself at a different school. I wish I could give more concrete advice to incoming college freshmen, but based on my experience, the first semester of college may not be great. You may want to transfer. You may not feel like you belong at your school. 
But, to speak on behalf of my high school friends and I, I would recommend giving it longer than a semester. Being away from home surrounded by thousands of new people is really hard. No one ever talks about how difficult starting college can be, and I think it's a conversation that needs to become more common. It definitely would've helped me to not feel so alone during the fall of my freshman year.