Like many pre-teens, I used to lay on my bed and watch all the Coachella vlogs made by my favorite Youtubers, dreaming that one day I would be able to jet off to the desert and experience the music festival myself.
Well, that dream came true.
This year, I was fortunate enough to go to Coachella with my best friend Paulina to see dozens of musicians perform at one of the most famous music festivals in the world.
We left State College before the sun came up on Thursday, April 14 and after a few layovers in Chicago and San Fransisco, we were welcomed to Palm Springs by blue skies and 90º weather.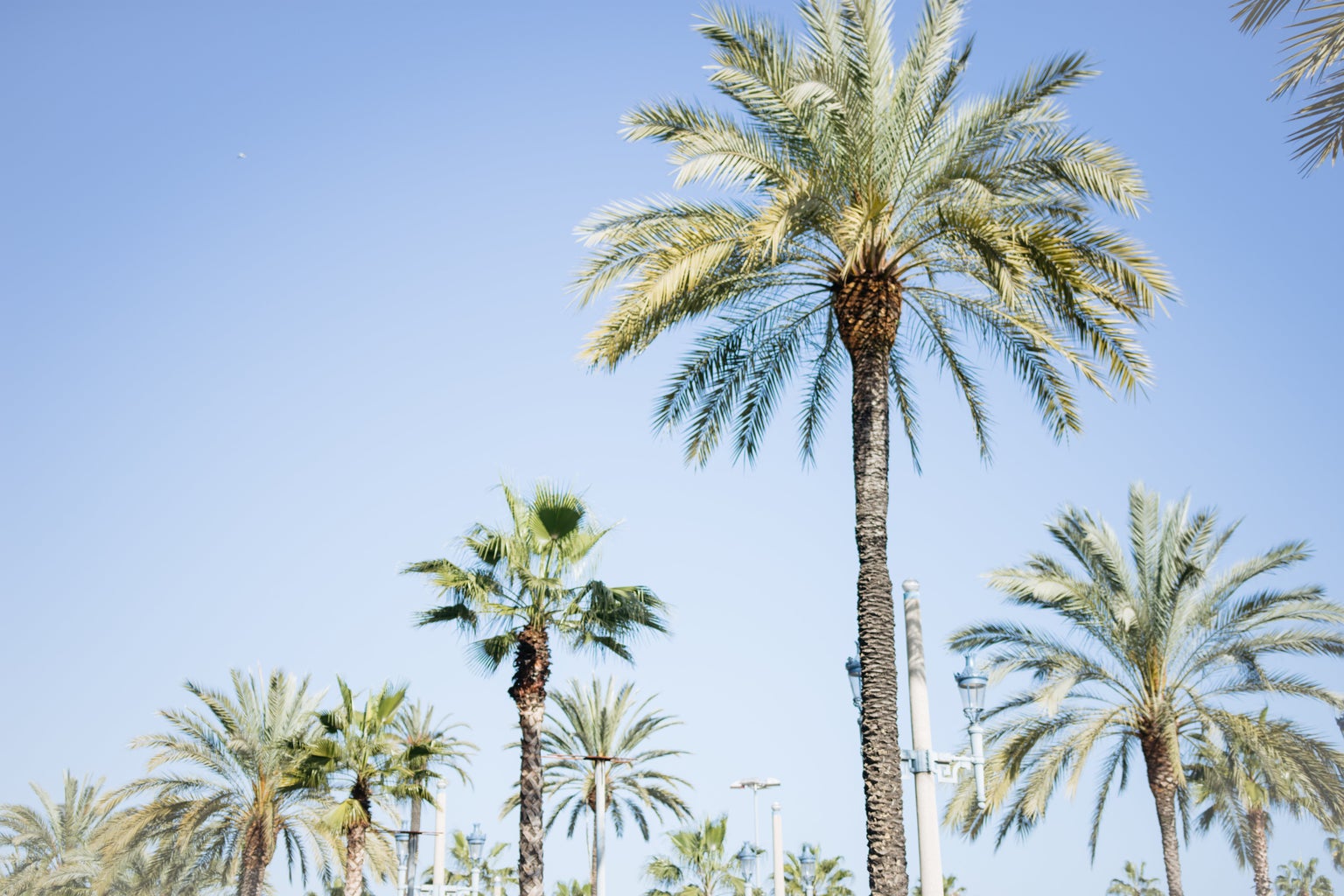 Despite the sleep deprivation, we were buzzing with excitement as we cringed and payed the $91 cab fare for the ride to our hotel.
We had finally made it.
Day 1
Waking up at 7 a.m. (a habit we did not maintain in the coming days), we rushed to start getting ready.
Makeup. Glitter. Small elastic hair bands. More Glitter.
A few hours later, we were shutting the doors to our Uber and sliding our VIP wristbands on.
Once we arrived at the festival, we walked for about 10 minutes before hopping in line to get in which was a surprisingly quick and easy process.
We walked in through the VIP section and were immediately stunned by its beauty. Tall palm trees, long strips of food and drink vendors, stone pathways, and most surprisingly — green grass.
We explored the area briefly and purchased a few overpriced burgers before venturing toward the general admission area to get our nails done at the Pleasing pop-up and the Harry Styles merch stand.
After our tiny excursion, we made our way to the main stage to set up base for the day, as we intended to remain at that barricade spot until the night's headliner, Harry Styles, performed.
We somehow managed to get into the Artist Guest area and ended up at the very front row. Whether that be because of faulty scanners that allowed our regular public VIP wristbands to scan in, or a security guard who was unaware of what area they were guarding, I nearly kissed the ground as we claimed our spot.
Throughout the day, we saw countless artists: Princess Nokia, MIKA, Ari Lennox (with special guest Snoop Dog), Anitta, and Groupo Firme.
It was hot and dry, and we stood in an area without a sliver of shade, reapplying sunscreen like crazy and chugging water from our hydropacks like it was oxygen.
Eventually, it was time for the three final artists of the night to take the stage.
Lil Baby was first, who performed many of his hits like "Yes Indeed" and "Close Friends."
Next was Daniel Caesar, who holds a special place in our hearts. He surprised the audience by bringing out Justin Bieber to perform their song "Peaches" that had debuted at number 1 on the Billboard Hot 100 when it was first released.
Finally, the headliner for the night, Harry Styles took the stage, starting his performance with his latest chart topping single, "As It Was."
In a colorful sparkly jumpsuit, he performed many songs from his freshman and sophomore albums, while also debuting two new songs, "Late Night Talking" and "Boyfriends" from his upcoming album titled "Harry's House."
Styles also surprised the audience when he brought out Shania Twain to perform her massive hits "Man! I Feel Like A Woman!" and "You're Still The One." I was absolutely starstruck seeing the two of them perform together in similarly patterned outfits and the stage presence of superstars.
This was the fourth time Paulina and I had attended one of his performances in the past eight months, and let me tell you — it never gets old. He is truly the best performer I have ever seen and always manages to leave me feeling more alive than ever.
We matched his energy, dancing and singing along until the last firework went off.
Throughout the night, we made friends, two of which graciously gave us a ride back to our hotel at the conclusion of the night. As we were walking toward her car, I noticed her Artist Guest wristband and asked her how she got it out of curiosity.
I was left stunned with a dropped jaw when she told me that her father was Chad Smith, the drummer of the Red Hot Chili Peppers. I felt like I was dreaming.
With numb and sore feet, we made our way into our hotel room around 3 a.m., showered and instantly fell asleep, ready to do it again the next day.
Day 2
Waking up was a task in its own. We were exhausted, sore, and sunburnt. However, we started getting ready with the same excitement we had the first day.
Makeup. Glitter. Small elastic hair bands. More glitter. Oh, and lots of boob tape.
We ordered our Uber and made our way to the festival, going through the same entry process as the day before.
We bought a few overpriced sandwiches and sat in the shade to enjoy it before taking our place back at the barricade for the day.
Unfortunately, we were not able to get back into the Artist Guest area, however, we took our place at the barricade in the General Admission area, prepared to stand for the next 12 hours, sipping on the most creative concoction of berries, charcoal and mint that was appropriately named "Black Lemonade."
The music performances on this day were some of my favorite including Conan Gray, Giveon, and 88 Rising.
When Flume took the stage, I was entranced. He had mesmerizing visuals on the big screens behind him and brought out a long list of guests including Tove Lo, Vince Staples, Kai, Beck, and Caroline Polachek.
Following Flume, was Megan Thee Stallion, who effortlessly blew the crowd away while performing many of her hits including "Body" and "Girls in the Hood."
Finally, the night's headliner, and the youngest headliner in Coachella history, Billie Eilish took the stage. She surprised the audience by appearing on the catwalk instead of the main stage, and our throats burned from screaming so loud.
She was right in front of us.
Her performance was nothing short of extraordinary, commanding the crowd to jump and dance around, to just have the time of our lives.
She brought out special guest Khalid to perform their hit song "lovely" together.
She then brought out Gorillaz to perform "Feel Good Inc." and even Eilish herself was starstruck.
She concluded her performance with her hit song "Happier Than Ever" off of her latest album that holds the same title during which we all cathartically screamed the lyrics at the top of our lungs.
This day we weren't fortunate enough to find a ride home, and with the high levels of internet traffic, ordering an Uber was virtually impossible because we had no service.
So, with tears brimming in our eyes from our sore feet, we walked a few miles down the road, taking multiple breaks to rest before we found a ride.
A man with a "taxi" sign on his dashboard (that he probably bought off of Amazon) offered us a ride and my sore feet spoke for me in that moment (sorry Mom).
We arrived back at our hotel after a seven minute drive that cost me an absurd $40 before we repeated the routine of showering, and then passing out from exhaustion.
Day 3
Now when day three rolled around, the thought of putting my shoes back on nearly brought tears to my eyes. We knew going into this that there was a lot of walking and long hours of standing, but nobody could have ever prepared us for what was actually to come.
Paulina and I had to rally, we were young and in California together, living a dream that we had talked about for years together.
I insisted that we went out and got breakfast, considering we had barely consumed anything in the past two days, so we found ourselves feasting at a diner near our hotel.
With full stomachs, we walked back to our hotel.
We both laughed until our chests hurt as we got ready for the last day together.
Makeup. Glitter. Small elastic hair bands. More Glitter. More boob tape.
We left much later this day, not arriving at the festival until around 5:30 p.m. due to an Uber driver who got lost and took us through residential areas and gravel roads until I pulled up my own GPS and directed him myself.
Today was our day to explore. Paulina and I are huge Harry Styles and Billie Eilish fans so it was important to us to be front row for them. However, although we both love The Weeknd and Swedish House Mafia, this day's headliners, we were perfectly content just dancing in the back.
We took the time to buy more Coachella merch, and actually walk around to other stages and art displays to get the whole experience.
We laid on the grass listening to Joji and took a million photos until my phone ran out of storage.
The art displays were beautiful and we just took in everything around us.
Once we made our way toward the main stage again, we managed to secure a spot on the side with enough space to dance.
The last performers of the night were Doja Cat, who brought out special guest Tyga, and a combination performance from Swedish House Mafia and The Weeknd.
We screamed the lyrics to "Don't You Worry Child," and danced to some of The Weeknd's biggest hits like "Save Your Tears" and "The Hills."
In all honestly, I was a bit disappointed in The Weeknd's performance. There were so many more songs of his that I wanted to hear, but alas I understand that artists have limited set times, and he has such a large discography that he wasn't going to be able to sing every song.
Leaving the festival was bittersweet. I had the best time of my life, but it was over. I felt nostalgic before it even ended. This day, Paulina and I both agreed: we were not walking to find a ride.
However, after an hour of trying, we looked at each other and just knew that we were going to have to walk.
After what felt like forever, we found an Uber and arrived back at our hotel for the last time.
Coachella was nothing short of a dream come true.
Shout out Mom for this incredible gift. Thank you.
To see so many talented artists with my best friend by my side is everything I could have ever asked for. So to Paulina, thank you for doing life with me.
The friends we made, the laughs the made our stomachs hurt, screaming until our throats burned, crying from our sore feet, everything. It was all a dream.
If I have learned anything over the past year, it is that life is too short to remain stagnant. You have to live your life, be spontaneous, and do what truly makes you happy.
So no, I won't ever stop talking about Coachella 2022 because I got to be young, broke, and happy. I got to live.