Peter's Season of "The Bachelor" Is Off to a Hilariously Dramatic Start
The Bachelor might be the epitome of trashy reality tv, but I LOVE it. I used to be one of those girls who was very against the whole Bachelor franchise. I mean, it's extremely staged and all of the contestants seem so narcissistic and vapid. Plus, the whole idea of dating 30 people at once just rubbed me the wrong way – I mean how could this show possibly produce genuine relationships?
To be honest, I had never really given the show a try until some of my friends were gathering to watch it freshmen year and I reluctantly joined. And let me tell you: watching The Bachelor with a group of friends while making fun of how over-the-top it is, is the best. Once I learned to not take it so seriously, the show quickly became my guilty pleasure. So, you know where to find me on any given Monday night.
This season, the Bachelor is Peter Weber (aka Peter the Pilot). If you watch the show, you know that the Bachelor is chosen from the pool of contestants on the most recent season of The Bachelorette. After watching Hannah Brown's season, I (along with many other fans) was really hoping that Mike would be the next Bachelor. He is such a sweet and optimistic person – not to mention that he would've been the first person of color to star on the show. However, the more I watch Peter's season, the more I like him, too.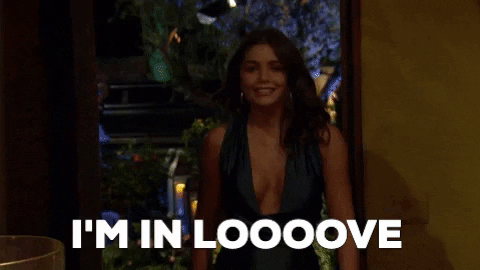 GIF by The Bachelor via GIPHY
Night one of The Bachelor is always highly anticipated: we get to meet the girls, watch them fight over Peter's attention and see who will get the "first impression rose." The contestants always try to make lasting impressions as they step out of the limo and greet the Bachelor in front of the mansion. I mean, who can blame them? With 30 girls to remember, it seems very cut-throat on night one as they all fight to not to get eliminated by getting as much one-on-one time with Peter as possible. (Take a shot every time someone says, "Can I steal him for a second?")
There were countless references to the fact that Peter is a pilot, from girls who were flight attendants to girls coming in on airplanes to a girl who actually stuffed herself into a suitcase to greet him. Each season it seems like the show really pushes a specific aspect of the Bachelor, and even though the pilot references became a little excessive, I guess it's better than last year's Bachelor, Colton, who was only known for being a virgin.
Not only that, but there were also so many references to Hannah B.'s season. The infamous windmill, for instance, was brought up by so many girls. I personally don't think it's the best strategy is to bring up a girl that Peter was so recently in love with.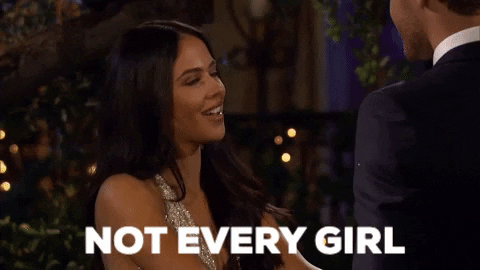 GIF by The Bachelor via GIPHY
And, *surprise, surprise* Hannah B. ended up showing up towards the end of episode one, supposedly to return Peter's "wings" and to wish him luck. Obviously, this did not go over well with the other girls. These producers really know how to stir up some drama.
Night one is definitely a very meme-able episode of The Bachelor; here are some of my favorites:
Tweet by @seriously_nik via Twitter
Tweet by @viviennep1218 via Twitter
Tweet by @BachelorChirps via Twitter
Personally, my favorite contestants so far are Kelley and Madison. Kelley, who's an attorney from Chicago, coincidentally ran into Peter in a hotel lobby before the show started filming, so they already had a connection from the start, which I thought was adorable. She seems more mature than some of the other girls and even though there was some drama surrounding her, I think she has good intentions. I also like Madison, the former college basketball player from Auburn. Madison got a one-on-one date with Peter where she got to attend his parent's vow-renewal ceremony. It seemed a little too personal for a first date, but hey, nothing is off limits on The Bachelor. Madison's recently been getting some backlash from fans for commenting on her own Instagram posting pretending to be a fan. Oops.
Even though the season has just started, I think it will be a really entertaining one. Sometimes it's nice to just turn your brain off and enjoy some super dramatic, super romantic reality tv. Happy watching, Bachelor nation!