10 Things I Hate About You, Clueless, Legally Blonde, Heathers and Mean Girls are just a few examples of iconic teen films. These films are universally beloved; whether it be for their memorable characters, iconic outfits or witty one-liners, they define teen drama. And Netflix's recent teen drama, Do Revenge, has been jockeying for a place among these beloved classics. The film, which stars Maya Hawke and Camila Mendes, was written by Celeste Ballard and directed by Jennifer Kaytin Robinson. Netflix summarizes it this way: "A dethroned queen bee at a posh private high school strikes a secret deal with an unassuming new student to exact revenge on each other's enemies." The film is charming and bold, with witty one-liners and an incredible soundtrack. The film also features incredible fashion.
The costumes are dramatic and finely detailed–always eye-catching. The costume designer, Alana Morshead, cited her overall fashion inspiration as many of the films from the 90s that she grew up with. She specifically cited Romy and Michelle's High School Reunion, Jawbreaker and Clueless (InStyle). Morshead also said that while she drew inspiration from the 90s, she still wanted the outfits the characters wore to feel current, and remain fashionable 20 years from now. Additionally, some looks in the film came from even more specific inspiration.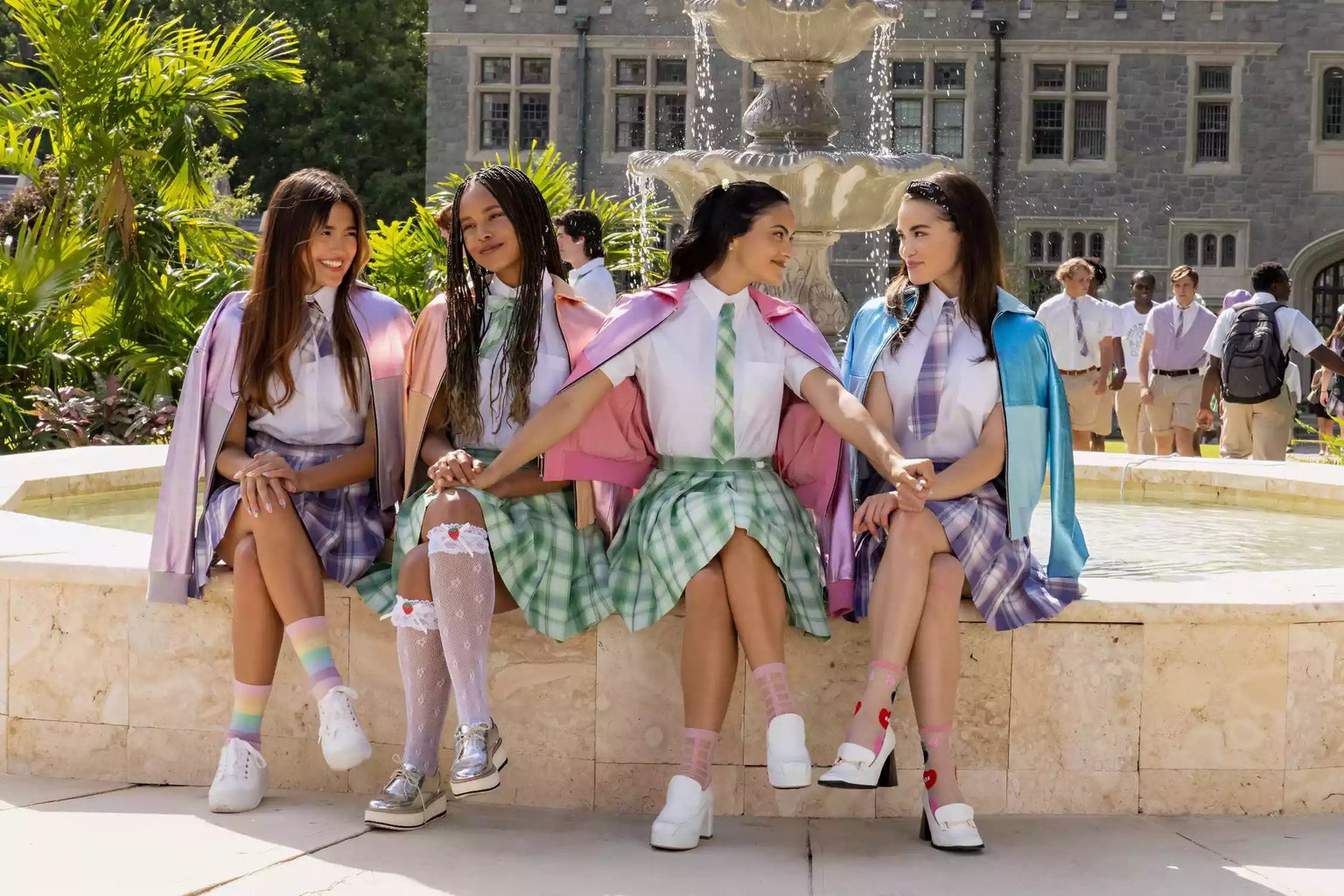 The school uniforms that are seen throughout the film are inspired by Korean school uniforms. When talking about these Korean uniforms Morshead said, "The students always look put together, ties are always tied and it's a full look," (InStyle). Morshead used these uniforms as a base and then ran wild with accessories. Believing that every student in the film would care about their appearance she carefully accessorized each character with specific earrings, shoes and socks, allowing them to individually express themselves even as the bases of their outfits were similar. And to add yet another layer, the color of the uniforms stems from an Easter egg color palette, which Morshead cited as speaking to the Miami setting and the famed deco architecture (Fashionista). She also added that the stylized aesthetic allowed for emphasis on the "cut-throat reality of the school" (Fashionista).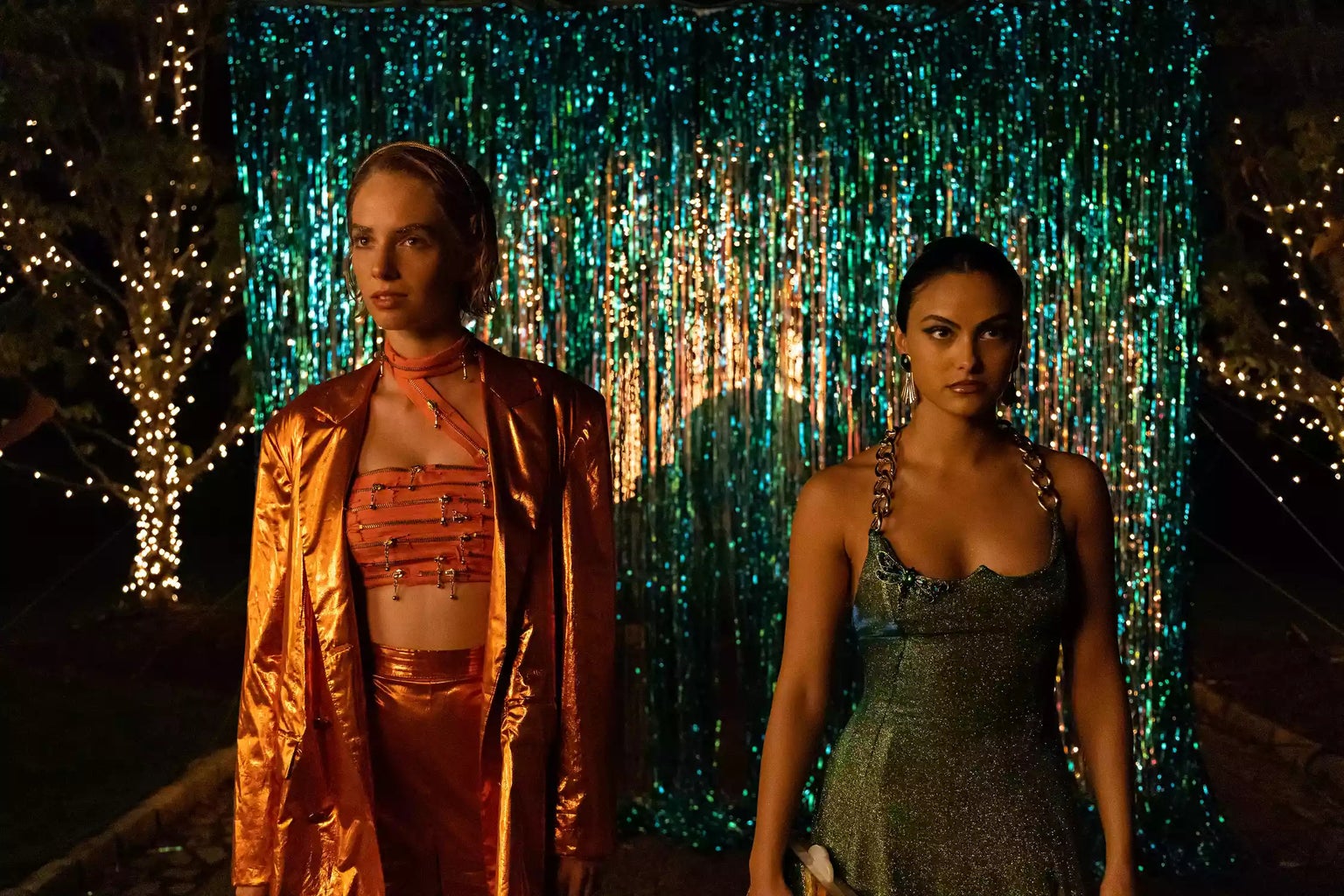 Morshead also established specific styles for the two main characters, Drea (Camila Mendes) and Eleanor (Maya Hawke). Drea, the former queen bee, was dressed in cool tones, including lots of blues, purples and solids. Her outfits were more form-fitting and were meant to exhibit a 90s runway vibe. At the Admissions Party near the end of the film, Drea sports a sparkly green dress. According to Fashionista, this dress in specific was inspired by an ice blue Versace dress that supermodel Carla Bruni wore to a Versace afterparty in 1995. This dress also had a DIY aspect to it, as the straps on the dress in the film are made from two belts that, according to Instyle, Morshead found for $1.50 each at a beauty store.
Meanwhile, Eleanor's style (post the makeover she's given by Drea) includes lots of oranges and yellows. Morshead also mentioned that it was inspired by, "..icons of the 60s and 70s including Twiggy and 'Shampoo' era Goldie Hawn," (Fashionista). Eleanor is meant to have more of a hippie aesthetic, with lots of patterns and flowers contributing to her style. In terms of Eleanor's Admissions Party outfit, she sports an orange men's cut suit. Morshead claims that this outfit came to her in a dream, and she woke up knowing that the outfit needed to include orange zippers (InStyle). So, the shirt Eleanor wears at the Admissions Party is actually constructed from 50 orange pants zippers tied together.
Max, Drea's ex-boyfriend, and resident cool kid of Rosehill High School was also given a very specific individual style. Morshead states that she drew inspiration from Harry Styles and a need to subvert the "archetypical, hetero, cisgender, 'kind of misogynistic' male love interest from 90s teen rom-coms," (Fashionista). While Max may have a toxic personality, he certainly does have good fashion sense. Ultimately, Do Revenge is not only a delight to watch because of its incredible cast and interesting story line, but it's also a visual delight. The costumes are bold and dramatic, larger than life but still somehow acceptable in the high school setting. The film is guaranteed to make you smile, laugh and probably purchase a new piece for your wardrobe.