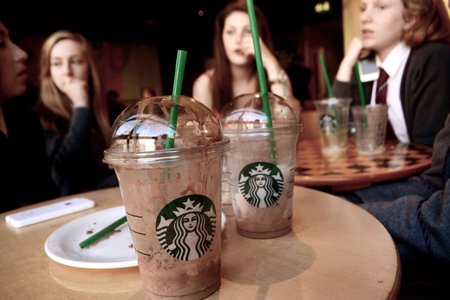 Confessions of a Starbucks Employee: 8 Rare Drinks You Have to Try
The current global pandemic has put a temporary hold on our all-too-frequent visits to our favorite restaurants and coffee shops.  Believe me, I'm just as sad as you are - I've had to put my job as a Starbucks barista on hold during these tough times.  Thankfully, however, most locations are still open, and if you live near a location with a drive-thru, you'll see the line and know that people are just as desperate for coffee as they've ever been. So, with the additional time to reflect, I've put together a list of my favorite rare Starbucks orders that are worth trying.  Now is as good of a time as ever to get creative with your Starbucks order. Here are some fun suggestions!
1. Snickerdoodle Latte
The "snickerdoodle" syrup combination is very popular during the holidays, but contrary to popular belief, Starbucks offers it year-round!  Ask for a latte or hot chocolate with white mocha and cinnamon dolce syrup.  The result is a vanilla-white chocolate-cinnamon masterpiece that you certainly won't forget.  You can get either drink (with or without espresso) iced or hot, depending on your mood.  Remember to ask for whipped cream!
2. Raspberry Flat White
Believe it or not, raspberry and espresso is a popular flavor combination for a lot of customers looking to try something new.  The flat white is made with whole milk and ristretto shots, resulting in a bold flavor and smooth consistency. Add raspberry syrup and viola! A unique flavor combination that you certainly won't forget. Try it hot or iced.
3. London Fog Tea Latte
I'm a little biased, but this is easily the best tea latte Starbucks offers. It's an Earl Grey misto (half tea half steamed milk) with vanilla syrup.  The vanilla syrup tones down the strong citrusy-floral notes of the Earl Grey tea, and the steamed milk adds the creamy frothiness you crave on a cold day. Any of Starbucks's non-dairy milk options (soy, almond, and coconut) pair well with the drink. As summer is approaching, you CAN order this iced. Just know that it takes 5 minutes to brew the tea, as Starbucks does not regularly brew iced Earl Grey tea. I can personally testify that the drink is worth the wait - an iced coconutmilk London Fog is my favorite drink.
4. Milk Tea
Craving boba, but your favorite shop is closed? Starbucks has you covered. Order a venti black tea with half and half and add 10 pumps of classic syrup. It tastes almost exactly like the real thing.  For all of you non-dairy queens out there, swap out the half and half with coconut milk.  Coconut milk is already very sweet, so you may want to reduce the amount of sweetener pumps. Or don't, if you like.
5. Matcha Pink Drink
You've heard of the Pink Drink (or you've at least seen it on someone's Instagram). Now imagine that - but with MATCHA. To get that cute green-to-pink ombre, ask for one part coconutmilk matcha on the bottom of your cup and three parts Pink Drink on the top. Because the Pink Drink is coconutmilk-based, the two drinks work well together: think strawberry matcha with a coconut spin.
6. Purple Drink
No, not the Violet Drink. The Violet Drink is Berry Hibiscus Refresher with coconutmilk, which is similar to the Pink Drink. This Purple Drink, however, is in a league of its own.  Ask for a passion iced tea with soymilk, vanilla syrup, and blackberries. It may sound odd, but it's quite delicious and very popular with customers who know about it. It also makes for some amazing photos for your Instagram, so get ready.
7. Powerade Refresher
Believe it or not, this is NOT a secret menu item, but a drink I concocted myself while working as a barista. Your local barista will not know what you're talking about. Thankfully, Starbucks will make you anything as long as you know the recipe.  Hear me out: a venti Mango Dragonfruit Refresher with lemonade and 4 pumps of Pineapple Ginger syrup. Ask them to blend it and voila - a Powerade-esque slushie. Nobody knows about this, but they should. It's perfect for a summer day wherever you are.
8. Cotton Candy Frappuccino
I had to include at least one frappuccino on this list. This one is very popular with kids, though adults can feed their inner kid with this super-sweet flavor combination. Most baristas will know the recipe by the name, but if not, ask for a Vanilla Bean Frappuccino with raspberry syrup. It's popular for a reason - give it a try on a hot day!
I hope that you enjoy these unique drinks.  As a Starbucks barista, I can tell you that I certainly have.  Stay safe, get creative, and have fun!
For more details on these drinks, visit https://starbuckssecretmenu.net/ .