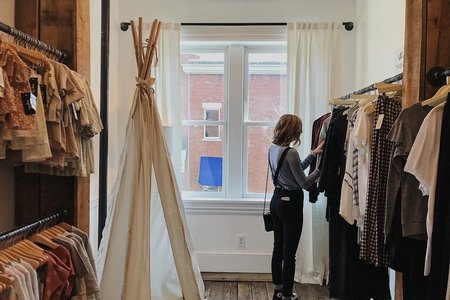 How to Thrift A Halloween Costume
As a huge Halloween fan, I usually end up attending multiple Halloween events every year, participating in multiple group costumes and different themed parties. However, standard Halloween costume packets are ridiculously overpriced (not to mention wasteful, since they are usually worn once and then tossed in the trash). One of the best solutions to this Halloween dress-up dilemma is thrifting. Putting your costume together through secondhand clothing allows you to win costume contests without burning a hole in your pocket or the planet. Thrifting can seem daunting, though, when you're unsure where to go and what to look for, especially when searching for something so acute and uncommon as a Halloween costume. This year, I thrifted three different Halloween costumes (two for me, one for my boyfriend). I can tell you how I did it, hopefully easing some of that pre-thrifting confusion you may have towards an already chaotic holiday.
The First Costume: The Heathers from Heathers
Within my friend group, there are three of us named Julia. Of course, we needed to team up this Halloween and go as the Heathers from the aptly-named cult classic film, Heathers. 
Traditionally, the Heathers wear red, green, and yellow outfits that often consist of blazers and skirts. However, blazers were fairly expensive and difficult to come by. Instead, the three of us agreed to wear knee-high socks, color-coordinated scrunchies, and a black tank top plus some form of a cardigan or sweatshirt which matched our respective Heathers color. I was red.
When it comes to Halloween thrifting in the city, Buffalo Exchange often takes the cake. They typically have a display rack at the front of the store featuring all kinds of recycled Halloween pieces, from angel wings to boot covers and afro wigs galore. I wasn't necessarily looking for any of those zany pieces this time around, though. I was looking for normal clothes.
And normal clothes I did find, starting with a simple black tank top that I snatched for two dollars. I found a beautiful reddish-plaid skirt in perfect condition, which I knew would not only perfectly suit my costume but would be a perfect formal winter piece that I could add to my everyday wardrobe. I bought a gorgeous red lipstick and cheap red earrings from a local CVS to spice up the look.
I owe a lot of this costume to my good friend, who had previously dressed up as the red Heather and had a few leftover costume pieces. We are the same shoe size, so she let me borrow how red flats. She also provided me with an extremely comfy red coat and grey knee-high socks. I had seen all of these items while shopping in Buffalo Exchange, so I texted my friend to ask if she had them first. Another great secondhand Halloween tip: always check to see if your family/friends have anything you could use before spending any money yourself. 
The Second Costume: Westley and Buttercup from The Princess Bride
The Princess Bride is another cult classic movie, favored by fantasy enthusiasts and comedy lovers alike. Although I don't look much like the star damsel-in-distress Princess Buttercup, my boyfriend has a striking resemblance to Westley that many people have commented on before and The Princess Bride is one of my all-time favorite films. Unfortunately, I don't have photos of the finished product for these two costumes because we won't be wearing them or seeing my boyfriend until next weekend after Halloween has ended on Thursday (better late than never). 
Thrifting this costume was especially important to me because the premade costumes are ridiculously expensive for an extremely unrealistic look.
I mean, imagine this for upwards of 90 dollars! My boyfriend, Ryan, and I were simply not doing it. We can barely shell out extra money to share a lava cake after our meal at Applebee's. We meant business when searching for these costumes, so we, of course, hit up Halloween Queen Buffalo Exchange again as our first stop.
There, we found the perfect pieces for Ryan's costume as Westley (otherwise known in the film as the Dread Pirate Roberts, hence the pirate-esque getup). He already owned black high-waters, which would serve perfectly as pants. We found a long-sleeve top that buttons all the way down into a deep v-neck for $10. We could leave the top unbuttoned and thread a piece of string (or shoelace if desperate) through the open eyelets to create that tied up pirate v-neck that Westley wears in the film. We also found a black mask that had bunny ears on it bought it for five dollars, and cut it into a regular-sized mask like the one Westley wears.
I ran to the fabric store the next day, got a piece of black fabric, and cut it so that Ryan could tie it around the top of his head the same way Westley does in the film. 
After Buffalo Exchange, we went to No Relation Vintage a few blocks away in the East Village. For you avid thrifters, No Relation Vintage is another location of the popular L-Train Vintage store in Brooklyn. No, I do not know why they go by different names. It's the same store, just take my word for it. At No Relation/L-Train, I found a simple red dress that I could use for my Buttercup costume.
The shoulder pads and bow in the front, however, was a no-go for me. It was cheap, so I bought it and then cut out the bow and shoulder pads myself. After that, the dress was pretty much perfect. I also bought a spool of thick gold ribbon at the fabric store to tie around my waist and bam -- Buttercup costume complete! I have a package of clip-on extensions I can use to achieve the long-long hair that Buttercup has, which I naturally do not. 
And just like that, we have a costume!
As aforementioned, I don't have pictures of the finished look (my boyfriend and I together) because we won't be busting out this gem of a joint costume until the Saturday after Halloween. I will be sure to post some pictures of it on Saturday on my Instagram @julcorrado, and I will send some photos to Pace NYC Her Campus's Instagram @hercampuspace as well. I hope my thrifting experience helped to provide some insight into how you can be your spookiest self on a killer budget. Happy thrifting and Happy Halloween!