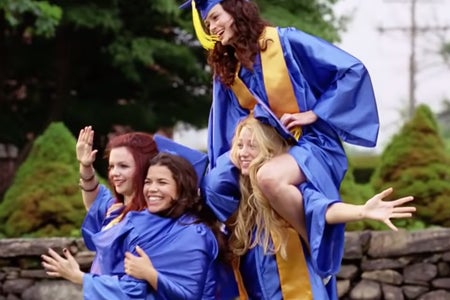 10 Things To Do Before Graduation
As graduation grows closer, here is a list of things that any graduate at Pace University needs to do before the official date.
I've always wanted to grab some coffee at this cafe/rescue organization! I'm always missing my cats while away at school, so I'd love to have some quality cat time while also donating money to a good cause. All of the cats at the cafe are adoptable, so it will be very hard to stop from taking one home with me!

This is something my mom has been begging me to do since I started attending Pace University. Now that I can see the bridge from my dorm building, I think it would be a sin if I didn't do it at one point during this year!

Beetlejuice has always been one of my favorite movies growing up. And so ever since it was announced to be coming to Broadway, I've been dying to see it! Since it's been receiving a lot of buzz online, wish me luck on getting reasonably priced tickets!

I've always been big on ice skating, and have been skating since I was very little, so even before I moved to New York this has been something on my bucket list! I can't wait until the winter months begin and I can head over and get some skate time in! 

I have had multiple opportunities to visit this amazing museum, but each time I honestly have passed knowing that I will absolutely ball my eyes out the entire visit. But now that I can escape to the comfort of my dorm to cry right after leaving instead of having to take an hour Metro-North ride makes me much more apt to go!

This is something I've always wanted to do since learning about this museum while taking art history courses in high school! I recently signed up for my own New York Public Library Card, so I'll be able to grab tickets from there one day! If you're a New York resident I highly recommend getting a library card simply for free access to museums in the city!

Since I've lived in New York, I've seen the Christmas Spectacular at Radio City many times, but I've always wanted to go to an actual concert here! They happen sparingly so I'm hoping one sparks my interest at some point this year! 

This is something that is super easy to accomplish, but in my three years here I have never done it. I'd love to pack some sandwiches and a blanket and just enjoy the elements!

This inexpensive music venue is something that has been calling my name! Plus it has a great brunch weekend that I may hit up at some point! 

This may be cheating since I've actually been here before, but I've been dying to come back! If you're a fan of video games, this is a must in NYC! Drinking and eating cheese fries while playing Pac-Man? What's better than that? 
With graduation around the corner, you should get started now!