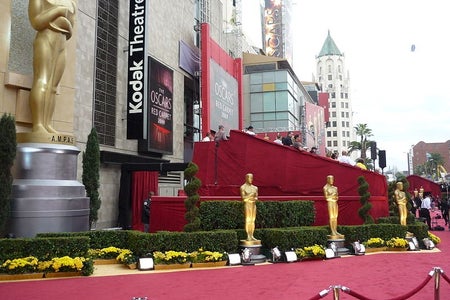 Hollywood: A Predator's Playground
Harvey Weinstein, producer, and rapist, has finally faced the consequences for his heinous sex crimes against the women he has continuously taken advantage of in Hollywood. Weinstein, who has been accused of violating more than 80 women, was convicted last month for raping a woman in a New York City hotel room in 2013 and forcibly performing oral sex on another woman at his apartment in 2006. For his conviction on the first-degree count of criminal sexual act, Weinstein was given 20 years in prison plus five years of supervised release. On the other convicted charge, third-degree rape, he was given three years in prison.  Many prominent women in Hollywood ran online to celebrate this news and expressed how much it means to them that the man who used his power to take advantage of them has finally received the punishment he deserves. 
One post that stuck out to me was an Instagram post from actress Kate Beckinsale who in the same post, shared her own allegations against Weinstein.  
Beckinsale posted a picture of herself at the premiere of the movie "Serendipity" in October of 2001. The premiere was in New York City, shortly after 9/11. Beckinsale explained that she didn't want to attend the event at all, stating that "the city still smoking felt like the most insensitive, tone-deaf, disrespectful idea possible." But Weinstein, on the other hand, apparently insisted that the event should still go on. 
At the red carpet event, Beckinsale went with a tasteful all-white suit that Weinstein didn't appreciate at all. 
 "The next morning Harvey called me and asked if I would like to bring my less than two-year-old daughter to his house for a playdate with his similar aged daughter. I said ok. I turned up and he immediately called for his nanny to take the babies to another room to play," Beckinsale wrote. "I went to go with them and he said 'No, you wait here." 
That's when the verbal assault ensued and Harvey laid into Beckinsale. 
 "If I am throwing a red carpet you get in a tight dress, you shake your a-- you shake your t--s you do not go down it looking like a f---ing lesbian you stupid f---ing c---."
"The shock made me burst into tears," Beckinsale wrote, "I tried to say 'Harvey, the city is on fire, people are still looking for their relatives' none of us even felt the premiere was appropriate much less coming out dressed like it's a bachelor party."
She went on to write that Weinstein retaliated by saying, "I don't care -it's my f---ing premiere and if I want p---y on the red carpet, that's what I get."
"Hearing that he has gone to prison for 23 years is a huge relief to me on behalf of all the women he sexually assaulted or raped, and I hope will be a deterrent to that sort of behavior in this and any other industry. Having said that, the crimes that are not crimes, the inhumane bullying and sick covert abuse for which there is STILL no recourse no matter who you tell(and I did tell), these too need to go. I hope and pray that we as an industry can start to actually outlaw all abuses of power and expose them and eliminate them, for all genders."
Weinstein being convicted for his sex crimes, absurd harassment and bullying is a victory for all the women in Hollywood, but it doesn't mean everything is over just yet. Hollywood is a breeding ground for predators that continuously take advantage of women because they know they can get away with it. Weinstein isn't the only one and I think we all know that. We still have Roman Polanski and Woody Allen running around Hollywood getting away with everything they've done because realistically, Hollywood doesn't care about women. They let these ego-driven men who feel entitled to everything get away with so much just because they want to keep them around to create more mediocre content, which is why they have an ego in the first place. They believe they are some kind of Gods in this industry because of how the public praises them for making a couple of good films, but is it worth knowing that they will continue to abuse the same people who have no power to defend themselves out of fear of no longer having a career?