Have you ever wondered where you come from? Or who your ancestors were? 
These questions have always been in the back of my mind. From an early age, I knew that I was different from my other family members. I grew up knowing only my mother's side of the family and this led me to want to find out more about my other side. I was able to ask my mother about my father's side, but she did not have a lot of information. 
Last year my aunt decided to explore her own origins and used ancestry.com. Ancestry.com originally started as a way to connect with people in your family tree and allowed you to trace your roots. It now allows you to send your DNA in to be tested. It is an easy process and you can have your results in just 4-6 weeks. They are able to pinpoint regions of the world to show you exactly where you are from. They also allow you to see people with similar DNA so you can connect with other family members and add them to your family tree. 
I was so excited when I found out this was even a thing! Not knowing who I am, has always bothered me. I have never been able to give someone a direct answer when asked at networking events or otherwise. This test gave me all of the answers I needed. 
I sent my DNA to Ancestry.com in January of this year and received my results in late February.  Here are my results: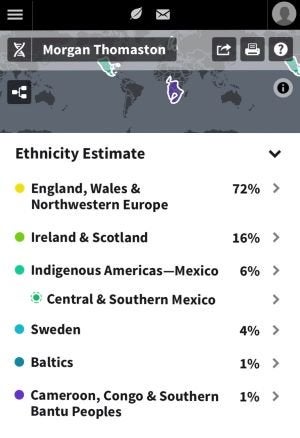 The results were not exactly what I expected but I am happy with them. Be mindful when taking this test that you might receive results that can be shocking and should prepare yourself to handle the situation. I always knew that my mother's side was mainly from Europe and Ireland hence 72% and 16%. Finding out that I am also 6% Indigenous Americas-Mexico, along with the other small percentages was new information. This truly shows that you cannot judge a book by its cover. I now know more about myself because of this test and I am grateful. 
I hope this encourages you to embrace where you are from. I think that everyone should try this especially if you are not sure about your origins. 
If you would like to learn more information or buy your own kit, click Here.