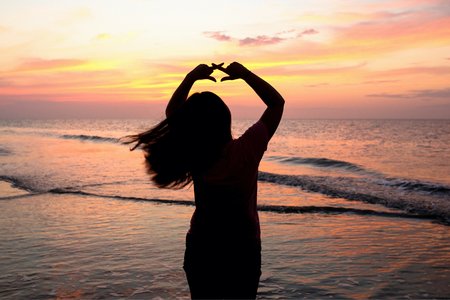 Cassie Howard / Her Campus
How Omega Phi Alpha Changed My Life
If you had told me in high school that I would be a member of a sorority, and an enthusiastic one at that, I would have laughed in your face. I was never interested in the cookie cutter world of Panhellenic life. All the glitter and chanting and the expenses, I had heard the horror stories from friends and family before. I watched as girls that I knew from high school, girls who I knew were good people, were brought to tears as I heard them talk about being cut from their top picks. Watching all of this happen really turned me off from the idea of joining a sisterhood like that. Until a sisterhood devoted to serving the community and the world crossed my path, Omega Phi Alpha. I had heard about this organization while I was in high school and had shown some interest, but nothing serious.
Not until I saw them tabling by the Union and I was immediately complimented on my outfit by a group of bright and cheery girls. I wrote my name down on the mailing list after a very short but pleasant conversation and went on my way. I didn't know if I was going to follow through with the organization but looking back now I am so glad that I did. Omega Phi Alpha has become such a highlight of my everyday life ever since I began attending my first PNM chapter. Joining a club, especially a sorority, where I didn't know anyone was BIG for me. I have always been uncomfortable if there isn't some sort of familiarity. Throughout high school I had always done clubs that my friends were, not that I didn't enjoy them on my own but I wanted to have a common ground and have an ally at these events.
Omega Phi Alpha was the first organization I joined solely for me. I had no idea who anyone was or what was going to happen, but I was determined to make this my space. I was going to do this and I was going to find my place here. I found my place pretty quickly too, this was the first time I had really explored the idea of me making close friends that I didn't carry over from childhood and it was exciting and scary and incredibly fun all at the same time. My first good friends in the sorority were Brooke and Megan. Megan was both and Brooke's rosebud, a sort of substitute big until we got our own, and she was incredible. She made me laugh and shared her knowledge of the sorority and the world in general with me, which was a saving grace for me freshman year while I was still clumsily navigating my first year of college. Brooke was special, she and I clicked so quickly and we nearly became inseparable. When these two women who had become incredibly important to me very quickly had to move on in their lives, I did the same.
I found a new niche in the group with my dear friends Maddie, Sam, and Amaya. We would carpool to chapter and meet up for lunches and just do things to be around each other, you would always be able to find us cracking quiet jokes at our seats during our weekly chapter. We were close, and then life got busy as we progressed in our college careers and we don't see each other as much. They are still around, and we see each other regularly, but we're all doing our own thing, but I will always know them as being some of my very first friends in this group. Fast forward to now, I still have my old friends from PNM-ship but I have really become my own person in the group now. I used to feel as though I was just one of the members of a friend group during chapter, but now I genuinely feel as though I can stand on my own in a room. I have expanded my social circle so much all thanks to this group of people, Omega Phi Alpha has increased my confidence and view of myself so much over the past year, I genuinely cannot express how grateful I am to be part of this organization. I now have friends all across the country with this one incredible organization in common, this group has changed who I am and who I will be forever. Thank you to all my incredible sisters who push me to be the best version of myself possible, I love you.
VERY Honorable mentions: Micaela, Kaylen, Emily, Becca, Cami, Brenna, Courtney, Shannon, Hillary, Sam, and Abbie, among many others. I love you guys so much :)))