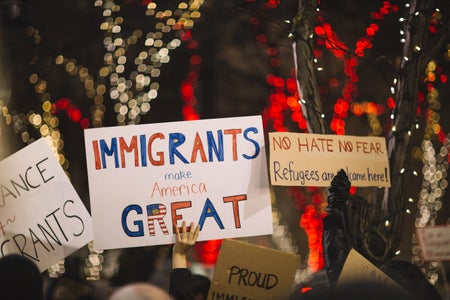 A Brief Overview of Biden's Proposed Immigration Plan
While I am nowhere near as knowledgeable as an immigration lawyer, or an immigrant myself, I have a particularly personal stake in immigration reform and immigration rules and regulations, and therefore have kept my eyes peeled for any news of potential changes as they have come out since Biden's inauguration. Therefore, I know the basics of the new proposed plan for immigration reform, specifically for undocumented people within the United States, and wanted to lay out what I know in a way that may help out others who could also use this information.
The timeline of the plan includes an 8-year path to citizenship for all undocumented individuals living within the United States. The first 5 years, undocumented people within the US are given both a work permit and a social security card so that they are able to work legally. After these 5 years they are given a green card, and 3 years after that, they will then be able to apply for citizenship. 
How does a person qualify for this pathway to citizenship? In the proposed plan, they will only need to prove that they have been in the United States since on or before January 1st, 2021. 
What should an undocumented immigrant do while they wait for the plans to be finalized in this upcoming pathway to citizenship? There are a number of things that can be done beforehand to speed up the process for when it becomes available:
Pay any back taxes: If you have been working within the United States for some time, you likely will have back taxes for both your state and the federal government if you have not already paid them. Paying these taxes and keeping the records is a great way to prove how long you have been in the United States, and that you came before or on the deadline set for the pathway to citizenship. 
Get documents in order! Anything that can prove how long you have been in the United States is a plus. 
If your case may have some things that could affect whether or not you would be able to use this pathway to citizenship, i.e., previous felony charges or other severe offenses, then you may look into getting a lawyer who would be better able to handle your case.
Do you already receive DACA, or are a TPS holder? The Biden plan calls for automatic green cards to people already receiving these two things. 
One thing that has been important to my family is knowing whether or not the people who receive this pathway and are granted their work visas and social security cards would be able to travel back to their countries of origin. The Biden plan does allow for traveling back to the country of origin, and this is amazing news! Undocumented immigrants in this country often haven't seen brothers, sisters, and even parents for years, have never met nieces or nephews, and this allows for them to go back and see everyone and then return back home to the United States.
One thing that may be concerning is that this is an 8-year path to citizenship, and therefore should Biden not win re-election in 2024 this could be undone by the next president. While this could be true, should this proposed bill be signed in to law, the next president would not be able to stop this plan. 
When will we know for sure that this is how immigration will be reformed? In short, we can't know exactly when, if, or how this plan will be signed into law. As of now, Biden has given it to Congress, and eventually the House of Representatives will debate the terms of the bill, change it, approve it, send it to the Senate who will then do the same, and then the final product will be sent to Biden to be signed into law. However, this is good news! This plan calls for so much that will greatly benefit those living undocumented within the United States, and that should be celebrated! As we wait, and we hope, as of the 21st of January Biden also put a 100 day hold on deportations that will expire on Saturday, May 1st, 2021. 
Looking for more information? I follow @tximmigrationlawyer on TikTok, and she posts almost daily updates on things to do with immigration, if not always specifically immigration reform, and often she posts in both English and Spanish. As time goes on, and more comes out about the plan, I am cautiously hopeful that the final product of this immigration bill will be something that will benefit not only my family, but the families of all people living undocumented within the United States.