Rule #1: Watch Stranger Things 2!
Personally, it is hard to even put into words how incredible season 2 of Stranger Things is! 
I normally don't binge watch Netflix shows, but this show is definitely binge-worthy! I could not stop watching it from the moment I started it. In my opinion, the characters in Stranger Things develop more and have more depth in season 2! I love where the writers take the plot from season 1. They did such an amazing job of keeping me engaged from the first season to the second. The vagueness in this season kept me guessing and made it difficult for me to predict all of the twists and turns. I would recommend stranger things to anyone who is craving a sci-fi show that takes you on a crazy adventure and will leave you wanting more!
Warning! Spoilers beyond this point! 
These are some of the reasons I think season 2 of Stranger things is out of this world: 
1. Eleven!
In this season, Eleven learns more about herself being away from Will and being on her own for a long period of time. She forms a relationship with Chief Hopper and he becomes a father figure to her. Eleven even finds her mom, her sister, and learns more about her past...and who doesn't like a good backstory? Not only that she battles with herself and who/where her true family/home is. Eleven ends up going back to Will, Hopper and her friends and when she comes back, she comes back with renewed strength and confidence. If that isn't enough, Eleven ends up saving the world when she closes the portal to the upside down. Eleven endures a lot this season and it's cool to watch her accomplish it all. She is definitely bitchin' in season 2. 
2. The vagueness of the shadow
The shadow keeps you guessing and even though someone watching it might not have any idea what it is trying to do, it does. That's what makes the shadow such a terrifying antagonist. 
3. The relationship between Nancy and Jonathan
I love that the two of them get together again in this season and my favorite part of their relationship was when they met Murray Bauman. Murray has such a dry sense of humor and even though he is portrayed as crazy, he knows the truth most of the time.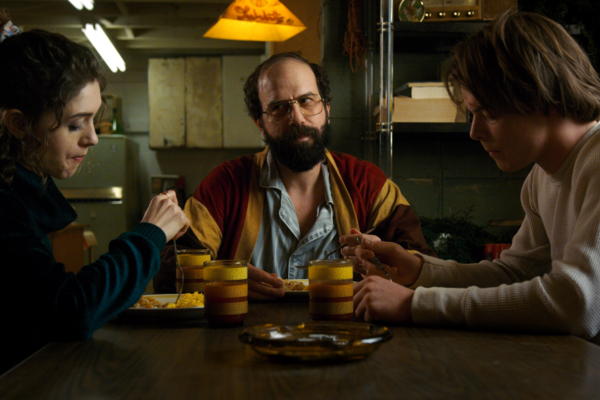 4. The new characters
I think that the writers did a good job of introducing the new characters in a way that adds more meaning to the story, but does not change the dynamic of the existing characters too much. I think that Mad Max was a good addition to the team of kids, even though Eleven was a bit jealous. I also loved Bob Newby and his nerdy, yet sweet disposition. He reminded me a little bit of Neville Longbottom in Harry Potter.  
5. Steve
I find it hilarious that Steve stays involved in the fight, even though he doesn't have much of a connection with Nancy anymore. He surprisingly does a great job of helping out with the kids and makes everything more entertaining to watch. 
If these are not reasons enough to love Stranger Things season 2, I don't know what is. There are so many different stories happening within just one episode, it is funny and dark, romantic and action packed, intense and light-hearted. I could go on and on about this season of Stranger Things but I will leave you with this instead. 
"In a world full of tens, be an Eleven"