Jasmine's Freshman Year Survival Guide
By now, many high school seniors are finally deciding where to go to college in the fall! If you are one of those students, that's great! 
But, I'll be honest. College was not what I expected at all. There was a lot that changed me emotionally, physically, and mentally, and now I feel like my entire world is upside down. Despite this, I also feel relief. I feel relieved that as a first-generation college student: I survived my first year all by myself.
I am sure you know that college is going to be life-changing in a multitude of ways. Here are the things that I learned during this time that I hope you will keep in mind throughout the summer and the actual school year to ensure that you have a better time than I did.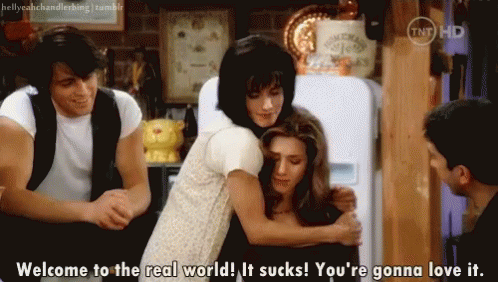 Warner Bros. Television
Save the $$$.

If you have a job, you should work as much as possible, without burning yourself out. Money is hard to come by if you don't have a job or if your parents aren't helping you out. Once you get on campus, you're going to want to go to parties, events, and join clubs and organizations that might have dues you have to pay. These things will pop up fast. So, think ahead and make a savings account so you can have money for the school year. I promise, you'll need it.

Start planning your dorm room/items you'll need.

This seems obvious but you'll realize that you'll really need certain things to a new dorm life. Don't procrastinate buying items. Tons of college students are doing the exact same thing you are, and they will wipe out the dorm bedding and fairy lights at Target before you can bat an eyelash. Pro tip: Divide up your college essentials list and buy some at a time. In June, buy your bedding and decor, In July, buy all of your cleaning supplies, then in August, buy all of your snacks, groceries, and last-minutes items before you get to campus.

Learn more about the ins and outs of your college.

Learn about the online portals, how to register for classes, how to reach your advisor, and more. Doing this will save you so much time and stress. The earlier you learn how to use these tools and websites, the better. Pro-tip: If you have already declared your major, go ahead and find the website where you can track your degree progress and plan out your own degree requirements. It might sound like a lot of work, but it'll keep you on track to graduate and you'll know exactly what classes you need to take at the time you need to take them. It'll make registration in the future way easier for you, too. 

2.

During the School Year

Be open-minded to all clubs.

There are so many clubs and organizations that you can join. There are organizations for all interests— from fashion clubs, to sports, to Greek Life there are so many ways to get involved. You could even become a student ambassador and give tours on campus for prospective students. There are so many opportunities that can lead you on different paths. Don't assume anything about any club or organization. Just try it! 

Dating is overrated.

I think this statement is general in all phases of life. Yet, let me emphasize to you: DATING IS MAD OVERRATED. In college, your relationships will be tested an abnormal amount and maintaining a relationship is not for the weak. I personally don't think it's smart to even come into college in a relationship unless you both are seriously on the same page. If not, the relationship will inevitably end. If you're a part of the college population that isn't dating anyway, you'll still probably face some type of situationship freshman year. You'll get heartbroken. Also, for all my hetero ladies, if you like a guy, don't approach him first. You'll play yourself. I'm not really sure how LGBTQ+ relationships work, so I recommend you ask an older friend to give you insight on your chances. All of this to say, I would recommend you focus on yourself (and your academics) until an opportunity presents itself.  

Make 'friends' with your professors.

This one was hard and still is hard for me. You'll hear from multiple people that you should go to office hours and make sure your professor knows who you are. Personally, I don't like the thought of doing that unless I need help. But not introducing myself has really hurt me as well. I feel like if I had more consistent communication with professors, I could have had better grades and such, but I waited too late. So please don't be like me, and go to office hours and participate in class. Your professor will like you more because of it. 

Never be afraid to ask for help.

My mental health was a really big barrier for me this school year. I found myself in a lot of dark places throughout the winter and into the spring. I do have a mental health history and college was a very difficult arena for me to balance that in. It's still something to deal with personally and in college, it was even harder because I had to decide what to do by myself, and this was scary. I went to counseling for a semester but it was just okay. So, now I'm dealing with my emotions by myself, and it gets hard to try to work through my thoughts and also maintain my assignments and social life. I am learning how to manage my emotions in a better manner even though it might take me a while. However, if you feel really alone and hopeless at any time, please go and seek help and medical assistance. You shouldn't let it get worse before it gets better. 

Learn how to be alone.

You might be confused on why I'm saying this, but this tip is actually a lot more necessary than you might think. In college, you have to forge your own path, meet people, and involve yourself in your university in some way. Yet, before you do all of that, you have to just be you. You're not always going to have someone to talk to or study with. You're not always going to have plans every Friday and Saturday night. That's just the reality of adult-hood. You will be alone at some point. This was more surprisingly difficult for me this past school year. I came in with this idea of what college should be like, but I was severely disappointed. I was by myself and sad the majority of the time, even at this point in my second semester. However, over time I have grown to feel more comfortable in my own presence, whether that be doing homework alone or making my own fun on a Saturday. It was a gradual process for me, and I'm still getting there. 

It might be hard now, but the future is bright.

Although you will be hit with harsh realities, the good thing is this is only the beginning. You have a few more years after this to grow into yourself, make your truest friends, and leave college a better person than before. Some of my friends and sorority sisters who are juniors and seniors are some of the coolest, strongest, and most amazing women I've ever met. I hope to be like them one day. I have these inspiring female figures to look up to and that's enough to keep me going.

At this point, you've almost made it! Here are the final tips to help you finish strong.

Push through the finals.

This is arguably the hardest part of the school year and I always dread it. By this time, you should know where you're at in your classes and figure out what you need to do to pass your classes. The biggest thing is to study, study, study! Go over all the notes, powerpoints, assignments, and whatever materials you have to make sure you've got the content down for the final exam. Even though you have to focus, make sure you take breaks to care for yourself too! Go and take walks, eat good food, and enjoy the last few weeks of the semester! You'll have your big break very soon! 

Reflect.

Use this time to think about all the things you've experienced, whether good or bad. How can you improve? What do you need to not take with you next year? How can you help yourself heal? What are you going to contribute to your campus next year? Along with that, you are probably going to have to through registration and housing all over again. Maybe you want to transfer to another university? Or maybe this isn't the time for you to be attending college? This is an essential space to make important life decisions and truly listen to yourself. 
Freshman year will reveal a lot of things to you and about you. You will change, you will cry, and you will laugh. Yet, it's the experience of a lifetime.  I wouldn't trade it for anything else, and you won't either. I hope this guide helps you survive and thrive! 
See you next year!
Jasmine
Giphy