As each new year begins, I always find myself reflecting upon how much my life has changed over the past 12 months. This year,  I have accomplished something that has changed a big part of my life for the better – I learnt how to tame my frizzy hair.
Now some of you may be thinking how ludicrous this sounds, but for those of us out there who struggle with what I have come to diagnose as CFHS (Chronic Frizzy Hair Syndrome) or Lions-mane-itis, you will know that having naturally frizzy hair has an impact on just about every aspect of your life. No one can truly know the potentials of your hair, because as soon as you step out into the summer humidity or the winter dampness, you pretty much resemble Princess Mia before her transition – we are all princesses hiding behind fluffy hair.
Over the years, too many hair straightening sessions had gone to waste and no amount of hairspray is going to banish frizzy hair genes. So I put myself on a treacherous hair journey and was determined once and for all to live a life free from frizz. Now, in 2016, I can say with confidence that although bad hair days are not a total thing of the past, the vast majority of my days are spent with my hair sitting on my head instead of looking like I have a fetish for touching plasma globes. Here is how I fought the frizz:
Brazilian Blow-Out
Now at this point I needed something to be done quickly that gave immediate alleviation. I had heard about Brazilian Blowout treatments before but the price always scared me off. However, through research I realised how many deals there are out there with voucher apps like Wahanda, and just through searching up salons who do monthly and seasonal deals, you can be looking at paying around £40 - £90 for a treatment that lasts up to 4 months! Even after the 4 months my hair has never gone back to how it used to be and has had a lasting impact on my hair which has cut the blow drying time in half and actually stays sleek – for hair like mine those are miracle results.
The treatment consists of shampooing your hair and towel drying it until damp. A keratin solution is then applied onto the hair and sealed with a flat iron. The product will then be rinsed out of your hair thoroughly, and the salon stylist will then re-blow dry your hair once more and you're good to go. The process roughly takes around 90 minutes – so get a magazine, some tea, and make friends with the hairdresser!
Although there are up and coming Brazilian Blowout treatments that no longer require a 3 day wash-ban or sleeping on a silk pillow, you usually aren't allowed to wash your hair or tie it up for 72 hours, but the end results are so worth it. Just make sure you are going to a salon that specialises in Brazilian Blowout treatments, just so you know that you are getting your money's worth.
Go Sulfate-Free
This includes sodium lauryl sulfate (SLS) and sodium laureth sulfate (SLEL) or any other hidden sulfate gremlins hiding in your shampoo. When you get a Brazilian Blow-Out treatment, these ingredients are off limits as they strip the treatment from your hair. However, even if you don't opt for the Blowout, removing sulfates from your hair care routine does wonders – it has really transformed my hair beyond recognition even after the treatment has faded. According to clever hair people, sulfates strip your hair of its natural essential oils which subsequently causes your hair to dry out, and, you guessed it, frizz.
Going sulfate-free does tend to be salon priced, however you can find great deals on sites such as Amazon, including Alfaparf shampoo and conditioner for £18.95, or if you're feelin' fancy then the Brazilian Blowout Acai Anti-Frizz range are pretty pricey but worth the investment. You also need to look out for sulfates in other products such as hair protection sprays, but with the increase in popularity to go sulfate-free, high street brands have started to join in, such as L'Oreal's SuperSleek range.
Keep it Conditioned
Yeah, we all condition our hair (I hope) but it is just as important to apply a deep conditioning treatment at least once a week. And if you really want to fight the frizz, then deep conditioners rich in keratin, and are specifically made for maintaining Brazilian Blowout treatments (whether or not you have one) are what you're looking for. Try out this, this, or this.
It's also important to add that pretty much no conditioner anywhere contains sulfates, so you can just opt for buying the shampoo alone along with a good keratin rich conditioner such as OGX Brazilian Keratin Therapy conditioner. However, professional conditioners are mostly of a higher quality and are specifically designed for frizz-prone hair, so the price is worth the hair transformation that you won't get on the high street.
Make Sure your Hair is Completely Dry
Air and dampness are not a good combination for frizz-prone hair. This may seem like a simple task, but many people think their hair is dry even when it's not. After drying your hair, run your fingers through your roots and the ends of your hair to check for even the slightest damp spots.
For someone with thick hair like mine, achieving dry hair is hard to do, and even after assaulting it with hot air it seems to always grab onto water at the root. So if you're anything like me, make sure you leave plenty of time between washing your hair and heading outside, or better yet wash your hair before you go to bed, so in the morning it will be completely dry and ready for the outdoors.
Don't Stress
Even if you have the best products and hair care routine, the goings on inside can really show through onto your appearance. Just like how your skin can break out when you're feeling low, your hair can also become brittle and dull – some people even experience hair loss. So whether it's the upcoming semester or your misbehaving hair getting you down, try and keep positive and know you're doing the best you can and that you're awesome – not even the mattiest of manes can prove that wrong.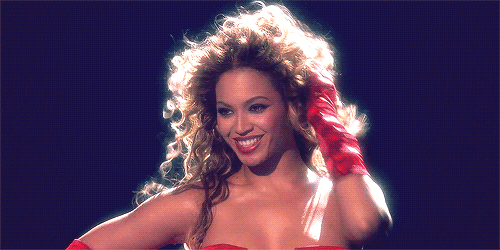 Edited by Naomi Upton
Image sources:
http://www.teen.com/2014/07/23/random-stuff/curly-hair-problems/
http://www.nicheapothecary.com/tame-that-hair/
http://giphy.com/gifs/beyonce-R9rsJYJmYk4SY
http://seetalrihal.com/2014/07/07/curly-hair-curses/
https://uk.style.yahoo.com/blogs/barefaced-beauty/honeymoon-hair--how-to-avoid-that-post-wedding-monica-geller-frizz-154826765.html
http://www.huffingtonpost.com/2013/02/26/what-its-like-to-be-a-tee_n_2767832.html
http://www.bustle.com/articles/24321-10-prom-beauty-looks-i-would-highly...