Shows for Your Thanksgiving TV Marathon
Gobble gobble! Thanksgiving is just around the corner. Between family gatherings, meeting up with high school friends, and taking a mental break from school before exams pick up in December, Thanksgiving break is an awesome time to cozy up on the couch and watch some hilarious yet heartwarming TV shows. Anyone who knows me knows that I love a good comedy, so here are some classic Thanksgiving episodes that I recommend from some of my favorite shows. 
Friends: Season 3, Episode 9, "The One with all the Football"
This episode showcases all of the best Friends gags: Monica and Ross' loving yet competitive sibling dynamic, Chandler's unusually yet great sense of humor, and Rachel's diva-like personality as the gang plays a game of football on Thanksgiving day. Monica and Ross used to have the tradition of playing football to win the Geller Cup. This episode encapsulates what Thanksgiving is about—family, friends, and traditions; both new and old.
Friends: Season 5, Episode 8, "The One with all the Thanksgiving"
This episode consists of one of the few, yet highly entertaining flashbacks. Then, when the gang switches back to the present, the audience sees the iconic moment when Monica puts a turkey on her head. But, more importantly, this is when Chandler says "I love you" to Monica for the first time.
That 70s Show: Season 1, Episode 9, "Thanksgiving"
Young Topher Grace, Kitty frantically cooking, and Donna and Eric figuring out their relationship. This episode contains many classic That 70s Show moments can put anyone in a nostalgic mood.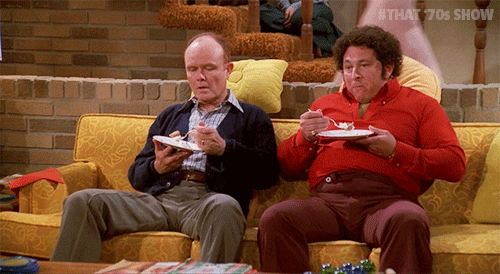 Gilmore Girls: Season 3, Episode 9, "A Deep-Friend Korean Thanksgiving"
Gilmore Girls is a perfect comfort show. It is easy to feel instantly happen upon seeing Luke's dinner, hearing Carole King's "Where You Lead," and laughing at Rory and Lorelai's witty exchanges. In this episode, Rory and Lorelai celebrate Thanksgiving not just with Richard and Emily, but with the Kims, Luke, and Sookie (played by the absolutely hilarious Melissa McCarthy.)
How I Met Your Mother: Season 3, Episode 9, "Slapsgiving"
HIMYM's running joke "Slapsgiving" is born in this episode. Marshal has won a bet with Barney and is now allowed to slap Barney five times.​ Marshall drives Barney crazy with the anticipation of the next slap. Season 4 features a similar episode, "Slapsgiving 2: Revenge of the Slap" in which Marshall--after a whole year--still has one more slap left use on Barney.
Modern Family: Season 6, Episode 8, "Three Turkeys"
Modern Family is really is a show for people of all ages—it even has "family" in the title. Tune into this episode and laugh as you watch Phil Dunphy attempt to be the head chef and Lily act in her cute yet sassy way. This show is a perfect combination of family dynamics, humor, and uplifting endings.
Thanksgiving break is definitely a time to chill; so, go ahead and pop some popcorn, pour a sweet cup of hot chocolate, grab a warm blanket, and watch one of these genius comedies to get in the Thanksgiving spirit.
Follow HCND on Twitter, like us on Facebook, Pin with us and show our Instagram some love!