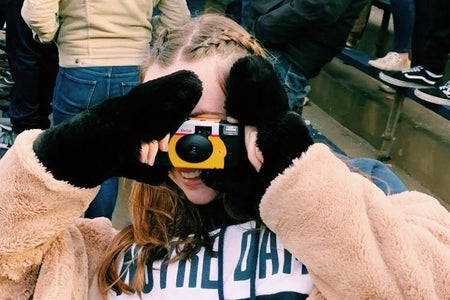 Original photo by Emmie McCabe
We've all been told that college is the best four years of our life, so it's no wonder we're all on a mission to document every single second of it. Photos are memories, which is why many of us have an obsession with taking pictures everywhere we go. These are my top 5 favorite apps and gadgets I recommend to all you photo enthusiasts out there!
If you love the look of disposable camera photos but don't want to fork over $13 every time you run out of film, this is the app for you. David's Disposables is a free app that lets you take as many pictures as you want. The photos develop at 9:00am the following day, which means you still get to experience the same excitement and mystery of waiting for the photos to develop.

2.

Fujifilm Instax Smartphone Printer

Polaroids are so fun and cute, but you have to admit, they can be a little stressful because you only get one chance to get the perfect picture, and film isn't cheap! The beauty of this bluetooth photo printer is that you can print whatever photo you want into a polaroid! And the color quality on this photo printer is AMAZING. Take a bunch of pictures, edit the lighting however you want, and print the best ones! You will never stress about a polaroid again! 

3.

Reloadable Film Camera

If you must use a physical disposable camera, because you're old-school and they are admittedly more fun than the app, get a reloadable film camera! It's cheaper than getting a new camera every time you get one developed, and it's better for the environment! 

The fact that you're on this website in the first place shows that you already appreciate having a girls-only space. Not only is VSCO the best free photo editor I've ever used, it's also a great lower-key social media space that you can post whatever you want without feeling guilty or self conscious. It's my safe space where I post my artsy pictures and casual pictures that I really like but don't feel "Instagram-worthy".

One Second a Day, if you haven't already seen people use it, it's  an app where you take a 1 second video every day, and then you compile these videos for as long as you want. By the end of your semester, summer, year or entire college experience, you will have a fun, sentimental recap that you can watch with your friends. The thing I love about this app is it forces you to find a positive part of your day to include, which brightens the mood on the not-so-good days.