Reactions to 'The Bachelor' Season 23 Finale
I've been a fan of The Bachelor and Bachelorette for a while, watching religiously since Chris Soules' season back in 2015 (though I skipped Arie's season last year ... luckily). The show, of course, isn't stimulating at all, but that's what makes it fun! It's a nice break from schoolwork and a good occasion to see some friends and splurge on some sweets for an hour and a half.
This season of The Bachelor was certainly a wild one. From sloths to first-time kissers to virgins, season 23 welcomed a variety of interesting figures, and I know I had a fun time analyzing their every moves with my fellow Bachelor nation friends every week.
After catching up on both parts of the finale last night, boy, do I have a lot to say.
First, let's unpack Colton sending home Tayshia. Did anyone else get the feeling that she was so much more mature about it than he was? There's no problem with him crying, of course — men can have emotions, too, believe it or not. But her sensitivity and true care for him was evident in that moment. She seemed to instantly notice something was off, and by hugging him and listening carefully to what he had to say, she showed how mature she really is. Ugh, why can't she be the Bachelorette?
Now, how about Colton's farewell to Hannah G.? That really broke my heart. She was so shocked she couldn't even cry at first. I feel especially bad for her given how much he told her he thought they'd end up together — so misleading and so blindsiding. From night one, Hannah G. was my favorite, and I, too, thought she was going to be the one for him. How do you call someone "home" and not marry them?! Luckily, when she came back out with Colton later, she seemed to have grown stronger and more confident in herself, which is a silver lining to come out of this.
And onto Cassie.
Somehow, I didn't grasp how much he loved Cassie. I feel like on their fantasy suite date, he actually didn't seem that into her, but clearly, I was very wrong. Sure, it's sweet that he jumped a fence and sent the two other girls home for her, but he said he did that because he wanted to "show he loved her," not just tell her. Of course, that's a great concept, but the point behind it is that you don't draw attention to what you're doing to show the girl you love her — you just do it, and maybe she'll notice. Colton kept being like, 'Hey, look at all I'm doing to show Cassie I love her!' He was so bold about it that it, to me, took a little bit away from the gesture.
Also, how weird did this whole season end? Colton takes one girl to meet his parents that he's head over heels in love with, and she says she's not sure how she feels, but then they both say they love each other when she gets into the car? Which one is it?  
Then, at "After the Final Rose," the couple shows up giggling and touchy, so clearly they're super happy — yay, congratulations! — but when did that happen? I feel like we never got to see the progression of Cassie's feelings from really caring about him to full-on loving him and wanting to commit to him.
And, given their ambiguous response to the question of Colton's virginity, they've obviously had sex. Just tell us!
All in all, this season was entertaining, but the ending was underwhelming. I'm glad Cassie and Colton are happy, but c'mon, Bachelor nation likes engagements!
Nevertheless, I'll be back on May 13 to watch Hannah B. — how funny was she last night?! — take on her suitors in the mansion. This show has got me hooked.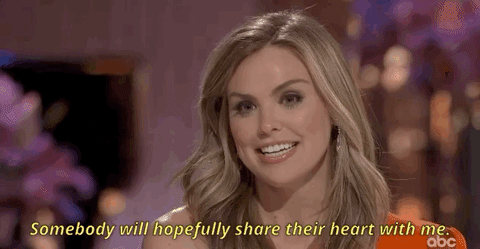 Image Courtesy of GIPHY