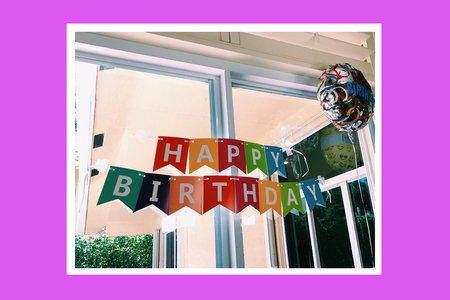 Making the Most of Your Quarantine Birthday
When I found out I was going to be spending my 19th birthday in quarantine, I didn't know how I was going to celebrate. Thanks to amazing friends and family members, my COVID-19th exceeded my expectations. While it might be weird to celebrate and social distance at the same time, here are my tips to make the most out of your quarantine birthday:
1.

Spend Quality Time with Family

Your family might be getting on your nerves, but they are always there for you! Take some time to appreciate your family members that are quarantining with you. Do a fun activity together, like a puzzle or watching a movie. (Obviously, you get to pick which one.)

2.

Zoom and FaceTime with Friends

You might be social distancing, but you can still have a virtual birthday party! Schedule a time to check in with friends and see how they are all doing. You can play online games; I recommend Psych!, Quiplash or Pictionary over Zoom. My friends and I hung out over Zoom when the clock struck 12, ringing in the day. It was so nice to see all their faces and catch up.

3.

Go Outside (Weather Permitting)

I am lucky enough to live in the Sunshine State, so I spent part of my day outside soaking in the sun and attempting to tan (aka burning). If possible, I recommend spending some time outside and getting some Vitamin D. Go on a walk or sit outside with family or home friends (6 feet apart, obviously).

4.

Try a Fun Workout Class

Personally, I love staying active and getting endorphins flowing. For my birthday, I wanted to try a fun, upbeat workout class from YouTube. My favorites are song workouts from MadFit, kickboxing classes from POPSUGAR Fitness and dance cardio from 305 Fitness.

5.

Cook a Meal or Bake Dessert

Yes, the quarantine 15 may be real, but it's your birthday so it's a cheat day! Bake yourself your favorite dessert or cook yourself a homemade meal. Turn it into family time and cook with your family using whatever ingredients you can find in the house. You can also support local business and take out a meal from your favorite restaurant.
Just because you're celebrating in quarantine does not mean your birthday should be any less special. Try out these tips to have the best day possible!