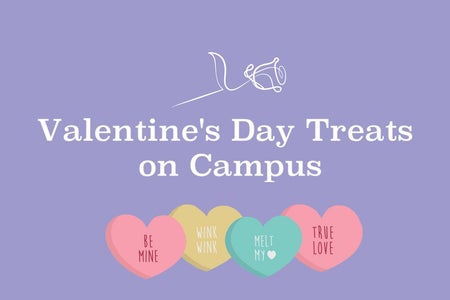 How to Make the Most of Valentine's Day on Campus
Valentine's Day is this week! Planning ways to show people you love them can be stressful and thinking of the perfect ideas is hard. Luckily, there are plenty of offers on-campus to help you shower your friends with love! Whether you're single or attached, these on-campus specials are a great way to make this Valentine's Day special.
1.

Freshman Fifteen Singing Valentines

Freshman Fifteen is offering singing valentines until Feb. 15! You can have them dedicate a song to a special someone and deliver it one of two ways. For $10, you can have them record a video, and for $15, they'll do an in-person performance. What says "be mine" better than mouth music? Click the link here to order one!

2.

Refresh Dance Crew "Woo your Boo"

Continuing this annual tradition, Refresh is holding their fundraiser that allows students to book dancers to perform for someone special. With four different mood options, you can make a meaningful moment or a funny memory to look back on. It costs $7 to book, and they are performing these until Feb. 21! Hurry though, because the form closes on Feb. 13!

Sigma Alpha Iota is fundraising with a rose sale this week! They have pre-sales available in Norris from 11 a.m. until 3 p.m. until Thursday, Feb. 13. Then, on Valentine's Day, they will be selling roses at Tech and the Arch from 9 a.m. to 4 p.m. They are offering pickups, deliveries and even special singing deliveries! A single rose is $2, a half dozen is $10 and a full dozen is $20.

4.

Helicorn Presents: Valentine's Day Poem

If you want to send something cute or romantic to a loved one, Helicorn is offering Valentine's Day poem deliveries! You can pay $1 for an online delivery or $3 for an on-campus delivery. The form is open until 5pm on Feb. 13!

5.

NURF V-Day Fair Trade Cocoa

From 12 p.m. to 2 p.m. on Valentine's Day, NURF is hosting an event with free Fair-Trade Hot Chocolate! Stop by the ground floor of Norris with a friend to participate. There might even be oat milk available!

6.

Lipstick Burlesque Candy Grams

Lipstick Theatre is fundraising for Burlesque with Candy Grams! For $3, you can have a personalized candy gram delivered anywhere on campus. What a great way to show your friends you care!

7.

Valentine's Day Photo Booth

Finally, on Valentine's Day, there will be a photo booth in University Library! You can stop by between 9 a.m. and 5 p.m. to take photos with friends using free props. There will also be snacks and face painting!
There are so many opportunities to make this Valentine's Day special for you and those you care about! Make sure to take advantage of some of these treats.