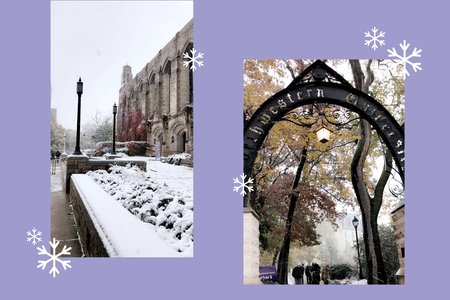 A Florida Girl's Guide to Evanston Winters
When I applied to Northwestern, I thought I knew what I was getting myself into: strong winds, snow days and temperatures below 10 degrees. As a South Florida native who does not like being cold, I was nervous, but excited for the change in scenery and weather. Yet, I was not truly prepared for what it felt like to be outside when the temperature is below freezing. 
After some slips in the snow and constant jokes from my friends about my unpreparedness for the weather, I am happy to say that I have survived my first real winter. As winter quarter comes to a close, I came up with some important tips for surviving (and thriving) in the winter, especially if you've never experienced a true Evanston winter before.
1.

Purchase a Good Jacket

Seriously, this is important. It wasn't until my first day in 10 degree weather that I realized the power of a heavy jacket that can keep you warm. Check out UNIQLO, Burlington and even Amazon for quality jackets that don't break the bank.

If it is snowing outside, be smarter than me and wear actual snow boots, not flat sneakers. Because of my poor choice of shoes, I have taken my fair share of tumbles in the snow. Take it from me, it's also important to get off your phone and focus while you're walking to avoid slipping on black ice. But in all seriousness, the snow is beautiful, so take advantage if you've never experienced snow before. No joke, take your friends outside and build a snowman or make snow angels.

Winter weather may make you want to curl up in a ball in bed to avoid going outside. However, I highly recommend staying active. Set a weekly goal to go to the gym or yoga to get your body moving and keep your endorphins flowing. If there is a rare day of sun, take advantage of the sunlight and go on a walk or run outside. Personally, working out has been a great way for me to stay in shape and get my mind off of the stress of winter quarter.

4.

Prioritize Your Mental Health

Seasonal depression is not a joke. I never knew what it would be like to be deprived of sunlight for weeks on end. Make sure you are checking in with yourself and taking time to prioritize your mental health. Spend quality time with school friends, and make sure to FaceTime family and friends from home to help you get through the winter blues.

5.

Don't Be Afraid to Ask Questions

Whether you're having trouble with your mental health or just need advice on how many layers to wear, don't be afraid to ask friends and family for help with anything. My friends may make fun of me, but it definitely helps to ask them about how to handle the cold weather. In addition, Northwestern has a lot of great resources to help get through winter quarter gloom, such as light box therapy.